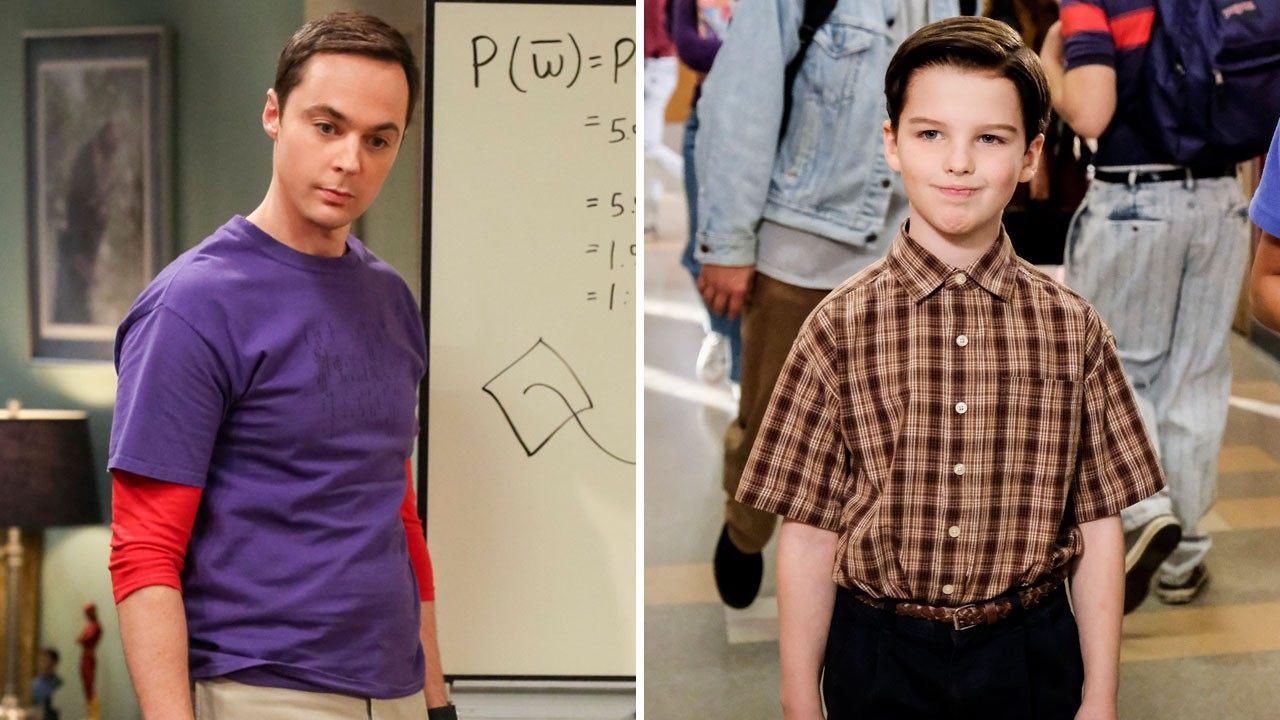 "Young Sheldon" cast to make cameo on "Big Bang Theory"
Sheldon Cooper might share a scene with his younger self on "The Big Bang Theory." CBS announced Wednesday that a few cast members from "Young Sheldon" will appear in an upcoming episode of "The Big Bang Theory."
Iain Armitage, who stars as the titular character in "Young Sheldon," is set to make a cameo in an episode of "The Big Bang Theory" next month. His cast mates, Lance Barber, who plays George, and Montana Jordan, who plays Georgie, will join him on the episode. They will play their "Young Sheldon" characters in their cameos.
The episode will air in December, but no further details are available on the storyline. Considering the events of the two shows take place nearly 30 years apart, it's unclear how the worlds will merge.
Hopefully actor Jim Parsons, who plays an adult Sheldon Cooper on "The Big Bang Theory," will get to pass on some wisdom to Armitage before he signs off the series, as "The Big Bang Theory" is set to end after its Season 12 finale.
In August, it was announced that "The Big Bang Theory" will come to a close after the end of this season, which kicked off in September. Cast members of the show, which has aired on CBS since 2007, shared their thoughts on the announcement.
Parsons said that he was especially grateful to the show's crew and writers. He said, "I feel grateful to our crew - many, many of whom have been with us since day one - and who are the people who bring a sense of steadiness and dependability ... I am grateful to all the writers of our show - those with us now and those that have come and gone - because, without them, there would literally be no Big Bang Theory at all, ever." He concluded, "I will miss all of you and all of this more than I can say and more than I can know at this time."
A source told Entertainment Weekly that the show is coming to an end because Parsons, who plays Sheldon, wanted to leave. He has not addressed the report publicly.
Mayim Bialik said in a blog post on her site, Grok Nation, that she was feeling emotional, but wants to serve her fans as best as she can in Season 12. She wrote, "Am I happy? Of course not. This has been my job since Melissa Rauch and I joined the cast as regulars in season 4. I love my job. I love my castmates, and I feel such appreciation for our incredible crew, our brave writers, our entire staff, and our amazing fans ... But, as a cast, we love bringing joy to our viewers and we will continue to do that to the best of our collective ability.""
Kaley Cuoco said her heart was "broken in two" and that she was "drowning in tears." She promised fans, though, that the show will go out "with a bang."
"The Big Bang Theory" airs Thursdays at 8 p.m. ET/PT, and "Young Sheldon" airs Thursdays at 8:30 p.m. ET/PT on CBS.
Thanks for reading CBS NEWS.
Create your free account or log in
for more features.