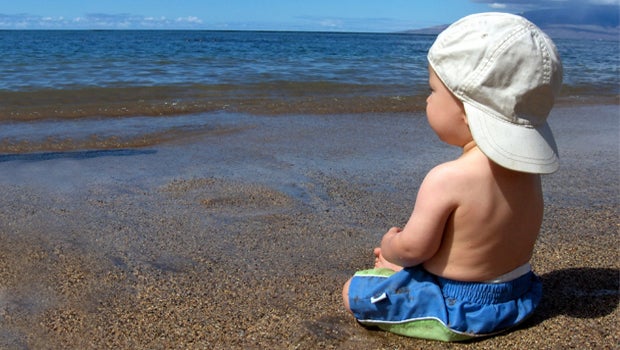 The worst place for bacteria at the beach
Heading to the beach this weekend? A new study finds that when it comes to germs, beachgoers may have more to fear from the sand they sit on than the water they swim in.
Studies done with water and sand from Hawaiian beaches found a "higher abundance" of bacteria indicating fecal contamination -- bugs such as E. coli, for example -- in the sand than in the water.
In fact, "wastewater-contaminated marine beach sand may act as a chronic source of wastewater bacteria to the beach seawater," writes a team led by Tao Yan of the University of Hawaii at Manoa.
Public health experts have long known that wastewater from sewage and other sources can contaminate seawater, some days necessitating beach closures. Swimmers who come into contact with or accidentally swallow fecal-contaminated water can suffer stomach ache, diarrhea and rashes, Yan's team noted.
However, the researchers also noted that over the past decade, scientists have been finding fecal bacteria levels in beach sand that are 10 to 100 times higher than in adjacent seawater.
To find out why that's the case, the Hawaii scientists created laboratory simulations of beaches and seawater contaminated with sewage to observe how overall bacterial populations -- including fecal bacteria that cause illness -- change over time.
They obtained their sand samples from Kualoa Beach on the island of Oahu, at about a foot and a half above the high-tide line.
In the lab simulations, Yan's team found that bacteria tended to decay much slower in the beach sand than in the water. This could explain why more fecal bacteria is typically found on the beaches than in the nearby water, the researchers said.
Why do illness-linked bacteria such as E. coli and enterococci linger longer in sand?
According to the researchers, wastewater bacteria can easily become embedded in "biofilms" within sand that "provide shelter" to bacteria. Sunlight can also deter bacteria growth, the scientists said, and sand provides these germs with some cover from sunlight, whereas shallow seawater does not.
The bottom line, according to Yan's team: "Beach sand needs to be considered carefully in assessing its impact on water quality monitoring and public health.""
The study was published online recently in the journal Environmental Science & Technology.
Thanks for reading CBS NEWS.
Create your free account or log in
for more features.