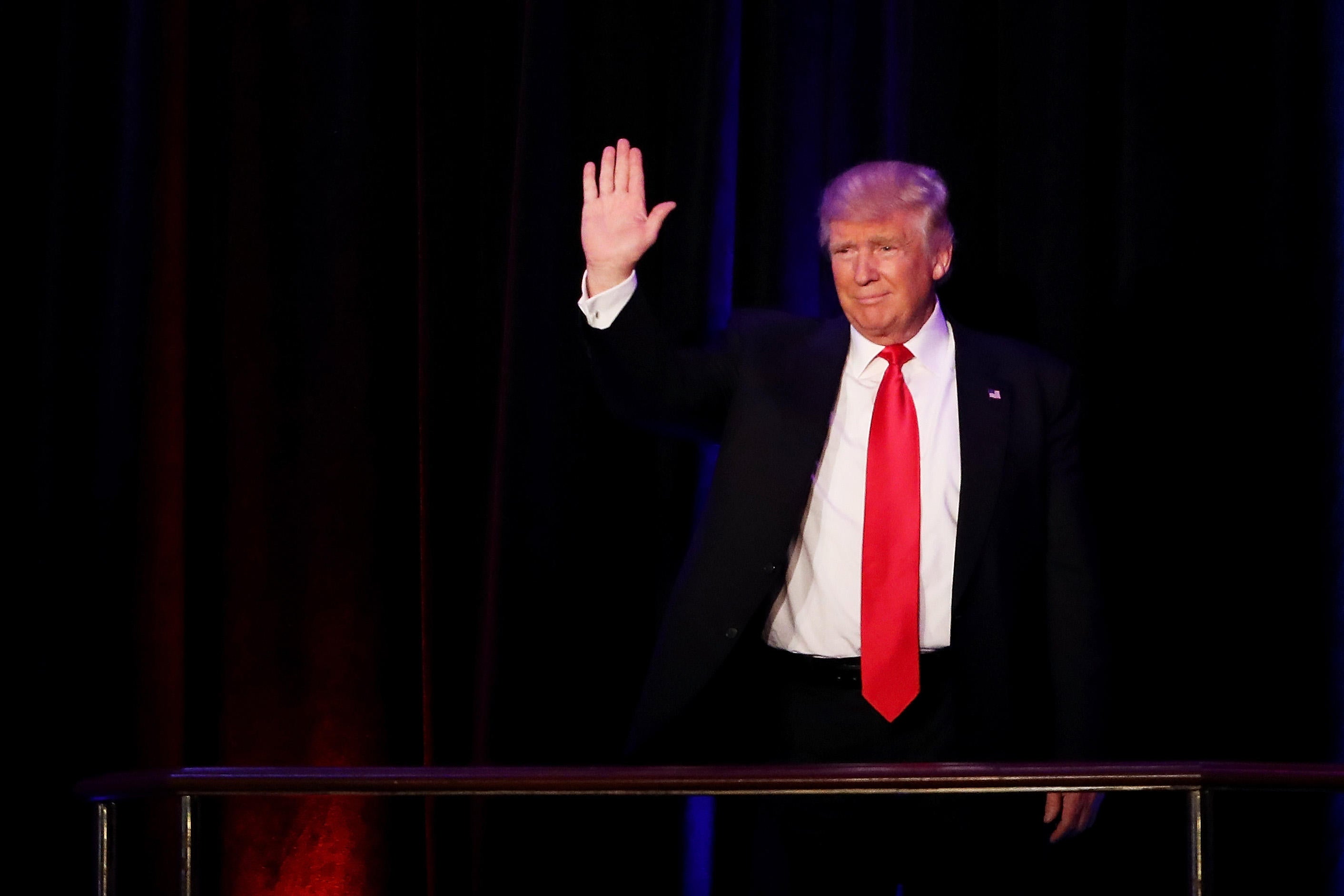 World reaction to Donald Trump's election win
As Donald Trump pulled off a stunning upset to win the U.S. presidential election early Wednesday, much of the world reacted with shock, but official messages of congratulations quickly started pouring in from foreign governments.
CBS News' Pamela Falk says Trump's stated positions promise a new international mode of repeal and replace, including reforming U.S. relations with China and designating the communist nation a currency manipulator, reversing the international climate agreement, unwinding Obama administration immigration policies and increasing pressure on NATO allies.
"We will get along with all nations willing to get along with us," Trump said in the early hours of Wednesday morning. "I promise you, I will not let you down."
But Falk notes the 45th U.S. president faces a host of intractable problems, from violent extremism and nuclear threats to cybersecurity and foreign entanglements in Syria and Iraq.
With that as the background, a trend emerged on Wednesday morning, with the most eager and positive reactions to Trump's win coming from Moscow, and far-right politicians in Europe.
Russia
Russian President Vladimir Putin sent Trump a telegram congratulating him on his win. The two men had expressed mutual respect and even admiration for one another during the campaign process.
In a brief statement Wednesday, the Kremlin said Putin expressed "his hope to work together for removing Russian-American relations from their crisis state."
Putin also said he has "confidence that building a constructive dialogue between Moscow and Washington that is based on principles of equality, mutual respect and a real accounting each other's positions, in the interests of our peoples and the world community."
State news agency RIA-Novosti says Vyacheslav Novikov, a member of the foreign affairs committee from the governing United Russia party, addressed the State Duma on Wednesday morning.
Novikov said that "three minutes ago, Hillary Clinton acknowledged her defeat in the U.S. presidential elections and just a second ago, Trump began his speech as president-elect. I congratulate all of you on this."
The chamber, where the pro-Kremlin party holds an overwhelming majority, then broke into applause, the report said.
Earlier, before the results were official, the leader of Russia's nationalist Liberal Democratic party, Vladimir Zhirinovsky, welcomed Trump's pending victory.
According to the Interfax news agency, Zhirinovsky said: "We of course regard with satisfaction that the better candidate of the two presented to the American voters was victorious."
He also said that he hoped Trump's victory would mean the departure of U.S. Ambassador John Tefft whom Zhirinovsky said "hates Russia."
Mexico
Mexican President Enrique Pena Nieto is congratulating the U.S. on its election - though not directly winner Donald Trump, who alarmed many by describing Mexican migrants as murderers and rapists.
Pena Nieto has sent a series of tweets repeating his readiness to work with Trump "in favor of the bilateral relationship." He says Mexico and the U.S. "are friends, partners and allies who should continue collaborating for the competitiveness and development of North America."
The value of Mexico's peso currency plunged sharply after the election of Trump, who has denounced the North American Free Trade Agreement that has led to billions of dollars in trade between the two nations.
Mexican Treasury Secretary Jose Antonio Meade held a news conference Wednesday morning, urging against "premature reactions." He said the election result won't immediately affect trade and said Mexico "is in a position of strength" to face whatever may come.
France
French President Francois Hollande says the election of Donald Trump "opens a period of uncertainty. It must be faced with lucidity and clarity."
In brief remarks after the weekly Cabinet meeting, Hollande congratulated Trump "as is natural between two heads of state," but showed little enthusiasm. Hollande had openly endorsed Hillary Clinton and said Wednesday he was thinking of her.
Hollande said "certain positions taken by Donald Trump during the American campaign must be confronted with the values and interests we share with the United States."
He says "what is at stake is peace, the fight against terrorism, the situation in the Middle East. It is economic relations and the preservation of the planet."
The first of France's politicians to react was Jean-Marie Le Pen, the founder of the far-right, anti-immigration National Front party and the father of its current leader Marine Le Pen. He tweeted his support for Trump while his daughter also chimed in, suggesting the conservative victory in the U.S. could also herald her own party's rise in France.
Netherlands
Dutch anti-Islam populist lawmaker Geert Wilders has tweeted his congratulations to Donald Trump.
Wilders, whose Freedom Party is riding high in opinion polls ahead of Dutch elections due in March, calls Trump's win in the presidential election "A historic victory! A revolution."
Looking ahead to the Dutch vote, Wilders finished his tweet: "We also will give our country back to the people of the Netherlands."
Wilders is known for his strident anti-Islam rhetoric and opposition to the Netherlands' European Union membership.
NATO
The head of the North Atlantic Treaty Organization -- the cornerstone of transatlantic peace and security since the end of World War II -- did issue a statement congratulating Trump, but there was anxiety in his remarks as well. Trump vowed on the campaign trail to ensure NATO allies pay more into the alliance, suggesting he could even withdraw the U.S. from it if other countries failed to pay their "fair share."
"I congratulate Donald trump. I look forward to working with him," said NATO Secretary General Jens Stoltenberg. "It is important that the transatlantic bond remains strong. We face hybrid warfare, cyber-attacks and terrorism. Our alliance has brought together our closest friends for almost 70 years."
Adding that the NATO alliance would continue to be as important to American security as it is to that of Europe, Stoltenberg said he looked forward to welcoming Trump to Brussels for the group's annual summit next year.
China
Chinese President Xi Jinping has conveyed his congratulations to U.S. President-elect Donald Trump, saying he looked forward to working with Trump on promoting ties in a "constructive" way that avoids conflict and confrontation.
During his campaign, Trump accused China of illegally subsidizing exports, manipulating its currency and stealing intellectual property.
State broadcaster CCTV reported Wednesday that Xi said the two biggest economies in the world shared common interests and shouldered a "special and important responsibility in upholding world peace."
Xi says: "I highly value China-U.S. relations and am looking forward to working with you to expand cooperation in all fields, including in bilateral, regional and global aspects." He says he expects they would "manage differences in a constructive way, in the spirit of non-conflict, non-confrontation, mutual respect, cooperation and win-win."
Britain
Relatively new British Prime Minister Theresa May, a Conservative Party leader who was herself swept to power as a result of the political turmoil in her country caused by the surprise vote to leave the European Union, congratulated Trump on Wednesday.
"I would like to congratulate Donald Trump on being elected the next president of the United States, following a hard-fought campaign," said May in a statement.
"Britain and the United States have an enduring and special relationship based on the values of freedom, democracy and enterprise. We are, and will remain, strong and close partners on trade, security and defence," she said.
"I look forward to working with President-elect Donald Trump, building on these ties to ensure the security and prosperity of our nations in the years ahead."
Earlier, Nigel Farage, the leader of the UK Independence Party and one of the driving forces behind Britain's "Brexit" vote to leave the European Union, tweeted out his congratulations to Trump.
Farage appeared once with Trump on the campaign trail, and the two share a strong belief in tighter controls on immigration into their respective countries.
Poland
A spokesman for the Polish president says Poland cares a lot whether U.S. President-elect Donald Trump will implement NATO decisions to deploy military deterrence forces in Poland and the Baltic states.
Marek Magierowski says on state Radio 1 Wednesday that it is a priority for Poland to see the implementation of NATO decision to base for battalions in the region, including a U.S. armored brigade to be stationed in Poland, and also the construction of a U.S. missile defense base.
The region is concerned for its security amid Russia's rising military assertiveness.
Defense Minister Antoni Macierewicz says he expects ties to be even better under Trump as president.
Germany

A senior ally of Chancellor Angela Merkel says Germany "must also work together as well as possible with Donald Trump as the new U.S. president."
Volker Kauder, the parliamentary caucus leader of Merkel's conservative Union bloc, says that a "close trans-Atlantic partnership continues to be of central significance for Germany and Europe in the coming years."
Kauder pointed out that Germans and the U.S. share the same set of values and that "especially now we need to work on keeping up the good relations to the U.S."
German Defense Minister Ursula von der Leyen, who also belongs to Merkel's conservative Christian Democrats party, had called the vote in the U.S. "a big shock" earlier on Wednesday.
Trump expressed admiration for Merkel during his campaign, even while harshly criticizing her willingness to accept Syrian refugees.
Last December, Trump attacked Merkel when she was chosen as Time Magazine's 2015 person of the year. "‪I told you @TIME Magazine would never pick me as person of the year despite being the big favorite They picked person who is ruining Germany," he tweeted at the time.
Iran
Trump railed vehemently against the nuclear deal with Iran crafted by the Obama administration, which has brought the Islamic Republic huge economic relief after decades of crippling sanctions in exchange for a significant reduction in the country's nuclear program and stepped-up international monitoring of it.
The deal was intended to make it impossible for the Iranian regime to build a nuclear weapon for about a decade, but Trump and other opponents have argued that too many concessions were made, and it has only delayed the Iranian's quest to become a nuclear weapons power.
Trump said on the campaign trail that he would tear up the agreement reached with Iran and five other major world powers.
On Wednesday, Iranian Foreign Minister Mohammad Javad Zarif called on Trump to adhere to the international accords reached by previous American administrations.
"Every U.S. president has to understand the realities of today's world. The most important thing is that the future U.S. president sticks to agreements, to engagements undertaken," he said during a visit to Romania.
President Hassan Rouhani said his country's policies would continue to only influenced by the will and wishes of the Iranian people, and would not change based on new leadership in other countries.
"The success of the U.S. in the eyes of the international community and world's public opinion has diminished due to its wrong policies, and a greater break with the international community and Europe will further weaken the U.S. situation," he said.
"Our policy on constructive interaction with the world and breaking up the nuclear sanctions has placed Iran's economic relations with other countries on an ever improving and irreversible path," Rouhani added.
United Nations
The U.N. Secretary-General issued a statement Wednesday congratulating Trump on his election victory, and urging him as the next leader of the United States to "stay true" to the spirit of the global organization's charter.
"In the aftermath of a hard-fought and often divisive campaign, it is worth recalling and reaffirming that the unity in diversity of the United States is one of the country's greatest strengths," said Ban Ki-moon. "I encourage all Americans to stay true to that spirit."

"Today's global challenges demand concerted global action and joint solutions. As a founding member of the United Nations and permanent member of the Security Council, the United States is an essential actor across the international agenda. People everywhere look to the United States to use its remarkable power to help lift humanity up and to work for the common good."
Ban also thanked Hillary Clinton for her decades of work in the interest of women, children and global peace, saying he was confident she would continue to do work in those fields.
Japan

Japan is sending a top official to Washington to try to meet with those who will be responsible for the next White House administration.
Katsuyuki Kawai, a political aide to Prime Minister Shinzo Abe in charge of diplomacy, told reporters after meeting with Abe that he had been instructed to visit Washington as early as next week.
Abe's instruction came when results showed Republican candidate Donald Trump with a clear lead. Chief Cabinet Secretary Yoshihide Suga said it was not because Japan was unprepared for Trump's win.
He said: "We have been preparing so that we can respond to any situation because our stance is that our alliance with the U.S. remains to be the cornerstone of our diplomacy whoever becomes the next president."
Later Wednesday, Abe himself issued a statement of congratulations:
"I would like to extend my heartfelt congratulations on your election as the next President of the United States of America. As a very successful businessman with extraordinary talents, not only you made a great contribution to the growth of the US economy, but now as a strong leader, you have demonstrated your determination to lead the United States," he said.

"The stability of the Asia-Pacific region, which is a driving force of the global economy, brings peace and prosperity to the United States. Japan and the United States are unwavering allies tied firmly with the bond of universal values such as freedom, democracy, basic human rights, and the rule of law.
"I very much look forward to closely cooperating with you to further strengthen the bond of the Japan-U.S. Alliance, as well as for our two countries to play leading roles for assuring peace and prosperity in the Asia-Pacific region."
Cuba
News of Trump's victory hit hard in Cuba, which has spent the last two years negotiating normalization with the United States after more than 50 years of Cold War hostility.
Normalization has set off a tourism boom in Cuba and visits by hundreds of executives from the U.S. and dozens of other nations newly interested in doing business on the island. Trump has promised to reverse President Obama's opening with Cuba unless President Raul Castro agrees to more political freedom on the island, a concession considered a virtual impossibility.
Speaking of Cuba's leaders, Communist Party member and noted economist and political scientist Esteban Morales told the Telesur network that "they must be worried because I think this represents a new chapter."
The nervous nature of America's much smaller neighbor to the south were made even clearer later Wednesday, when the government announced a five-day military drill to take place, to ensure preparedness for any potential "enemy actions" in the wake of Trump's victory.
Turkey
Turkey's justice minister says a change of presidents in the United States won't make a big difference to the "deep-rooted" relations between the two countries.
Bekiz Bozdag told the state-run Anadolu Agency on Wednesday: "in essence our relations are relations between two states and we hope that under the new presidential term the Turkish-U.S. relations will be much better. That is our expectation."
Bozdag noted that Republican presidential candidate Donald Trump's win came despite intense campaigning in favor of his rival Hillary Clinton.
"I saw an intense campaign for Hillary Clinton's victory. Artists, sportsmen, all personalities worked for Clinton's victory. But in elections, it is important to embrace the people," Bozdag said. "No one has won elections through newspaper headlines, opinion polls or television (campaigns)."
Israel
Prime Minister Benjamin Netanyahu hailed Trump as a "true friend of the State of Israel."
"The ironclad bond between the United States and Israel is rooted in shared values, buttressed by shared interests and driven by a shared destiny," Netanyahu said. "I am confident that President-elect Trump and I will continue to strengthen the unique alliance between our two countries and bring it to ever greater heights."
Palestinians
A top Palestinian official says he doesn't expect U.S. positions on the Israeli-Palestinian conflict to change under President-elect Donald Trump.
Saeb Erekat, an adviser to Palestinian President Mahmoud Abbas, said the Republican and Democratic parties are both committed to a two-state solution of the conflict.
The Palestinians want to establish a state in the West Bank, Gaza Strip and east Jerusalem, lands Israel captured in 1967. Gaps between Abbas and Israel's hawkish leader on any border deal remain wide.
Erekat said Wednesday that a two-state solution is "in the American national interest, and I think this will not change with the coming administration."
However, Trump has proposed moving the U.S. Embassy to Jerusalem, even though the U.S. has not recognized Israel's annexation of parts of the city.
Philippines
Philippine President Rodrigo Duterte, who has lashed out at President Obama for criticizing his deadly anti-drug crackdown, has congratulated U.S. President-elect Donald Trump.
Duterte says he looks forward to working with the new American leader to further enhance the treaty allies' relations.
Duterte, who took office in June, has had an uneasy relation with the U.S. The 71-year-old leader has announced his desire to scale back joint combat drills with the U.S. military and end the presence of foreign troops, including Americans, in the country in two years.
However in a speech Wednesday, Duterte noted that he and the U.S. president-elect do seem to share some common ground:
"We are alike," he said. "We curse over the smallest things. Mabuhay ka! (Long live Trump!)"
In Duterte's statement on Trump's victory released by his spokesman, the tough-talking Philippine leader was unusually diplomatic.
"President Duterte wishes President-elect Trump success in the next four years as chief executive and commander-in chief of the U.S. military, Communications Secretary Martin Andanar said in a statement. Duterte, he said, "looks forward to working with the incoming administration for enhanced Philippines-US relations anchored on mutual respect, mutual benefit and shared commitment to democratic ideals and the rule of law."
Indonesia
Indonesians on social media are questioning why Americans have voted in big numbers for billionaire Donald Trump, who many in the world's most populous Muslim country perceive as intolerant and reactionary.
Twitter, Facebook and chatrooms in instant messaging apps are buzzing with speculation about whether Trump would follow through on campaign rhetoric that included a ban on Muslims entering the U.S.
Some people say that under a Trump administration they fear they'll be prevented from visiting relatives and friends who live in America or traveling there as tourists.
About 100,000 Indonesians live in the United States.
President Joko "Jokowi" Widodo says on national television that his government will work with whoever becomes president.
India
Indian Prime Minister Narendra Modi congratulated Donald Trump in a message posted on Twitter.
Modi tweeted that "we appreciate the friendship you have articulated toward India during your campaign.
He added that "we look forward to working with you closely to take India-US bilateral ties to a new height."
Trump had reached out to Indian-American voters at a rally in New Jersey in mid-October, praising Modi and vowing to defeat terrorism while acknowledging that India had suffered terror strikes, including the deadly 2008 attacks that killed 164 people.
In the Indian capital Wednesday morning, a small group of men from the rightwing Hindu nationalist group Hindu Sena celebrated Trump's victory at a central protest ground, where they brandished posters and photos of the U.S. president-elect while dancing and sharing sweets.
Thanks for reading CBS NEWS.
Create your free account or log in
for more features.