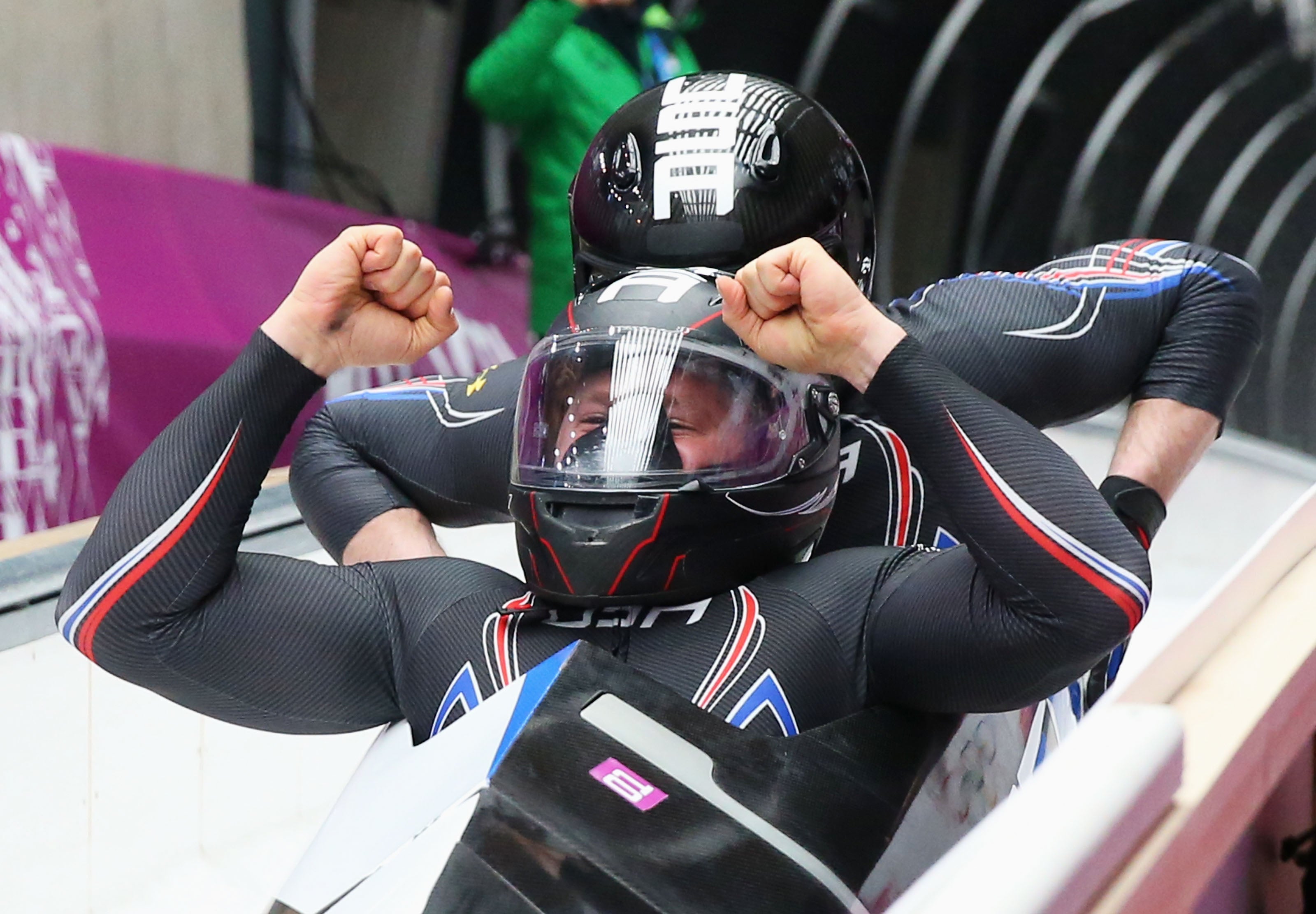 Steven Holcomb drives U.S. to first two-man Olympic bobsled medal since 1952
KRASNAYA POLYANA, Russia -- Steven Holcomb has made history again for the United States bobsled team. The 33-year-old native of Park City, Utah teamed with Steven Langton to win the bronze medal in two-man bobsledding Monday night.

Holcomb and Langton gave the U.S. its first two-man medal since 1952.

Alexander Zubkov drove Russia to the Olympic gold medal, teaming with Alexey Voevoda for a one-sided victory.


Zubkov finished 0.66 seconds ahead of the Swiss team of driver Beat Hefti and brakeman Alex Baumann.

Holcomb and Langton, of Melrose, Mass., finished another 0.22 seconds back.

Zubkov's last win in a two-man race was at the 2011 world championships. But on Russian ice, he was dominant, taking a sizable lead into Monday's final two runs and then all but sealing the title with a track record in his third heat.
In 2007, Holcomb was forced to the brink of retiring from the sport because of a degenerative eye disorder. But a cutting-edge cornea procedure put him on the path to recovery, and within just a year, Holcomb became the first American to win a world championship in the four-man bobsled since 1959.

"It was pretty crazy," Holcomb told CBS News.

At the 2010 Winter Olympics in Vancouver, he led the USA-1 four-man bobsled team to a gold medal, ending a 62-year gold medal drought for Americans in the event.

After winning bronze on Tuesday, Holcomb wrapped U.S. coach Brian Shimer in a long embrace when he got out of his sled, as several teammates slapped each other on the back.

"Man, thank God," Holcomb said. "There was a lot of pressure on me there."

While the Americans finally didn't leave a two-man race empty-handed, this competition was all about the Russian, who apparently knows how to coax more speed out of this track than any other bobsledder in the world.

The fact that Zubkov was competitive was no surprise. The fact that he won, maybe a little surprising. To win by such a wide margin, that was stunning.

Zubkov's last victory in an international two-man race was at the 2011 world championships. He'd been 0-for-25 since, yet led this competition wire to wire, even though his two closest challengers have consistently been faster during the past three seasons.

Head-to-head against Zubkov in two-man races since the start of the 2011-12 World Cup season, Holcomb had been 13-9. Hefti had simply owned the Russian, going 19-2.

Over two damp and foggy nights at the Sanki Sliding Center, none of that mattered.

"It's his home track," USA-3 pilot Nick Cunningham said of Zubkov. "You can never count out the hometown guy."

Zubkov has had many, many more runs than anyone else down the Sanki ice, and it showed. Zubkov's four-run time was 3 minutes, 45.39 seconds. Hefti finished in 3:46.05, and Holcomb was clocked in 3:46.27 - a mere 0.03 seconds ahead of another Russian sled that challenged for bronze.

Zubkov is the third-oldest pilot to win two-man gold and was dominant, just like every other gold medalist crowned so far at these Olympics. All seven medal competitions to date at the Sanki Sliding Center have been a blowout, with none decided by less than 0.476 seconds.

That's a massive gap in sports where hundreths and thousandths of seconds typically make the difference.

Germany, which had won the last three gold medals in two-man, had its top sled finish eighth, the worst showing for the sliding power in the event since 1956.

Holcomb and Langton gave the U.S. its fourth sliding medal so far at the Sochi Games, a total that exceeds the three the Americans combined to win in Turin in 2006 and Vancouver in 2010. With women's bobsled and four-man bobsled still remaining, and the Americans expected to vie for golds in both, the U.S. has to be thinking their total will grow before the Sochi cauldron is extinguished.

"What Holcomb has done is unbelievable for the sport," Cunningham said. "He's put USA Bobsled on the international map."

Ending 62-year droughts seems to be Holcomb's forte. He was the driver of USA-1 that ended a 62-year American gap between four-man gold medals at the Vancouver Games, and now the two-man drought is history as well.

"Overwhelming," Holcomb said. "I guess 62's our number."

Holcomb became the sixth American to win at least two medals in bobsledding. He'll have a chance at a third - which would tie Pat Martin for the most ever - this weekend in the four-man event.

"Holcy's the man," USA-2 pilot Cory Butner said, "and he proved it again."
Thanks for reading CBS NEWS.
Create your free account or log in
for more features.