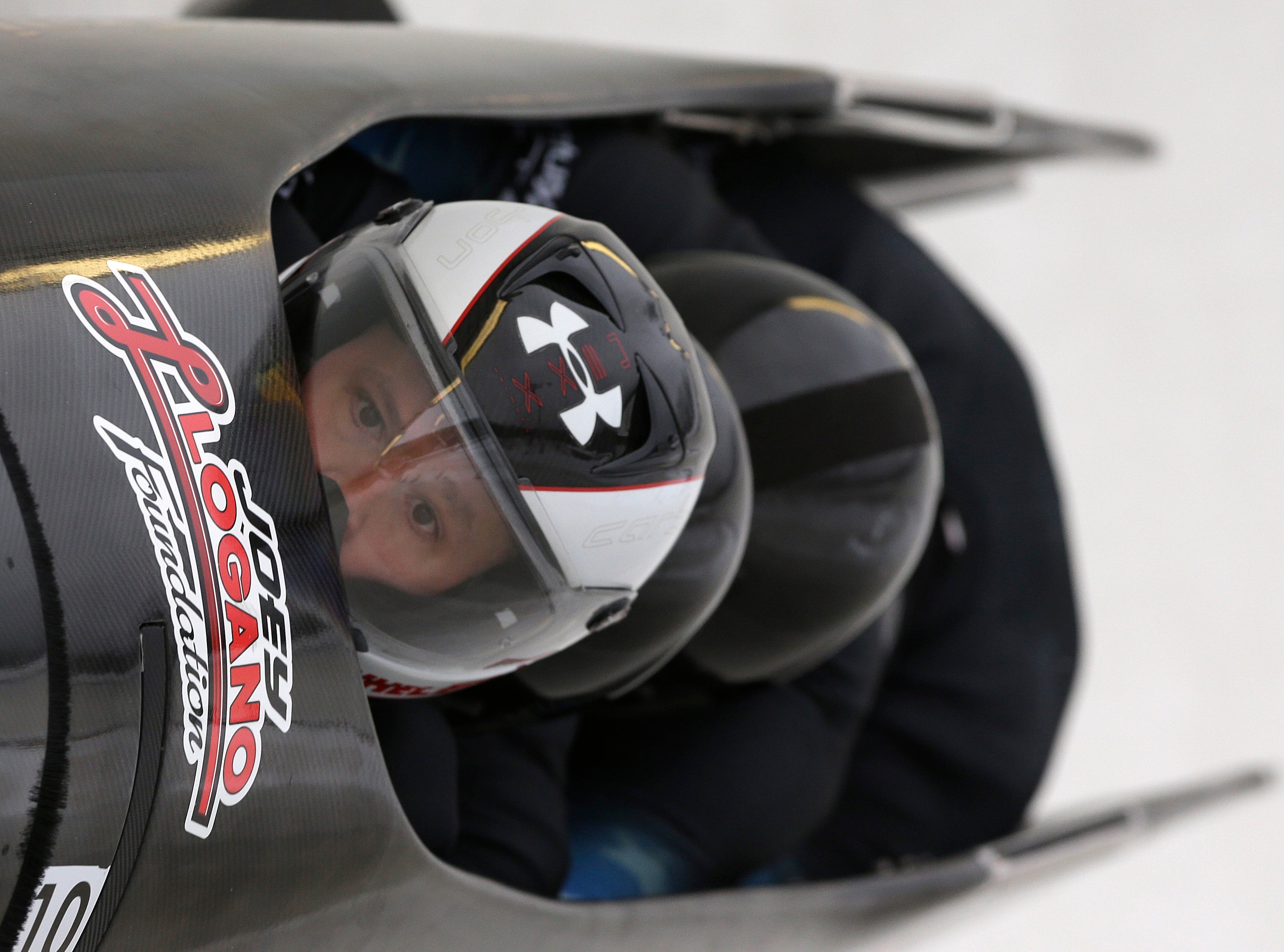 Bobsledder Steven Holcomb sets sights on 2nd Olympic gold
NEW YORK -- Not long before winning Olympic gold, Steven Holcomb nearly lost his vision – and his life.
For years, the bobsled driver had been living with keratoconus, a degenerative eye disorder that weakens the cornea and gradually diminishes vision. Holcomb was told the standard treatment – a cornea transplant – would leave his eyes so vulnerable that he would be forced to walk away from the sport he loved.

But the Park City, Utah native kept it a secret. He was so despondent that he never told family or friends about his declining vision. He pretended he could see fine, even though he could barely identify people in the same room. He became increasingly withdrawn and isolated. Finally, in 2007, Holcomb tried to end his life in a Colorado Springs hotel room, chasing dozens of sleeping pills with some Jack Daniel's.

"It's a downward spiral and it gets out of control," he told CBS News. "You feel better by feeling bad. … It's hard to believe where your mind is at."

But Holcomb would wake up from his overdose. And in a stunning turnaround, his vision – and his dominance on the bobsled track – would be resurrected.

After seeing a dozen eye specialists, Holcomb met Dr. Brian Boxer Wachler, a Beverly Hills ophthalmologist who performed a relatively new procedure called C3-R. The wary athlete agreed to undergo the surgery, which uses vitamin drops and UV light to strengthen the cornea. In a second procedure, he had contact lenses inserted into his eyes.

Within 24 hours, Holcomb's vision had gone from 20/1,000 to 20/20.

"He was speechless," said Boxer Wachler, who later renamed the procedure Holcomb C3-R. "It was like a veil had been lifted."

Within a year of the procedure, Holcomb became the first American to win a world championship in the four-man bobsled since 1959. And within two years, he led the USA-1 four-man bobsled team to an Olympic gold medal in Vancouver, ending a 62-year gold medal drought for Americans in the event.

"Going from the lowest of lows to the highest of highs, it was such a surreal moment," said Holcomb, who started his career as a pusher. "It still seems like a dream."

Ironically, perfect vision forced Holcomb to relearn his craft. For years, he had mastered the art of piloting a bobsled not by relying on his eyes but his sensations. Now with crystal clear vision, he was driving with "high-definition" visual cues instead of instinct. Holcomb says the results were terrible.

One day the bobsled pilot discovered an unlikely solution to his problems: After training, a thin layer of condensation had formed on his visor, just enough to obscure his vision without totally impeding it. Instead of wiping the visor clean, he left it alone. Now Holcomb could see just enough but was still forced to rely on what made him the best in the world at piloting a 500-pound sled down the track at 85 mph: instinct and feel.

Holcomb has kept the same dinged-up visor for five years and he has regained his world-class speed. "As crazy as it sounds, it works out that I can't see," he said.

While his visor may look primitive, his bobsled is anything but. In 2008, the U.S. team unveiled a revolutionary sled that would put Americans on the path to Olympic gold. Dubbed "Night Train" because of its unvarnished black exterior, the high-tech sled gained instant attention on the competitive circuit because of its unusual look. Holcomb says there wasn't enough time to paint the sled before its debut, so the spray-painted black matte primer lent it a mysterious aura. Rivals took note.

"We just got in their minds, every time we pulled that sled out, it was like, 'there's the Night Train,'" Holcomb said. "It's a little bit like psychological warfare. It worked."

The defending Olympic four-man champion and his team of Curt Tomasevicz, Steve Langton and Chris Fogt are taking Night Train to Sochi. And this time, they are bringing a second sled – the newly unveiled Night Train 2. Made of carbon fiber and steel, the $130,000 sled distributes weight differently and creates less turbulence. However, Holcomb said he still wasn't sure which sled would be used at the Olympics until both are tweaked and tested on the Sochi track.

Two speed giants are behind the technology driving Team USA's Olympic bobsleds . BMW designed Holcomb's two-man sled, and the 4-man sleds were designed by Bo-Dyn Bobsled Project – founded by Geoff Bodine, the 18-time NASCAR Sprint Cup winner.

Bodine, who won the 1986 Daytona 500 and started building bobsleds in 1992, said that despite the Night Train's immediate success, his team didn't want to rest on its laurels. Suggestions were heeded and adjustments were made and Night Train 2 was born.

"Especially with the Winter Olympics in Russia, we are aware, from past experience, that they will do whatever is necessary, get all the track time they want and spend whatever is needed to win hardware on their home track," he said. "And then there's Germany, Canada, Switzerland and others. Just like in auto racing, we needed to move forward and faster."

Holcomb is doing just that. Piloting both the Night Train and Night Train 2 sleds last month in Germany, Holcomb enjoyed a dominant World Cup season, winning the two-man title and finishing second in the four-man standings. He became just the seventh bobsled pilot ever to win multiple two-man season titles.

"The momentum we're building heading into the Olympics is incredible," Holcomb said after wrapping up the World Cup title. "We're right where we want to be going into Sochi."

Now 33, Holcomb said that he expects "a battle" at the Olympics, with the Germans and Russians providing the biggest competition. But he believes he has the right teammates and technology to contend for gold in Russia. And Holcomb will have a special supporter at the Sochi track: his eye doctor.

"I'm going to be there rooting for him," Boxer Wachler said. "I wouldn't miss it."
Thanks for reading CBS NEWS.
Create your free account or log in
for more features.