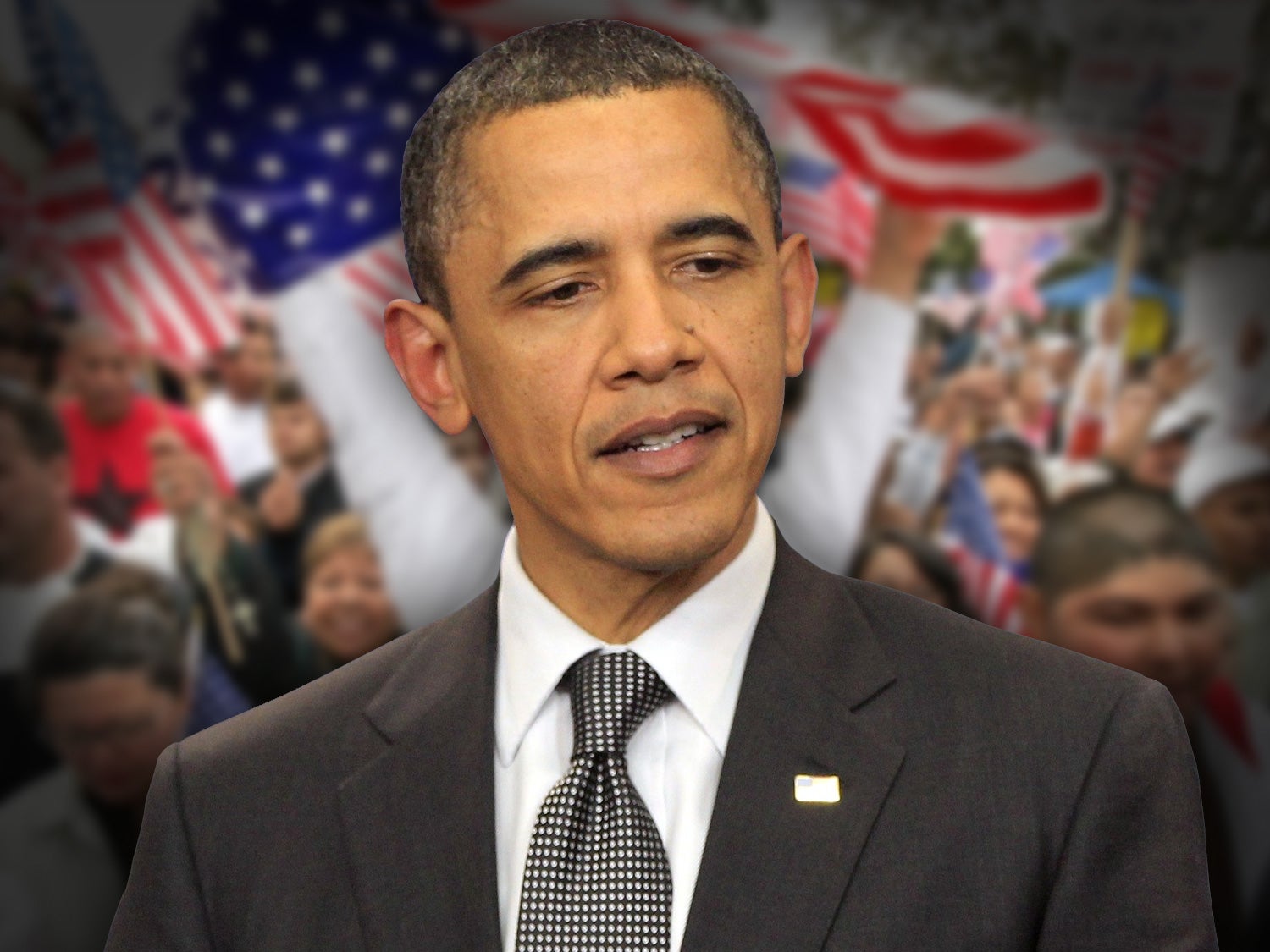 Will Obama's immigration decision be a game-changer in November?
Updated: 2:25 p.m. ET

(CBS News) On the heels of the Obama administration's surprise announcement that it would no longer be pursuing the deportation of many young, undocumented citizens in the U.S., immigration reform advocates applauded the president for taking long-awaited action - and expressed near-certainty that the move would have game-changing consequences with regard to the upcoming presidential election.
According to the Department of Homeland Security (DHS), which announced the decision Friday morning, certain young people who were brought to the United States as young children and "do not present a risk to national security or public safety" will be considered for relief from deportation - effective immediately. The policy is similar to the DREAM Act, which was voted down by Congress in late 2010, but does not provide a pathway to citizenship, which the DREAM Act would have.
"This is not amnesty. This is not immunity. This is not a path to citizenship," said Mr. Obama, addressing the issue in a speech at the White House Rose Garden. "It is not a permanent fix. It is a temporary stopgap measure that lets us focus our resources wisely while giving a sense of relief to young driven people."

The president, whose remarks were interrupted midway through, urged more permanent action by Congress.
"Precisely because this is temporary, Congress needs to act. There's still time for Congress to pass the DREAM Act this year. Because these kids deserve to plan their lives in more than two year increments."
According to the DHS, upwards of 800,000 young people will be spared from the threat of deportation as a result of the new policy, which President Obama enacted on his executive authority.
"I think this is a major development. It's a game-changer," said David Leopold, an immigration lawyer and past president of the non-partisan American Immigration Lawyers Association (AILA). "Latino voters are going to be engaged and they're going to have to take notice. It's a huge political risk but a risk I believe is going to pay off for the president in droves."
Reporter interrupts Obama during immigration news conference
"This is going to truly electrify Latino voters to come out for Obama," added Raul Reyes, an attorney and journalist who writes frequently on the subject of immigration reform. "This is something that Latinos across all political affiliations have wanted. This action basically accomplishes nearly everything the DREAM Act would have done."
The administration's move comes just weeks after immigration advocates complained about the White House's tough immigration policies, which have resulted in the deportation of record numbers of undocumented immigrants. And immigration reform activists have for months criticized the president for declining to use his executive authority to offer relief for young, undocumented immigrants. In recent days, activists had started leading protests outside Obama campaign offices across the country.
"This is an issue that our organization has been working on for the past three years -- so we're definitely excited about the news," said Arturo Carmona, executive director of presente.org. "We applaud the president for this important bold action that he's taken that will benefit directly nearly 1 million deserving young people."
As a quickly-growing demographic, Latinos are considered a key voting bloc in the upcoming election - and Republican and Democratic candidates alike have committed significant resources to courting their votes.
The Republican National Committee (RNC) has highlighted its on-the-ground efforts to boost the party's relationship with Hispanic voters, and presumptive Republican presidential nominee Mitt Romney has released a spate of Spanish-language campaign ads, including one featuring his son, who is proficient in the language. Romney, however, has so far had difficulty connecting with Latino voters - in part due to his staunch opposition to the DREAM Act and his tough talk on immigration reform during the Republican nominating process.
Mr. Obama enjoys a wide advantage over Romney among Latino voters, according to most surveys, including a recent NBC News/Wall Street Journal/Telemundo poll, which showed him leading Romney 61 percent to 27 percent. In Latino-heavy states like Nevada, Arizona, and New Mexico, the Latino vote could mean the difference between a win and a loss this November. But Democrats have expressed concern over low levels of enthusiasm within the Demographic.
"The problem with the Latino electorate is that despite our numbers we don't show up at the polls. We lag behind every other ethnic group in turnout," said Reyes.
According to Reyes, the administration's decision on Friday could do much to turn this trend around, particularly given young Latino voters' high levels of interest in immigration issues.
"This is something young Latinos have been interested in for a long time," said Reyes. "In first- and second-generation Latino families, it is the younger people who often inform the rest of their families about the issues. They are the connectors to the political system. And the DREAM Act and the plight of the DREAM act has been an issue that young Latinos in particular have been following."
Shortly after the DHS announced the new policy, a pro-Obama super PAC released a memo emphasizing Romney's opposition to the DREAM Act.
Republicans, meanwhile, were quick to blast the president's decision as a usurpation of power, and in defiance of Congress -- which voted down the DREAM Act in 2010.
"Americans should be outraged that President Obama is planning to usurp the Constitutional authority of the United States Congress and grant amnesty by edict to 1 million illegal aliens," said Rep. Steve King, R-Iowa, one of the staunchest immigration opponents in the House, in a statement. "There is no ambiguity in Congress about whether the DREAM Act's amnesty program should be the law of the land. It has been rejected by Congress, and yet President Obama has decided that he will move forward with it anyway."
Rep. Allen West, R-Fla., argued the initiative qualified as a "one of those backdoor opportunities" for getting votes.
"Is this one of those backdoor opportunities to allow people in the next five months to get the opportunity to vote?" West wondered, in an appearance on Fox News. "Will we see Janet Napolitano and the president come out with a new edict that says since we allow these people to be here legally, we're now going to allow them to vote? How far down the rabbit hole will it go?"
Sen. Marco Rubio, R-Fla., a Cuban-American, finds himself in a tricky position Friday in light of the fact that he recently touted an immigration policy very similar to that which the president announced. In a statement, he underscored general support for helping young undocumented children while opposing the president's methodology.
"There is broad support for the idea that we should figure out a way to help kids who are undocumented through no fault of their own, but there is also broad consensus that it should be done in a way that does not encourage illegal immigration in the future," Rubio said in a statement. "This is a difficult balance to strike, one that this new policy, imposed by executive order, will make harder to achieve in the long run."
According to Leopold, the president's announcement effectively marginalizes Rubio's efforts on the subject.
"I don't think there's any question," said Leopold. "I don't know if it was aimed directly at Rubio, but the effect is to pull the rug right out from under his proposal." An aide for Rubio told CBS News the president's announcement came as a surprise.
Even while immigration advocates expect the new policy to mobilize Latino voters, they also concede that conservatives will almost certainly use the news for the same effect.
"We've expected all along that any type of action would result in a backlash of people that are already opposed to the president," said Presente.org's Carmona. "I think that the president has work to do to ensure that these policies are effectively implemented and effectively communicated."
The extent to which the president's decision will help him in November remains unclear. Hispanic voters, like nearly every voting demographic in the country, have said they prioritize the economy, not immigration, as a voting issue. And to treat Latinos as a singular voting bloc would be underestimating their political and ethnic diversity. In Florida, considered one of the most crucial battleground states in the country, Latinos - of whom many are Cuban-American or Puerto Rican -- tend to vote more conservatively.
"This is a policy issue that's very popular among Latinos," said Arturo Vargas, the Executive Director of the National Association of Latino Elected and Appointed Officials (NALEO) Educational Fund, which is hosting Mr. Obama, Romney and Rubio next week.
"Is it the issue that will cause Latinos to vote for or against somebody? We don't know," Vargas said. "It's not the number one issue overall. But the directive certainly sends a message that the administration knows this is an issue that many in the Latino community have been very concerned about."
Thanks for reading CBS NEWS.
Create your free account or log in
for more features.