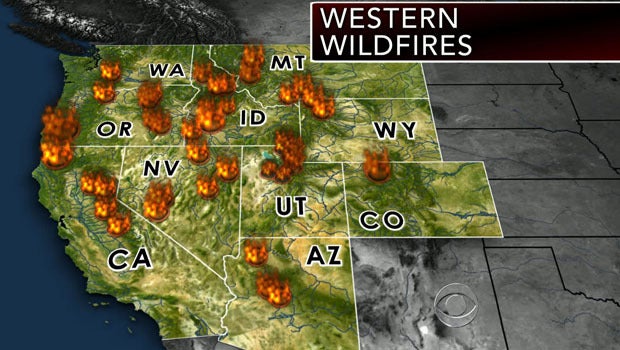 Wildfires burning in 11 Western states
(CBS News) KETCHUM, Idaho - First came the drought, then the summer heat -- the perfect formula for wildfires. And as of Monday night, there are 49 large fires burning in 11 western states.
In the mountains of Utah, smoke still billowed nearly a week after a fire was set off by lightning. The smoke nearly almost blocked the sunrise in Idaho. Thousands have been evacuated and the flames have crept near a prime tourist area.
Some Idaho residents return home after wildfire, others flee
More crews sent in to battle Idaho wildfire
Idaho blaze gives firefighters another tough day
Wind gusts up to 30 miles an hour Monday have been pushing the fire toward Ketchum and Sun Valley where residents have been warned they should be ready to evacuate at short notice. This fire has been fast moving and unpredictable.
The flames have now burned across more than 100,000 acres in a part of Idaho famous for its scenery and known as a playground for the rich and famous.
The pine-covered mountainsides are so rugged, fighting the fire from the air is often the only option.
Firefighters have been working on the ground to protect hundreds of houses close to the fire lines. More than 1,800 houses have been evacuated -- many of those are vacation homes.
So far only one house has burned, but the risk remains.
"It is explosive," Traci Weaver, who is with the fire management team, said of the fire. "And that's what we've seen. I mean, when a fire grows 28,000 acres in one burn period, basically 24 hours -- that's incredible fire growth."
Weaver acknowledged that the same thing that makes it a beautiful spot also makes it dangerous. "Fire is driven by three things: the fuel, which is anything that will burn; the terrain; and the weather. And we basically have all three working against us right now."
The town of Ketchum is usually crowded with tourists during the final weeks of August. But the fire threat and a blanket of dense smoke are keeping tourists away.
Jim Funk's restaurant was one many businesses in town forced to shut down. He confirmed that the last two weeks of summer is his weeks of profit for the year. One of the reasons he closed because his employees had to evacuate.
"All my employees were in evacuation zones and I couldn't pull them away from their family," he explained.
Some of those forced to evacuate have been allowed to return home Monday. But the fire remains just 8 percent contained. The forecast for Tuesday includes thunderstorms. That means lightning and erratic winds that will keep this fire difficult to keep under control.
Thanks for reading CBS NEWS.
Create your free account or log in
for more features.