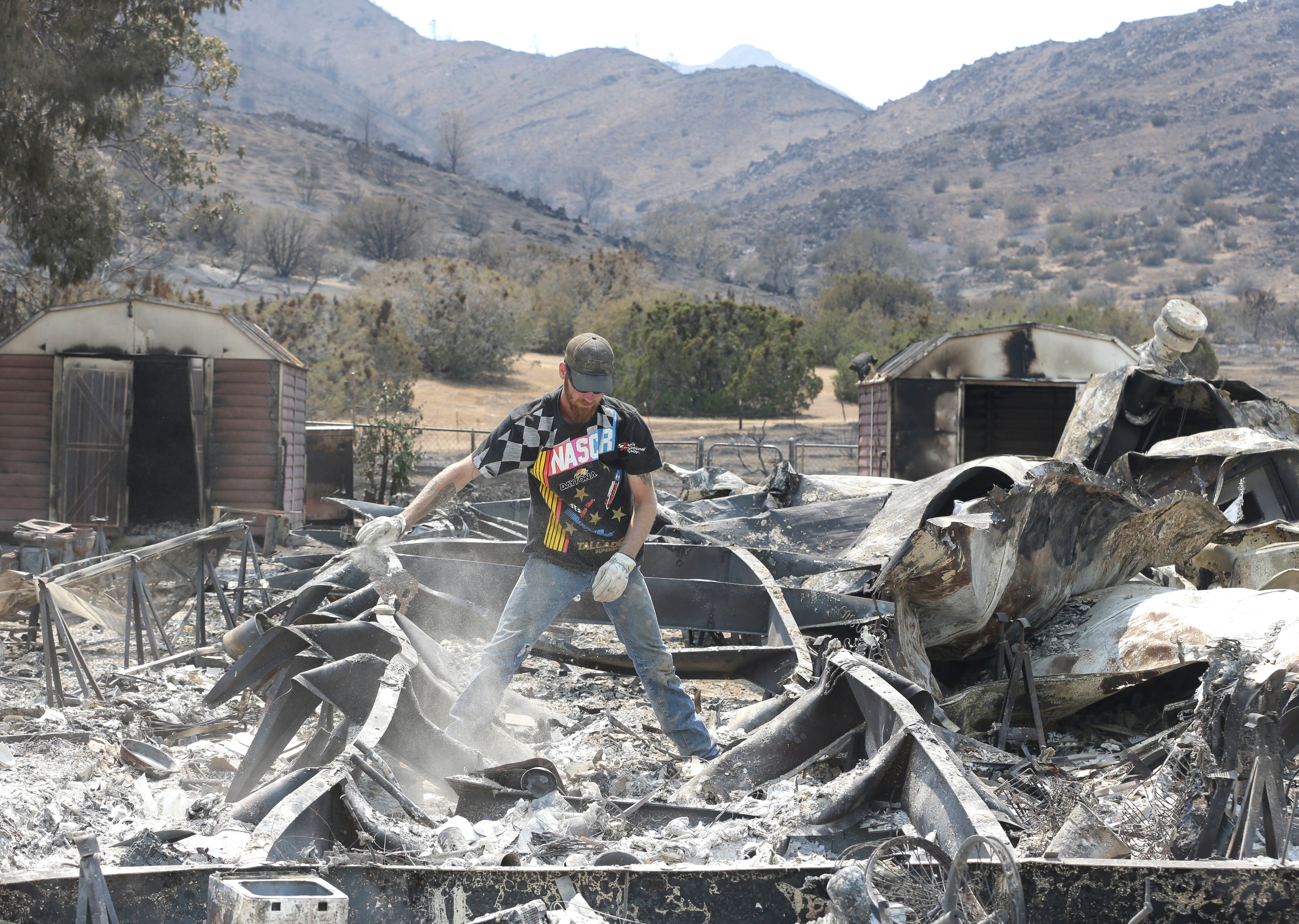 Wildfire ripping through Calif. county "most destructive" in its history
LAKE ISABELLA, Calif. -- A California wildfire that killed two people and destroyed 200 homes in the southern Sierra Nevada burned away from neighborhoods Monday, clearing the way for some residents to return to homes that survived the savage flames.
But hot, dry winds continue to stroke wildfires in the West, CBS News' Mireya Villarreal reported.
Currently, 22 large fires are burning across eight states. The biggest, east of Bakersfield, California, has scorched over 45,000 acres.
The fire grew to more than 70 square miles, but was it 40 percent contained as it burned in steep terrain south of Lake Isabella. Houses could be vulnerable if winds blow the fire back toward some of the communities in the popular recreation area, Fire Chief Brian Marshall said.
"There's still more threats out there," Marshall said. "This is going to go down as the most destructive wildfire in Kern County history."
Sallie Keeling had seen enough photos of destruction over four days to know what to expect when she returned Monday to the fire-ravaged neighborhood where she and her husband had lived for 13 years.
"There's nothing," she said, covered in soot after digging through the rubble. "Just ashes."
Keeling poked through debris and twisted metal in a vain search for a safe-like metal box. She unearthed a charred jewelry box, but most everything else was a total loss, including a Chevy pickup truck and small car that sat on their axles nearby.
Her husband, Steve Keeling, said he inherited the house and the ashes of his parents' remains had been inside. They always wanted to spend eternity in that place and now it seemed they would.
Cadaver dogs searched through the rubble of devastated neighborhoods for more possible casualties, though remains found over the weekend were identified as an animal, Kern County sheriff's spokesman Ray Pruitt said.
The cause of the fire remains under investigation. A man with two guns was arrested Sunday in a mandatory evacuation area, though further details weren't available, Pruitt said.
The fire began Thursday and quickly exploded in dry brush and bore down on small communities of houses and mobile homes that surround Lake Isabella, a dammed section of the scenic Kern River popular for fishing, whitewater rafting and other outdoor activities.
Terrifying flames arrived with little warning and residents, many elderly, had to flee amid heavy smoke. "People were escaping barely within an inch of their lives," Marshall said.
The bodies of an elderly couple, apparently overcome by smoke, were found Friday. Their names have not been released.
In addition to the destroyed homes, another 75 were damaged. Evacuations were still in place Monday, but residents who lived in areas with limited fire damage were being allowed to return at noon.
"Most people here, this is all they had," said Daniel O'Brien, 53, who lost two rental mobile homes. "You have these moments where you just want to break down crying and fall apart."
Most residents living in the hardest hit areas are still being kept away for their own safety. One frustrated homeowner was tackled and arrested after trying to cross a police roadblock, Villarreal reported.
Jim Terry's house was spared, but he's watching out for his neighbors, patrolling at night to keep looters away.
"They're people, they're humans," he told Villarreal. "And I love people. And I believe that's why all these houses and this stuff up here have to be taken care of."
The fire was the most damaging blaze in California, but it is just one of many that have burned large swaths of the arid West during hot weather.
Gov. Jerry Brown declared a state of emergency to free up funds for firefighting and eventual cleanup. The Federal Emergency Management Agency also authorized funds for firefighting efforts.
Thanks for reading CBS NEWS.
Create your free account or log in
for more features.