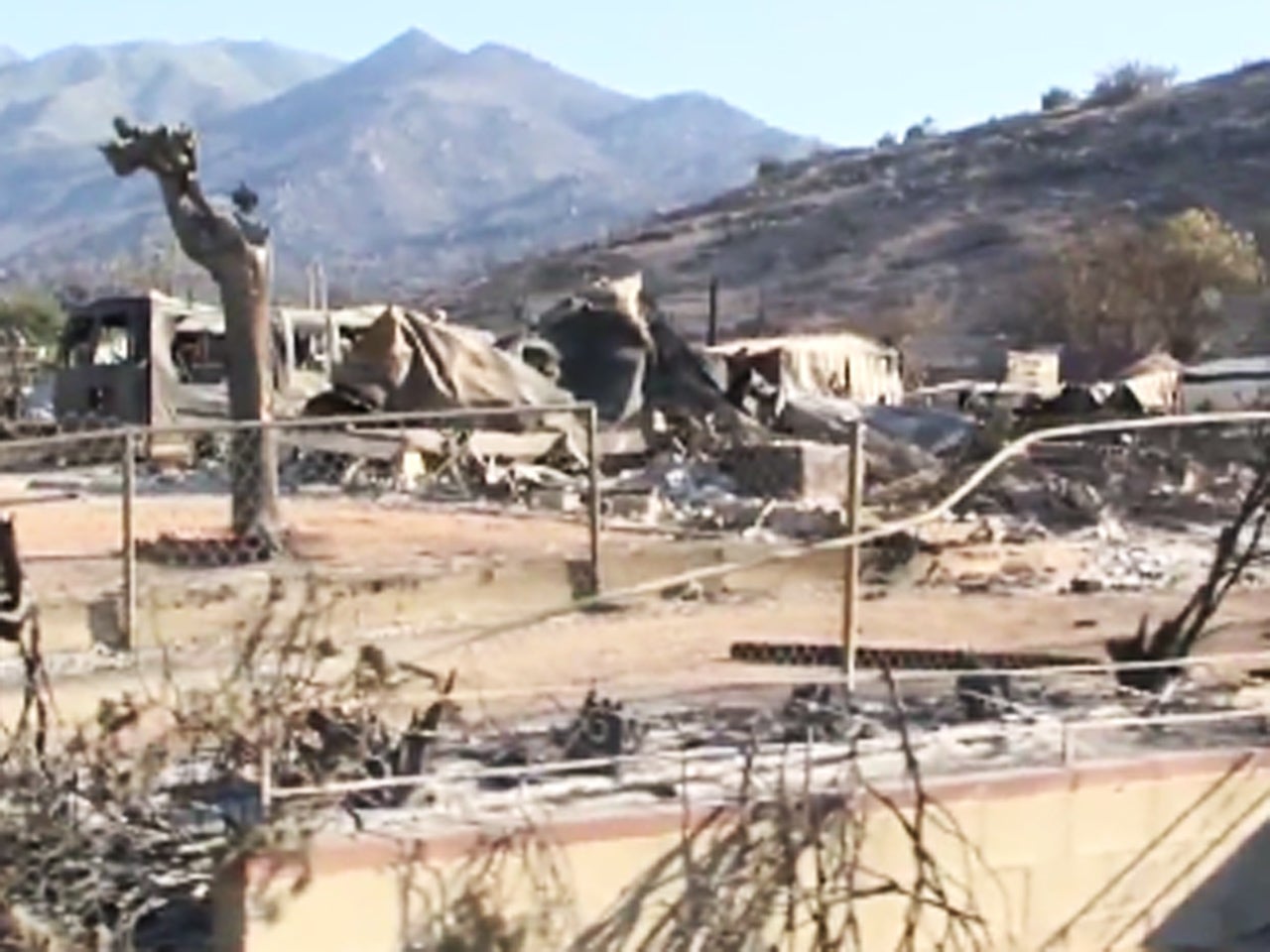 Fears California wildfire could turn deadlier
LAKE ISABELLA, Calif. -- Fire crews were making inroads against a raging wildfire in central California that has claimed two lives and destroyed at least 250 homes and damaged at least 75 others.
Officials said about 2,000 firefighters were battling the blaze near Lake Isabella northeast of Bakersfield. It tore through many homes belonging to retirees on fixed incomes.
"Most people here, this is all they had," said Daniel O'Brien, 53, who lost two rental mobile homes. "You have these moments where you just want to break down crying and fall apart.", which tore through many homes belonging to retirees on fixed incomes.
Federal fire officials said Sunday evening that containment on the nearly 44,000 acre blaze increased from 10 percent to 40 percent.
Lighter winds were aiding the fire crews, but at least 2,500 homes were still threatened, reports CBS Los Angeles.
The death toll stood at two, but officials warned it might rise. Cadaver dogs were being brought in Sunday to search for remains.
On Saturday, firefighters found what appeared to be a set of human remains further up the street from O'Brien's two rental homes. The remains were so badly burned forensic investigators will have to determine whether they belong to a person or animal, Kern County Sheriff's spokesman Ray Pruitt said.
Authorities said helicopters fighting the flames had to be grounded for a half-hour Sunday after a drone was spotted overhead. Its owner was found and detained and the chopper resumed their operations, authorities added.
Gov. Jerry Brown declared a state of emergency, freeing up money and resources to fight the fire and to clean up in the aftermath. The Federal Emergency Management Agency also authorized the use of funds for firefighting efforts, fire officials said.
The fire tore through small communities of houses and mobile homes that surround the lake - actually a reservoir - and the Kern River, a popular spot for fishing and whitewater rafting. The communities are nestled in the foothills of the southern Sierra Nevada, a mountain range that runs hundreds of miles north and south through eastern California.
Scorching heat and tinder-dry conditions across the West have contributed to massive wildfires in the past week that have destroyed properties and forced residents to seek shelter.
Since it began Thursday, the fire has swept through parched brush and timber so quickly that some residents barely had time to escape - and at least two didn't.
An elderly couple apparently was overcome by smoke as they tried to flee, county Sheriff Donny Youngblood said. Their bodies were found Friday, but their names haven't been released.
Torin Swinland, 46, and his 81-year-old mother fled to a nearby park after smelling smoke and seeing flames racing down the hillside toward their community.
They returned to find four garages filled with valuables incinerated. Their home escaped any major damage, though embers were still burning near the property when they got back. The two used water from a hot tub to douse the cinders.
While upset by his own losses, Swinland said he felt worse for those left with nothing.
"They don't have near what I have left," he said.
Thanks for reading CBS NEWS.
Create your free account or log in
for more features.