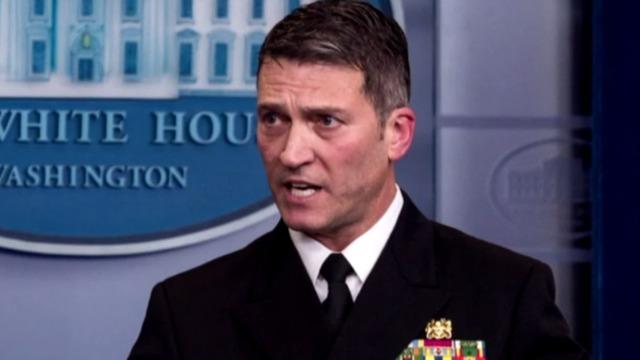 White House defends Ronny Jackson against "candy man" accusations
The White House continues to defend President Trump's pick to be the next Veterans Affairs secretary, Ronny Jackson, despite mounting questions over Jackson's tenure as White House physician. While Mr. Trump suggested on Tuesday that Jackson would be better off withdrawing his name from nomination, he said the decision was "totally his," and he "would stand behind him."
According to two senior administration sources directly involved in the process, during an Oval Office meeting Tuesday, Mr. Trump also promised Jackson his support. Jackson says he wants a chance to defend himself in public.
Sen. Jon Tester, D-Montana, the top Democrat on the Veterans' Affairs Committee, has been talking to reporters about the allegations, among them, that Jackson loosely dispensed sleep-related prescription medications ambien and provigil. "In the White House," Tester told CNN's Anderson Cooper Tuesday, "they call him the 'candy man.'"
"The word is, that on overseas trips in particular, that the admiral would go down the aisle way of the airplane and say, 'Who wants to go to sleep,' Tester said. "And hand out the prescription drugs."
However, both officials and journalists have used sleep aids on overseas flights for practical reasons -- in order to help them adjust to time zone differences more quickly in what is usually a compressed travel schedule. And Jackson is neither the first nor the only administration doctor offering sleeping aids to officials and journalists traveling on long overseas trips
Asked by CBS News' Major Garrett Wednesday whether the "candy man" line is fair to Jackson, White House director of Legislative Affairs Marc Short told him and other reporters, "Every year they come in and do a review of the White House physician's office on things like prescriptions, and every year they said that he's totally in compliance with what he's prescribing. So, no, it's totally unfair."
A 2012 workplace inquiry has also prompted some concern about Jackson. It found staffers suffering from low morale after Jackson, a captain at the time, and another White House physician, Capt. Jeffrey Kuhlman. The White House said that it was just a dispute between Jackson and "a bitter ex-colleague."
Jackson also faces allegations of drinking on the job. Tester told NPR that "in the previous administration, we were told stories where he was repeatedly drunk while on duty."
A senior White House official referred to him as "impeccable" and pointed out documents released by the Obama White House even called for Jackson's promotion.
The chairman of the Veterans' Affairs Committee, Sen. Johnny Isakson, is promising that Jackson will get an open and fair hearing.
"The nominee deserves the chance to be heard," Isakson told reporters Wednesday morning. "The president deserves the right for him to be heard....We're going to give him a good hearing, make the right decision to move forward. And we're going to do it on our schedule and nobody else's." At this point, Isakson does not know when the hearing will be held. It was scheduled for Wednesday, but in light of new information received by the committee about Jackson, Isakson and Tester decided to delay it.
CBS News' Ed O'Keefe, Major Garrett and Alan He contributed to this report.
Thanks for reading CBS NEWS.
Create your free account or log in
for more features.