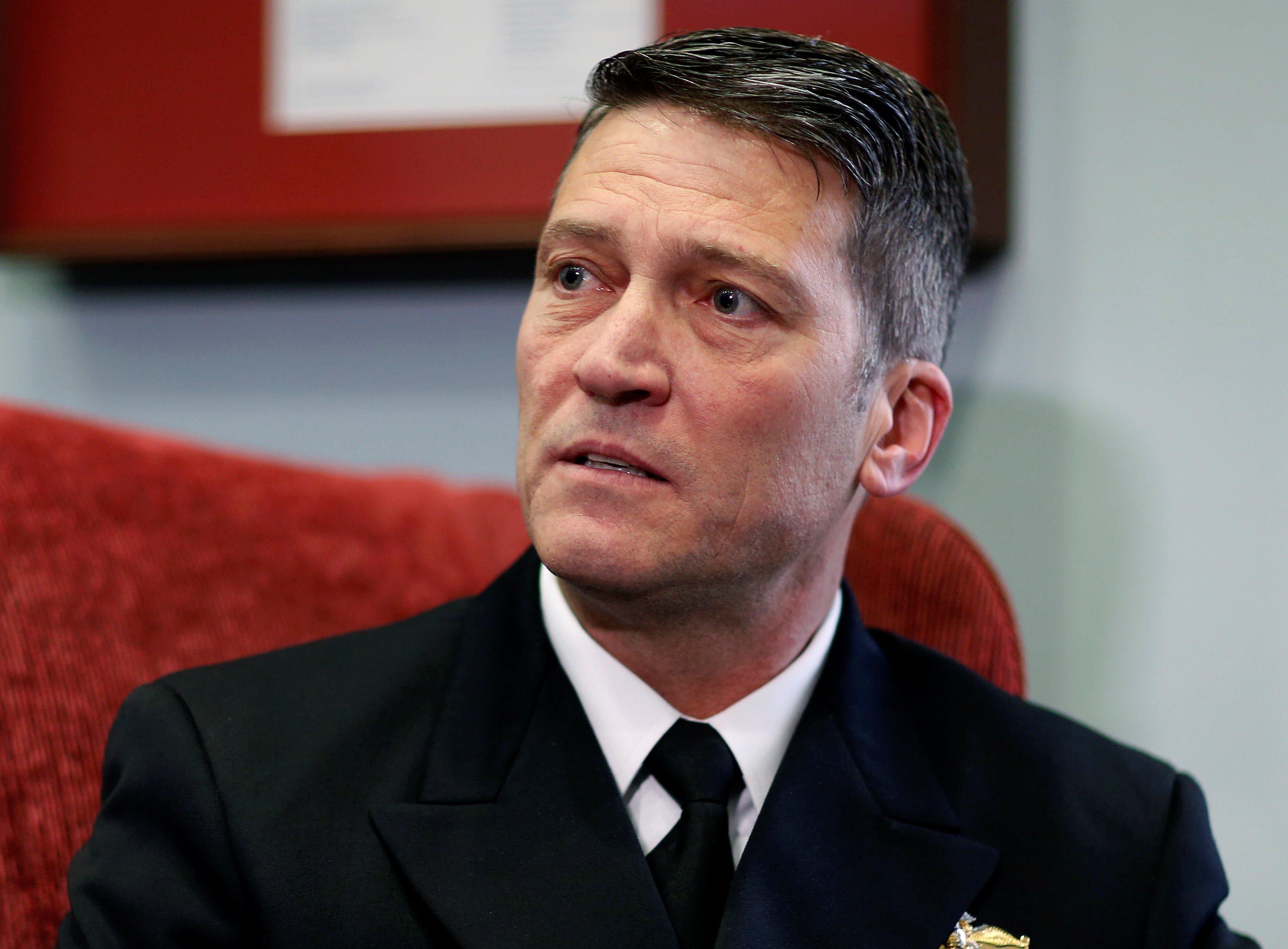 Ronny Jackson allegations come from 20 military sources, Jon Tester says
The allegations against Navy Rear Adm. Ronny Jackson -- President Trump's pick to run the Department of Veterans Affairs -- stem from 20 active duty and former military members, the top Democrat on the Senate Veterans' Affairs Committee told NPR Tuesday. CBS News' Ed O'Keefe and Nancy Cordes first reported Democrats were reviewing allegations against Mr. Trump's nominee that included creating a hostile work environment, improperly handing out drugs and drinking excessively on the job.
Sen. Jon Tester, D-Montana, said these allegations began to arise as people who knew Jackson came forward, not because he and his staff sought them out. Jackson has been serving as the physician to the president, and captured Mr. Trump's attention when he offered a glowing review of the president's health before the media earlier this year.
"All I can tell you is we didn't initiate this discussion, this discussion came when we were notified by folks that work with Admiral Jackson," Tester said. "Folks in the military about behaviors that happened and we just followed up with as many leads as we could get and the leads took us to this spot."
Tester said the pills Jackson allegedly gave out were for sleeping and making people wake up, handed out while on travel. They were not opioids, Tester clarified.
"Well most of them are the ones that make you want to sleep and wake up," Tester said. "And these are basically doled out and by the way we had 20 military folks and retired military folks tell us these stories. These were doled out on overseas trips where there's a lot of time zone changes. And were pretty much doled out, as, somebody ones to go to sleep, here's a pill."
Tester also said, based on allegations that were made, that Jackson was "repeatedly drunk while on duty."
"Once again, it was on travel and he is the physician for the president," Tester said. "And in the previous administration we were told stories where he was repeatedly drunk while on duty where his main job was to take care of the most powerful man in the world. That's not acceptable."
Jackson's alleged abuse was verbal in nature, including screaming and belittling those who worked for him, Tester claimed.
"Well I think I mean some of the exact words that were used by the folks who we talked to were, abusive towards staff, very explosive personality. Belittles the folks underneath him, the staff he oversaw, screamed toward staff, basically creating an environment where the staff felt that they needed to walk around egg shells around him."
In a joint press conference with French President Emmanuel Macron Tuesday afternoon, Mr. Trump praised Jackson -- but gave him room to withdraw his nomination.
"Oh, I would definitely stand behind him," Mr. Trump said Tuesday. "He's a fine man. I'll always stand behind him. I'd let it be his choice."
"But he is a man who has just been an extraordinary person," the president continued. "His family, extraordinary success. Great doctor. Great everything. And he has to listen to the abuse that he has to -- I wouldn't if I were him. Actually, in many ways, I'd love to be him. But the fact is, I wouldn't do it. I wouldn't do it. What does he need it for? To be abused by a bunch of politicians that aren't thinking nicely about our country? I really don't think, personally, he should do it. But it's totally his -- I would stand behind him -- totally his decision."
The White House continued to defend Jackson Tuesday evening, although not on the record.
"Dr. Jackson's record as a White House physician is impeccable," a senior White House official said in a statement. "He has improved unit morale, received glowing reviews and promotions under Republican and Democrat presidents, and has been given a clean vet from the FBI. He has never even been the subject of an Inspector General review and he will certainly not be railroaded by a bitter ex-colleague who was removed from his job."
Jackson was nominated to replace former VA Secretary David Shulkin, whose departure was announced by Mr. Trump on Twitter last month.
CBS News' Alan He and Jacqueline Alemany contributed to this report.
Thanks for reading CBS NEWS.
Create your free account or log in
for more features.