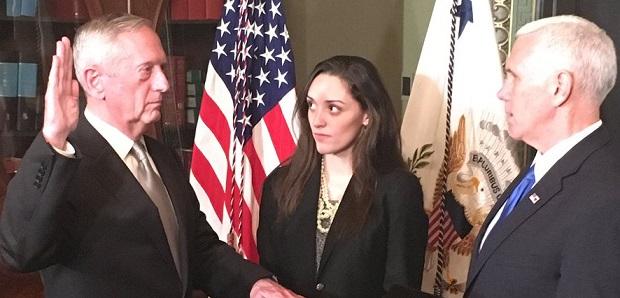 Mattis confirmed as defense secretary by Senate
The Senate on Friday confirmed retired Gen. James Mattis as President Trump's secretary of defense in an overwhelming vote.
Lawmakers voted 98-1 in favor of Mattis, with Sen. Kirsten Gillibrand, D-New York, as the lone senator opposing him. Mattis was approved by the Senate Armed Services Committee earlier this week in a 26-1 vote.
After Mr. Trump took the oath of office Friday afternoon, one of the measures that he signed was a waiver approved by Congress that allows Mattis to serve as the Pentagon's chief, exempting him from a current law that limits the appointment of a defense secretary within seven years of relief from duty.
Mattis, 66, testified at his confirmation hearing last week. He defended the importance of NATO, called Russia a "principal threat" and differed from Mr. Trump on whether Jerusalem should be considered the capital of Israel.
He previously served as commander of U.S. Central Command from 2010 to 2013, commander of the U.S. Joint Forces Command from 2007 to 2010 and NATO's Supreme Allied Commander of Transformation from 2007 to 2009.
During his confirmation hearing, he called NATO "the most successful military alliance probably in modern history, maybe ever" despite the president's criticisms of the alliance.
He also stressed that the military's lethal force must be strengthened in order to defeat the Islamic State in Iraq and Syria (ISIS). He said it must be an "integrated strategy" so that "you don't squeeze them in one place and they develop in another." The strategy, he said, should focus on their recruiting and fundraising, in addition to direct military measures.
The Senate will vote Monday on the nomination for Rep. Mike Pompeo, R-Kansas, to serve as CIA director after six hours of debate.
Thanks for reading CBS NEWS.
Create your free account or log in
for more features.