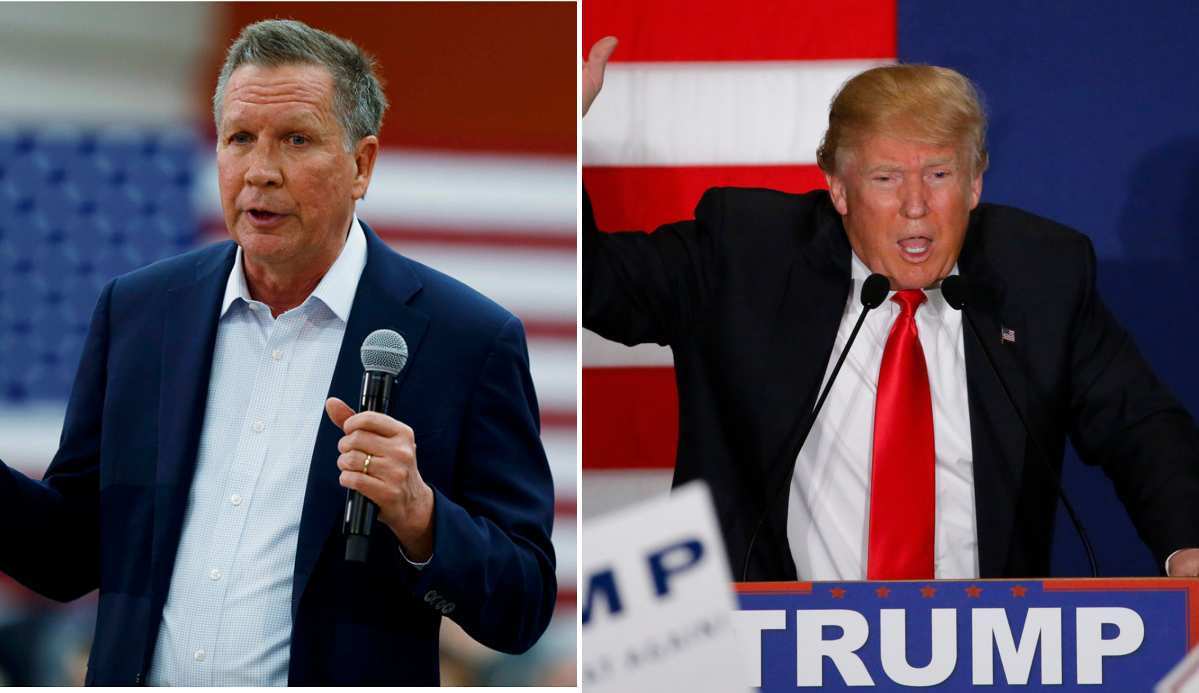 When presidents get primary challenges
Republican Ohio Gov. John Kasich, a frequent critic of President Trump, is reportedly considering a presidential run against his former primary rival. Kasich denies this, telling CNN over the weekend that he's still "rooting for [Mr. Trump] to get it together."
If Kasich decides to challenge Mr. Trump in a Republican primary, he'll have his work cut out for him, with a recent Marist poll indicating that the president would easily defeat the Ohioan. Others may also be contemplating a challenge to the president, and there's a long tradition of presidents being challenged in the primaries, although an incumbent hasn't faced a serious challenge yet this century.
Primary challenges have even cost incumbent presidents the nomination. And most of the time, presidents who fend off a primary challenge wind up losing the general election. Here's a look back at the major primary challenges against presidents in the modern era.
1992: Pat Buchanan vs. George H.W. Bush
In some ways, Buchanan's run for the Republican nomination against incumbent President George H.W. Bush revealed the tensions within the GOP that eventually led to Mr. Trump. Buchanan, a former aide to Presidents Nixon and Reagan, ran as a anti-trade, anti-war populist and unabashed culture warrior against Bush's moderate internationalist.
Although he had a strong showing in the New Hampshire primary, Buchanan never won a single primary challenge against Bush. At the Republican convention, Buchanan's stirring – and controversial – speech invoking a "war for the soul of America." He used that speech to defend his vision of Republicanism while stilling calling on his supporters to vote for Bush in the general election. But Bush still lost to Arkansas Gov. Bill Clinton that November.
1980: Ted Kennedy vs. Jimmy Carter
Kennedy, a Massachusetts senator, was always expected to eventually follow in his late brothers' footsteps and run for president. He did not run in 1972, a decision largely attributed to the death several years earlier of 28-year-old Mary Jo Kopechne, who drowned after Kennedy drove his car off a bridge on Chappaquiddick Island, Massachusetts. Kennedy's career rebounded, however, and in 1980 he decided to challenge incumbent Democratic president Jimmy Carter.
The two Democrats disliked each other from early on in Carter's presidency, and Kennedy decided to launch an insurgent challenge against the sitting president amid economic woes at home and destabilization abroad. Kennedy was outpolling Carter at the onset, although his campaign gradually lost steam, in part due to lingering questions over Chappaquiddick.
Kennedy eventually lost the bitter primary after winning a number of states, and famously refused to take Carter's hand at the Democratic convention in an attempted show of unity. Carter limped on to a massive defeat that November at the hands of former California governor Ronald Reagan.
1976: Ronald Reagan vs. Gerald Ford
Ford, who became president after Richard Nixon resigned due to the Watergate scandal, faced a strong challenge from his right in 1976. Winning many of the Southern and Western states that would soon become the electoral nexus of the GOP, Reagan came close to upsetting Ford at the Republican convention. But Ford won out, only to lose to Jimmy Carter in the general election.
1972: Pete McCloskey vs. Richard Nixon
McCloskey, a California congressman, challenged the popular Nixon from the left as an anti-war candidate in 1972. The bid went nowhere, and McCloskey quit the race after a disappointing finish in the New Hampshire primary. Nixon went on to win the general election against Democratic Sen. George McGovern in a historic landslide.
1968: Eugene McCarthy vs. Lyndon Johnson
With the dream of Johnson's "Great Society" disappearing in the carnage of Vietnam, Minnesota Sen. Eugene McCarthy challenged his party's incumbent president on a pro-peace platform after New York Sen. Robert Kennedy demurred. Bouyed by support from college students and the Democrats' increasingly anti-war base, McCarthy nearly pulled off an upset in the New Hampshire primary, leaving Johnson severely wounded.
Kennedy then changed his mind, rescinding his support for Johnson – whom he hated – and entering the race. This caused Johnson to announce that he was ending his campaign and that he would not accept the Democratic nomination. His vice president, Hubert Humphrey, then entered the race as McCarthy and Kennedy fought through the primaries. Minutes after winning the California Democratic primary in June, Kennedy was assassinated by Sirhan Sirhan, throwing the contest into disarray.
Humphrey was later nominated at the Democrats' chaotic 1968 convention in Chicago. He then lost to Nixon that November. In an effort to avoid such spectacles in the future, Democrats helped usher in the modern primary system, which allowed voters – as opposed to party bosses – to select the party's nominee. The new system was designed in part by George McGovern, who went on to lead his party in the 1972 presidential election.
1952: Estes Kefauver vs. Harry Truman
With the Korean War facing a stalemate, Tennessee Sen. Estes Kefauver mounted a primary campaign against incumbent president Harry Truman, who had taken office after the death of Franklin Roosevelt and had only narrowly won the 1948 race against Republican Gov. Thomas Dewey. Kefauver won the New Hampshire primary, which convinced Truman to quit the race.
Kefauver was then the favorite to win the nomination, but the intervention of party bosses, some of whom were loyal to Truman and still smarting at the Tennessee populist's challenge, intervened to give the nomination at the convention to blue-blooded Illinois Gov. Adlai Stevenson. The wry, quotable, aristocratic Stevenson then lost the general election to Dwight Eisenhower, the legendary former World War II general who had been drafted into the race by the GOP. Eisenhower and Stevenson would have a rematch four years later, with Ike once again winning the day.
Thanks for reading CBS NEWS.
Create your free account or log in
for more features.