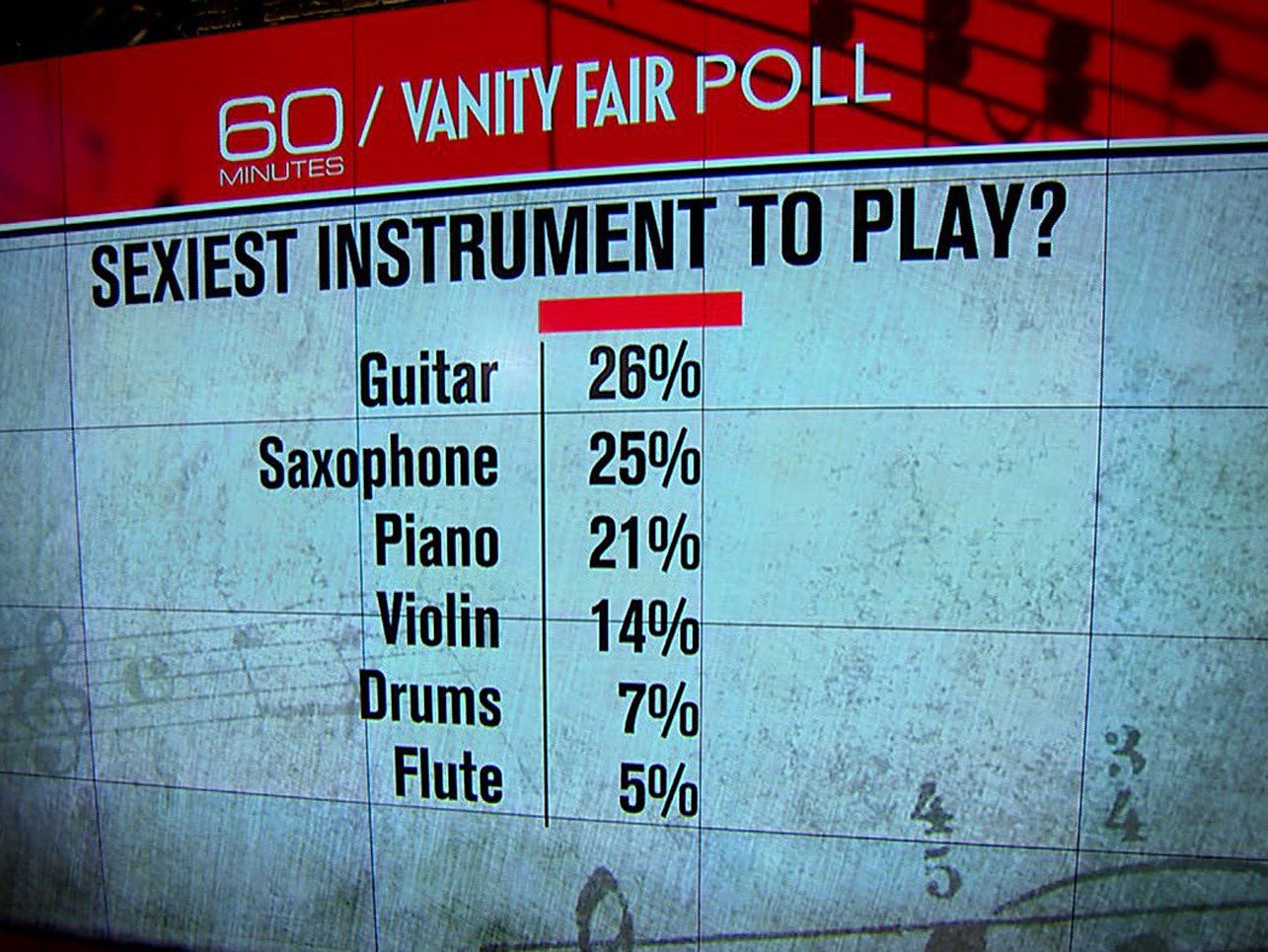 What's the sexiest instrument to play?
"Anchorman" Ron Burgundy may be on to something with his flute playing. Though the instrument doesn't come close to the guitar or saxophone, it is on a list of the sexiest instruments, according to a new poll from "60 Minutes" and Vanity Fair.

They found that the top instrument was the guitar at 26 percent, followed closely by the saxophone at 25 percent. The remainder of the list was made of the piano (21 percent), violin (14 percent), drums (seven percent) and flute (five percent.)


The survey measures how Americans listen to music and what they like to hear. The magazine will have the complete results in its upcoming issue. Vanity Fair's digital director Mike Hogan joined "CBS This Morning" with a preview.

The poll showed that 42 percent of Americans believe "this decade" has had the worst music in 45 years and it's not just older Americans that feel that way. Those under 30 are also most likely to think that this decade has had the worst music since 1970.

"I really do think it takes a really long time for the music that you hear ... for people to make sense of it, right? So we look back on the 70s and we're only thinking about the great stuff. We're not thinking about all the terrible stuff. I remember when people used to think the 70s was the worst music ever," he said. "So, I think as time goes on, it becomes clearer, this is the great stuff. Right now people might just be like 'All I hear (is) a lot of loud teeny-bopper music on the radio. And I don't get it.'"

Also, 39 percent of those polled would rather take their daughters to see Taylor Swift in concert over other artists like Katy Perry (26 percent), the boy band One Direction (11 percent) or Miley Cyrus (five percent.)
"We didn't ask the daughters what they want, but Taylor Swift has done a good job of cultivating her own image to be safe and clean, where as Miley is kind of constantly twerking everything and joking about drugs. And Justin Beiber, who is even lower on the list, has got border control issues and things," said Hogan. "So I think Taylor is sort of this safe choice if you're going to go to a concert with your daughter."

When asked which musical artist they'd like their child to study, the survey found 33 percent of parents would prefer their children study the Beatles; 32 percent voted for Mozart.

"I think it's because the parents don't know Mozart either, so they'd rather their kids learn something that they can listen to together," he said

Thanks for reading CBS NEWS.
Create your free account or log in
for more features.