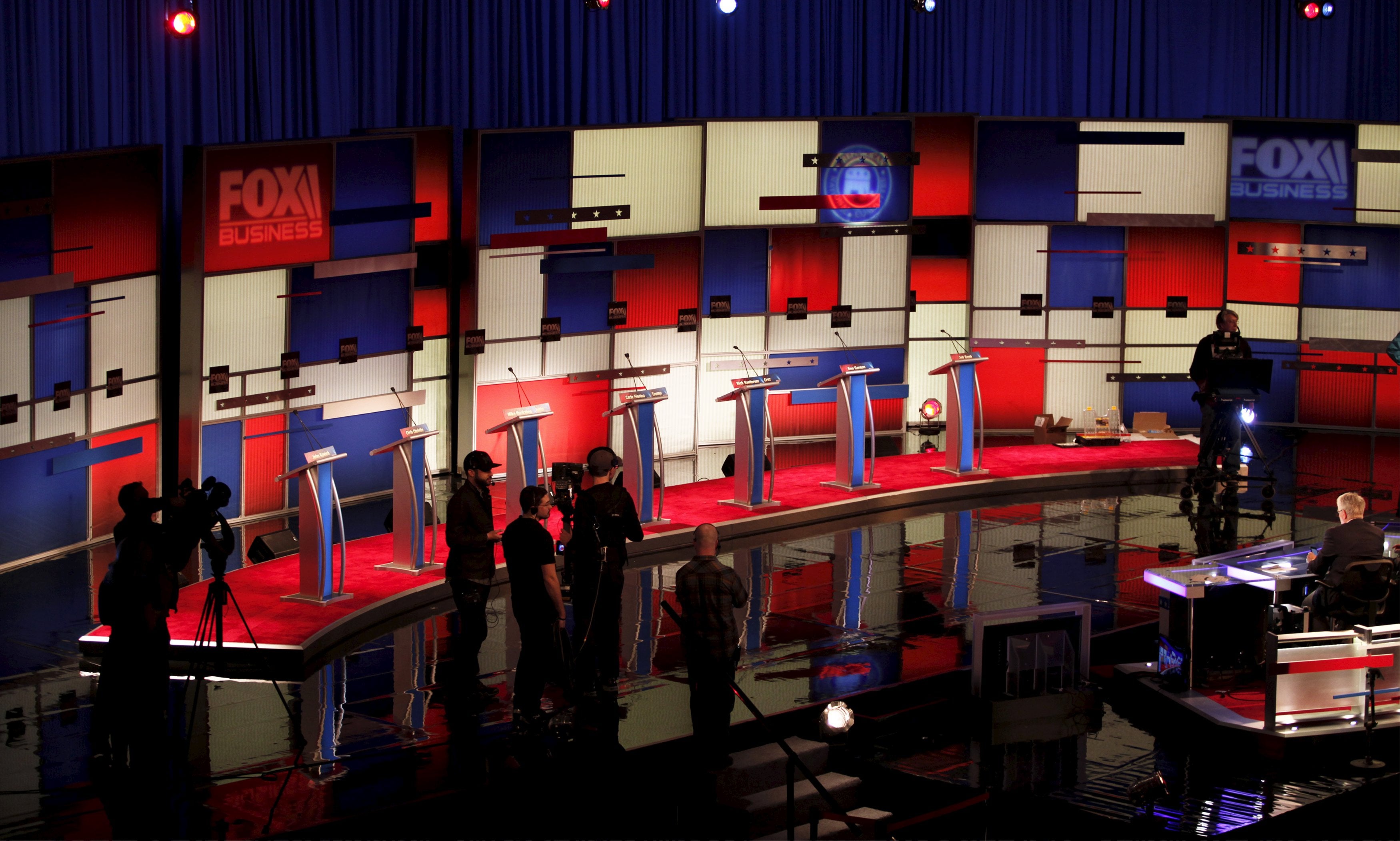 What to watch for in the Republican debate
Republicans gather Thursday night for the sixth debate of the 2016 GOP primary and the first debate in the actual election year.
The main stage debate, scheduled for 9 p.m., will have a smaller crowd than usual: Fox Business Network said that a candidate had to place among the top six candidates nationally in an average of the five most recent national polls recognized by Fox News, or in the top five in either Iowa or New Hampshire, based on recognized polls in those states.
The only candidates who met the criteria were businessman Donald Trump, Texas Sen. Ted Cruz, Florida Sen. Marco Rubio, neurosurgeon Ben Carson, New Jersey Gov. Chris Christie, former Florida Gov. Jeb Bush and Ohio Gov. John Kasich.
Just three GOP candidates will face off in the undercard debate that begins at 6 p.m.: Carly Fiorina, Rick Santorum and Mike Huckabee. Sen. Rand Paul, R-Kentucky, is boycotting the lower-tier debate after he was deemed ineligible for the main stage. Fox Business rejected Paul's appeal Wednesday to participate in the first-tier debate.
Cruz, who has maintained a top spot in Iowa polls, will likely be a top target at both the main and undercard debates. Trump has made Cruz's citizenship a key issue on the campaign trail over the last several weeks. Because Cruz, whose mother is an American, was born in Canada, Trump contends that Cruz will face serious challenges if he wins the nomination because he might not satisfy the qualifications. Paul has also raised questions while Rubio has called it a "non-issue."
On Thursday, Huckabee and Santorum jumped in on the action and began saying that it's not a settled issue.
"When it first surfaced, I didn't think it did [pose a problem]," the former Arkansas governor told supporters, according to the Washington Post. "But after now reading a number of very thoughtful pieces by constitutional experts, yeah, I think it should give everybody a little concern. It's an issue that's got to be dealt with.
Cruz's finances have also drawn new scrutiny and at tonight's Republican debate, Cruz could face questions about why he didn't disclose more than $1 million in loans, partly from his wife's employer, Goldman Sachs and another from Citibank, that went toward his 2012 Senate campaign. After the loans were revealed by the New York Times last night, his campaign called the failure to report the loans a mistake.
Trump is also likely to face questions about his place within the GOP after South Carolina Gov. Nikki Haley, who delivered the official Republican response to President Obama's State of the Union address, urged members of her own party to resist the temptation to follow the "siren call of the angriest voices."
One of those voices, she later said, is Trump.
It is also likely that Cruz will continue attacking Rubio, his fellow senator, over his record on immigration - a fight which began during the last debate. Earlier this week, a super PAC supporting Cruz released an ad linking Rubio to Mr. Obama and top Senate Democrat Chuck Schumer on immigration.
A CBS/New York Times national poll released this week found Trump is holding onto the top spot in the GOP presidential race. More than a third of GOP voters said they support Trump, Sen. Ted Cruz, R-Texas, came in second place with 19 percent support and Sen. Marco Rubio, R-Florida, trailed behind in third place with 12 percent support.
Thanks for reading CBS NEWS.
Create your free account or log in
for more features.