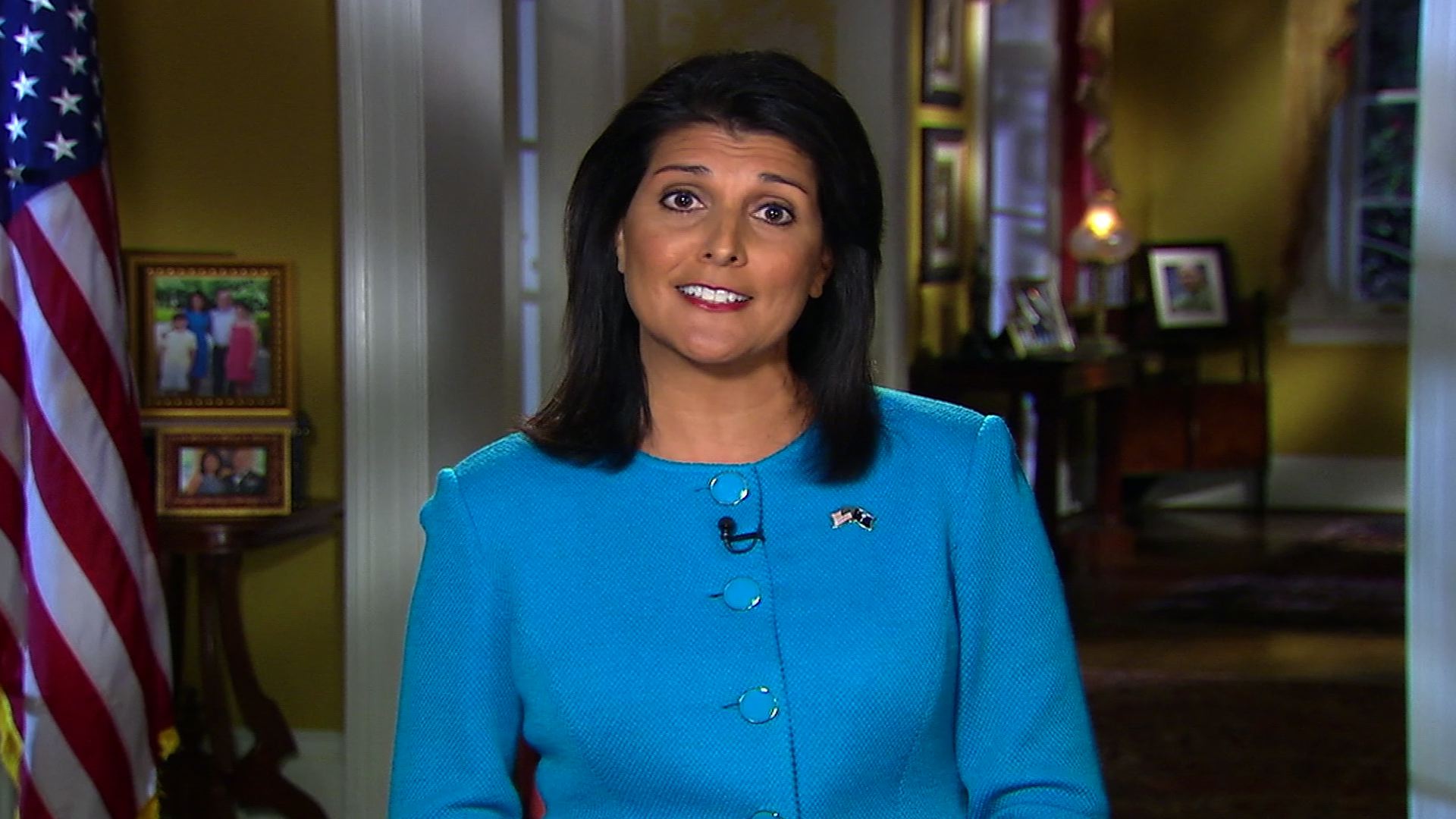 Nikki Haley's Republican response: Resist "siren call" of "angriest voices"
President Obama wasn't the only person South Carolina Gov. Nikki Haley sought to rebut in the Republican response to the State of the Union Tuesday evening.
In an unusual moment, she also told Republicans that Democrats are not solely responsible for the problems facing America, an acknowledgement of the frustration felt in the American electorate with all of its political leaders.
"We as Republicans need to own that truth. We need to recognize our contributions to the erosion of the public trust in America's leadership. We need to accept that we've played a role in how and why our government is broken. And then we need to fix it," she said.
And in a section of her speech that seemed to challenge the anti-immigrant strains of Donald Trump (though she did not name him), Haley recalled her own story as the daughter of Indian immigrants who "didn't look like our neighbors" and "didn't have much."
She implored Americans to resist the temptation to oppose immigrants out of fear.
"Today, we live in a time of threats like few others in recent memory. During anxious times, it can be tempting to follow the siren call of the angriest voices. We must resist that temptation," Haley said. "No one who is willing to work hard, abide by our laws, and love our traditions should ever feel unwelcome in this country.
"At the same time, that does not mean we just flat out open our borders. We can't do that. "
The line read like a response to Trump, who has called for a temporary ban on all Muslims entering the U.S. in the wake of the shooting in San Bernardino, California.
Haley was quick to caution that she wasn't calling for open borders or a more lax immigration system.
"We cannot continue to allow immigrants to come here illegally. And in this age of terrorism, we must not let in refugees whose intentions cannot be determined," she said. But she added that the U.S. should continue welcoming "properly vetted legal immigrants, regardless of their race or religion."
She also recalled the response to the shooting in her home state of South Carolina this year, when a young white man shot and killed nine people at an African-American church in Charleston.
"We didn't turn against each other's race or religion. We turned toward God, and to the values that have long made our country the freest and greatest in the world," she said. She also noted that the South Carolina legislature opted to remove the Confederate flag from the statehouse after the shooter, Dylan Roof, appeared in photographs with it.
"We removed a symbol that was being used to divide us, and we found a strength that united us against a domestic terrorist and the hate that filled him," she said.
Haley praised Mr. Obama for speaking "eloquently about grand things," but also suggested his speech was far rosier than the record suggests.
"Many Americans are still feeling the squeeze of an economy too weak to raise income levels. We're feeling a crushing national debt, a health care plan that has made insurance less affordable and doctors less available, and chaotic unrest in many of our cities," she said. "Even worse, we are facing the most dangerous terrorist threat our nation has seen since September 11th, and this president appears either unwilling or unable to deal with it."
She closed the speech by promising that Republicans will "stand up for our beliefs" and offered a laundry list of things that a GOP president would do if elected to the White House: lower taxes, stop runaway spending and debt, encourage American innovation, reform education, end and replace Obamacare, respect "differences in modern families" while insisting on respect for religious families, recognizing the importance of the Constitution, strengthening the military, and making agreements that are "celebrated in Israel and protested in Iran, not the other way around."
"We have big decisions to make. Our country is being tested. But we've been tested in the past, and our people have always risen to the challenge. We have all the guidance we need to be safe and successful," she said.
Thanks for reading CBS NEWS.
Create your free account or log in
for more features.