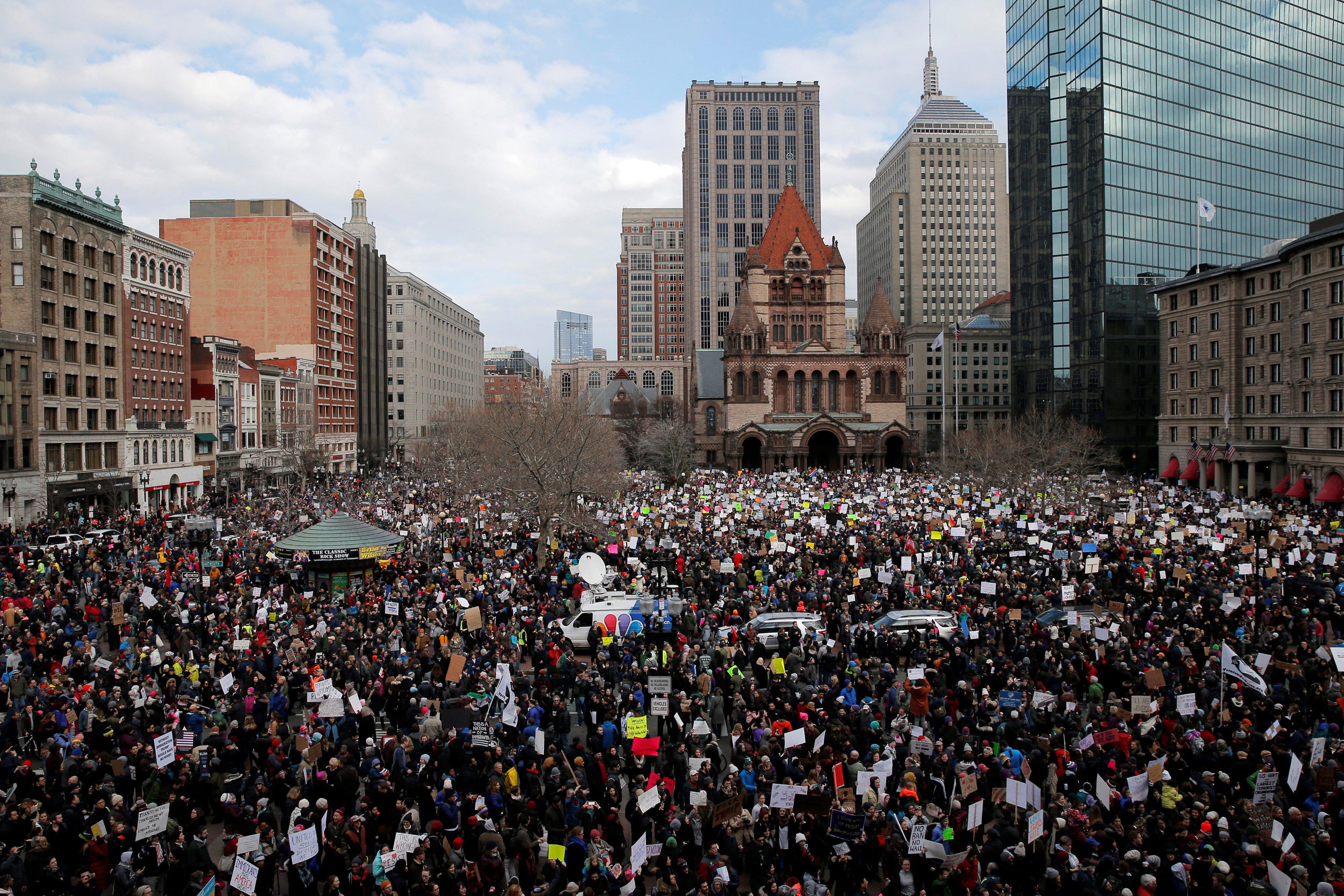 What to know about Trump's immigration executive orders
In his first week in office, President Trump signed three executive orders addressing a range of immigration issues -- including border security, law enforcement, national security and refugees. All of them related to promises Mr. Trump made repeatedly during his presidential campaign.
Here are the actions, what they do, and their impact so far.
Travel ban
Visa holders
After Mr. Trump signed his latest executive action, which cracked down on U.S. visa-holders from seven predominantly Muslim countries, detentions began in airports around the country, as travelers who were already en route to the U.S. were told upon landing that they could not enter the country for 90 days. The order exempts diplomats.
---
Countries affected by travel ban:
Iraq

Syria

Iran

Sudan

Libya

Somalia

Yemen

---
Homeland Security maintained on Saturday that the travel ban also applied to green card holders -- U.S. permanent residents -- from the seven countries, too. And then late Saturday, a judge blocked the implementation of the ban for those being detained in airports -- travelers who had had valid visas -- and ordered that they be admitted.
CBS News' Andres Triay reported Monday that at least 348 individuals were denied boarding by airlines over the weekend after the executive order was put into effect, according to two individuals who have seen the numbers. There were 394 encounters involving legal permanent residents at U.S. airports. Of those, 392 were admitted (two were denied: one Canadian dual citizen walked back across the Canadian border, and the other was arrested on an outstanding criminal charge).
By Sunday night, Customs and Border Protection (CBP) said it was no longer holding any individuals at U.S. airports over green card issues.
On Sunday, White House Chief of Staff Reince Priebus revised the administration's treatment of green card holders, and told CBS News' "Face the Nation" that the executive order did not place "further burdens on people that hold green cards." But he added that CBP agents have wide discretion in questioning travelers from these countries, and those traveling back and forth from one of those countries will get "a few more questions."
On Monday, President Trump fired acting Attorney General Sally Yates after she ordered Justice Dept. lawyers to stop defending Mr. Trump's executive order banning new arrivals to the U.S. from the seven Muslim-majority countries. Mr. Trump named Dana Boente, U.S. Attorney for the Eastern District of Virginia, to serve as acting attorney general until Sen. Jeff Sessions is confirmed as attorney general by the Senate. His nomination is to be voted on in committee Tuesday before consideration by the full Senate. Although Senate Democrats don't have the votes to block the nomination, they can use procedural maneuvers to draw the process out.
Refugees
The order also bars all refugees from entering the U.S. for four months, and indefinitely halts any refugees from Syria. The president said the ban was needed to keep out "radical Islamic terrorists."
The president's order immediately suspended for four months a program that last year resettled in the U.S. roughly 85,000 people displaced by war, political oppression, hunger and religious prejudice. An immediate 90-day ban was put in place for all immigration to the U.S. from the seven Muslim majority nations.
Mr. Trump's order singled out Syrians for the most aggressive ban, ordering that anyone from that country, including those fleeing civil war, are indefinitely blocked from coming to the U.S. The president explained as he signed the order, "We want to ensure that we are not admitting into our country the very threats our soldiers are fighting overseas."
His ban on asylum-seekers came down even as Iraqis endangered by work for the United States in their home country were midflight to their hoped-for refuge in the United States. As a result, they and countless other refugees, their families and aid workers scrambled Saturday as Muslim travelers were turned back on arrival at U.S. airports or blocked from boarding flights to America.
The president said the halt in the refugee program was necessary to give agencies time to develop a stricter screening system. He directed Homeland Security and State Department officials to review the refugee application and approval process and find any more measures that could prevent those who pose a threat from using the refugee program.
Some exceptions may be made -- the U.S. may admit refugees on a case-by-case basis during the freeze, and the government will continue to process requests from people claiming religious persecution, "provided that the religion of the individual is a minority religion in the individual's country." The order does not specify which religions the president had in mind, but in an interview with CBN News, he said "we are going to help" Syrian Christians, whom he said had suffered more persecution than Muslims.
As a candidate, Trump called for a temporary ban on all Muslim immigration to the U.S. He later shifted his focus to putting in place "extreme vetting" procedures to screen people coming to the U.S. from countries with terrorism ties. The Council on American-Islamic Relations said it would challenge the constitutionality of the executive order.
During the past budget year, the U.S. accepted 84,995 refugees, including 12,587 people from Syria. President Obama had set the refugee limit for this budget year at 110,000. Mr. Trump's executive order would cut refugee limit to 50,000.
Border security and immigration enforcement
The wall
Perhaps Mr. Trump's signature issue during the presidential campaign was his promise to build a "big, beautiful wall" across the southern border.
The White House says that the order he signed Wednesday marks the beginning of the fulfillment of that pledge. The order calls for the homeland security secretary to "take all appropriate steps to immediately plan, design, and construct a physical wall along the southern border, using appropriate materials and technology to most effectively achieve complete operational control of the southern border."
However, the order does not indicate how construction of the wall will be funded, although it does call on the homeland security secretary to find funds for the wall's construction, and prepare budget requests for Congress. Mr. Trump has said repeatedly that Mexico will pay for the wall, although he's been vague on how that would happen. In recent days, the White House has said that the wall might be financed by a tariff imposed on Mexican-produced goods.
In any event, Mexico's president has repeatedly said his nation willnot pay for the wall. But Mr. Trump may have some leverage over his Mexican counterpart in that the United States sends that nation millions of dollars in aid, although Mr. Trump has said the wall would cost at least $8 billion, and perhaps as much as $12 billion.
Other estimates put the figure much higher. Regardless, the executive order instructs the heads of government agencies to determine how much the U.S. hands over to Mexico each year, indicating that some of that funding could go towards the wall.
The executive order also calls for 5,000 new border patrol officers. Mr. Trump often touted his support from border patrol officers while on the campaign trail, saying they supported his plan to lock down the southern border.
The authority rests with Congress to allocate the funds necessary to hire those new officers, but Republican Congressional leaders have said they are prepared to devote billions to the wall project while Mr. Trump works with Mexico on funding.
But funding isn't the only impediment to building a wall along the southern border – even if, as Mr. Trump has indicated, the wall does not cover its entire expanse.
"In Texas, apparently there are a great many of the lands adjacent to the border in private hands, so the government would first have to seize the land by eminent domain or purchase it from the owners and then deal with the construction problems," Philip Schrag, a Georgetown Law professor and expert on immigration policy, told CBS News.
The undocumented inside the U.S.
Sanctuary cities
In a September speech on immigration, Mr. Trump promised to "end the sanctuary cities that have resulted in so many needless deaths," and he said those cities would not receive taxpayer dollars.
President Trump on Wednesday followed through on that promise, signing an executive order that would withhold federal grant money from sanctuary cities.
The order doesn't specify what kind of funding could be blocked, although it seems to suggest that the targeted dollars are controlled by the Justice Department and Homeland Security and referred to jurisdictions that bar local officials from communicating with federal authorities about an individual's immigration status.
"Jurisdictions that willfully refuse to comply" with federal immigration laws, the order says, "are not eligible to receive Federal grants, except as deemed necessary for law enforcement purposes by the attorney general or the secretary [of Homeland Security]."
Peter L. Markowitz, a professor at Cardozo Law School in New York, said such an attempt to cut off funding would face strong legal challenges.
"The Constitution prohibits the president from defunding jurisdictions that won't do his bidding," Markowitz said. "There's nothing in federal law that requires localities or states to participate in federal immigration enforcement. Second, the Constitution grants Congress - not the president - the power to determine how federal dollars are spent."
Sanctuary cities offer safe harbor for undocumented immigrants who might otherwise be deported by federal immigration law enforcement officials. According to a Justice Department inspector general's report last year, there are over 140 sanctuary jurisdictions -- cities and counties -- across the U.S., including at least 37 cities -- San Francisco, New York, Chicago, Seattle, Miami and Los Angeles, among others.
The mayors of New York, Chicago, Los Angeles, San Francisco, Austin, San Jose, Oakland, and Austin, among others, said they'd defy the order. Miami-Dade Mayor Carlos Gimenez, however, abandoned the sanctuary status over the fear that his city would lose millions in federal funding.
The order also called for the hiring of 10,000 additional immigration officers for law enforcement, subject to the availability of funding.
Thanks for reading CBS NEWS.
Create your free account or log in
for more features.