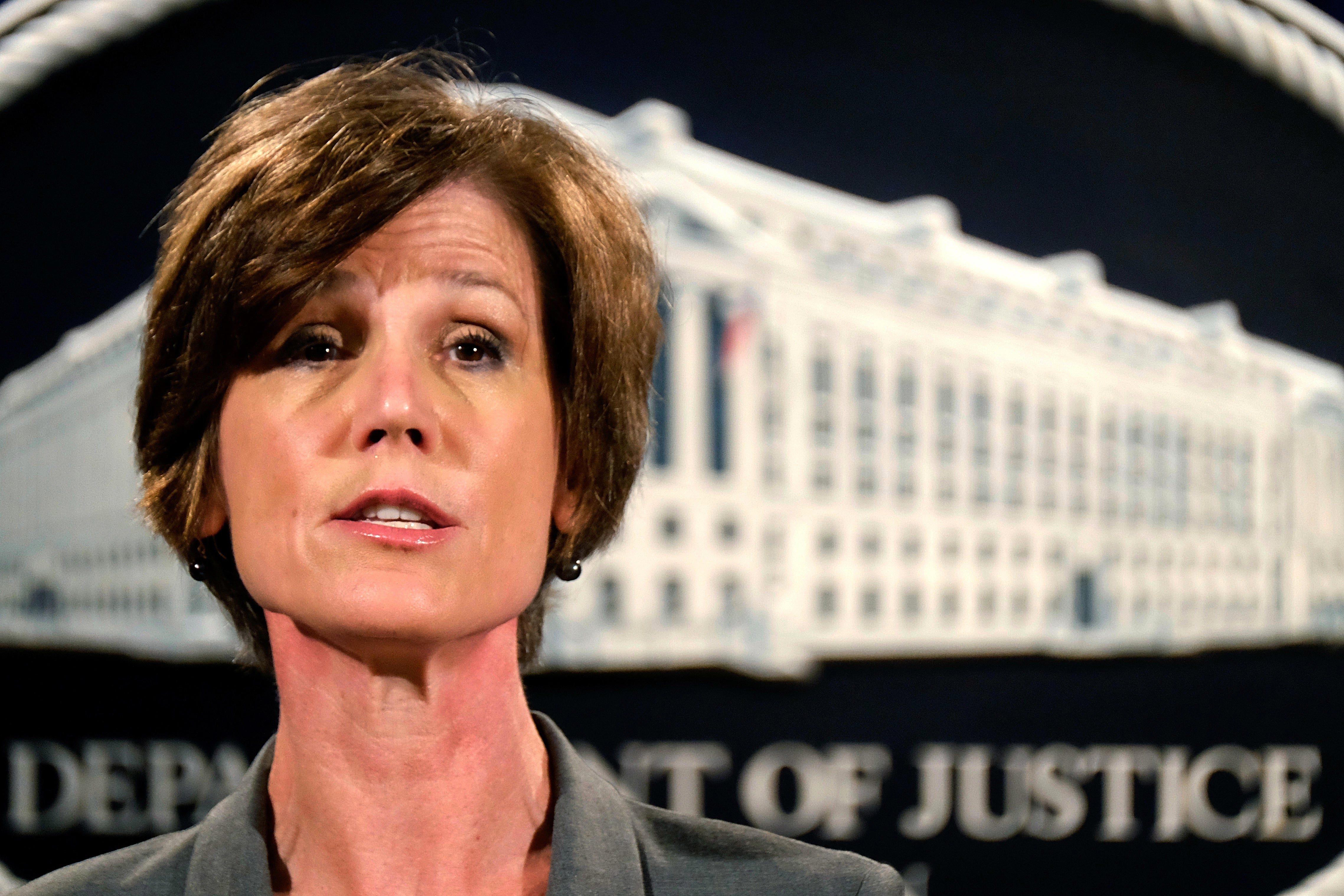 Acting U.S. attorney general directed Justice Dept. not to defend Trump travel ban
While she was acting attorney general, Sally Yates announced on Monday evening that the Department of Justice would not defend President Trump's executive order banning new arrivals from seven Muslim-majority countries.
Yates, a career official and Obama appointee, said in a statement that she was "not convinced" the order is "lawful" and that the Justice Department would not defend it in court "until I become convinced that it is appropriate to do so."
The executive order banning new arrivals and refugees from the seven Muslim-majority countries had already been challenged in court a number of times, and has sparked widespread protests in major cities. On Saturday, the Justice Department defended the order before a court in Brooklyn. Yates' decision signified a major about-face by the department.
Shortly after her statement, the White House said Yates was fired.
"The acting Attorney General, Sally Yates, has betrayed the Department of Justice by refusing to enforce a legal order designed to protect the citizens of the United States," the White House said in a statement on Monday night. "This order was approved as to form and legality by the Department of Justice Office of Legal Counsel."
The White House said President Trump "relieved Ms. Yates of her duties" and named Dana Boente, U.S. Attorney for the Eastern District of Virginia, to serve as acting attorney general. The White House said he would serve "until Senator Jeff Sessions is finally confirmed by the Senate, where he is being wrongly held up by Democrat senators for strictly political reasons."
"I am honored to serve President Trump in this role until Senator Sessions is confirmed," said Boente, who was sworn in later on Monday.
Before the announcement, President Trump tweeted, "The Democrats are delaying my cabinet picks for purely political reasons. They have nothing going but to obstruct. Now have an Obama A.G."
Former Attorney General Eric Holder had tweeted support for Yates.
"Sally Yates: person of integrity/attorney with great legal skill," Holder tweeted. "Has served this nation with distinction. Her judgment should be trusted."
The Senate Judiciary Committee is scheduled to meet on Tuesday morning to vote on the nomination of Sessions for attorney general. The vote was delayed by one week during last Tuesday's committee meeting when Senate Democrats asked for more time to consider the nomination, which is allowed by committee rules, CBS News' John Nolen reports.
Following a vote by the committee the nomination goes to the full Senate for consideration. Although Senate Democrats don't have the votes to block the nomination, they can use procedural maneuvers to draw the process out. The final vote by the full Senate on the Sessions nomination could come at the end of this week or the beginning of next week, depending on when Sen. Majority Leader Mitch McConnell schedules the vote and how long Democrats try to drag the process out.
Thanks for reading CBS NEWS.
Create your free account or log in
for more features.