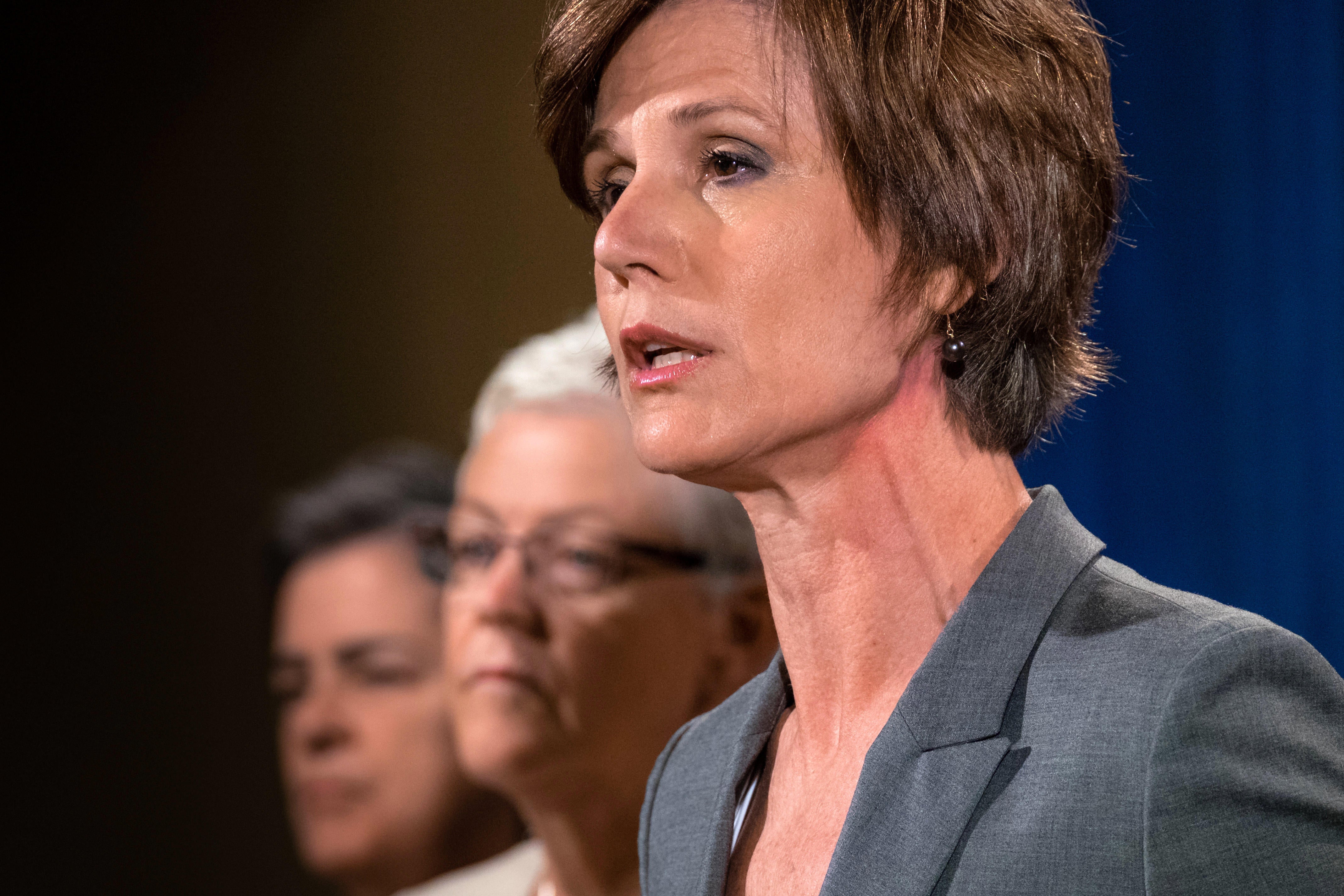 Trump fires acting Attorney General Sally Yates
WASHINGTON -- President Donald Trump fired acting Attorney General Sally Yates after she ordered Justice Dept. lawyers to stop defending Mr. Trump's executive order banning new arrivals to the U.S. from seven Muslim-majority countries.
"The acting Attorney General, Sally Yates, has betrayed the Department of Justice by refusing to enforce a legal order designed to protect the citizens of the United States," the White House said in a statement on Monday night. "This order was approved as to form and legality by the Department of Justice Office of Legal Counsel."
The White House said President Trump "relieved Ms. Yates of her duties" and named Dana Boente, U.S. Attorney for the Eastern District of Virginia, to serve as acting attorney general. The White House said he would serve "until Senator Jeff Sessions is finally confirmed by the Senate, where he is being wrongly held up by Democrat senators for strictly political reasons."
"I am honored to serve President Trump in this role until Senator Sessions is confirmed," Boente said in the statement. "I will defend and enforce the laws of our country to ensure that our people and our nation are protected."
Boente was sworn in around 9 p.m. Monday, White House spokesman Michael Short said.
He then directed the Justice Department to defend Trump's executive order on immigration and refugees.
Reporters and news photographers were not invited to witness the swearing-in ceremony.
The announcement about Yates' firing and the new acting attorney general came shortly after Yates, a career official and Obama appointee, said she was "not convinced" Mr. Trump's immigration order is "lawful" and that the Justice Department would not defend it in court "until I become convinced that it is appropriate to do so."
The executive order banning new arrivals and refugees from seven Muslim-majority countries had already been challenged in court a number of times, and has sparked widespread protests in major cities. On Saturday, however, the Justice Department defended the order before a court in Brooklyn. Yates' decision on Monday signified a major about-face by the department.
Before the White House released the statement on Yates, Mr. Trump lashed out on social media.
"The Democrats are delaying my cabinet picks for purely political reasons," he tweeted Monday night. "They have nothing going but to obstruct. Now have an Obama A.G."
Senate Minority Leader Chuck Schumer, of New York, issued a statement late Monday night saying the Yates firing "underscores how important it is to have an Attorney General who will stand up to the White House when they are violating the law. Many people have doubts about whether (attorney general nominee) Jeff Sessions can be that person, and the full Senate and the American people should at the very least know exactly how independent he plans to be before voting on him.
"The Attorney General should be loyal and pledge fidelity to the law, not the White House. The fact that this administration doesn't understand that is chilling," Schumer said.
On the Senate floor, he remarked, "She was fired because she would not enact, pursue the executive order on the belief that it was illegal, perhaps unconstitutional. It was a profile in courage."
The top Democrat on the House Judiciary Committee, Rep. John Conyers, of Michigan, said in a statement, "President Trump has commenced a course of conduct that is Nixonian in its design and execution and threatens the long-vaunted independence of the Justice Department."
Nixon's White House lawyer, John Dean tweeted his reaction:
Republican Se. Ted Cruz, of Texas, defended Mr. Trump's move, saying in a statement that Yates "now joins the ignominious succession, from Eric Holder to Loretta Lynch, of Attorneys General who put brazen partisan interests above fidelity to law."
The Senate Judiciary Committee is scheduled to meet Tuesday morning to vote on the nomination of the Alabama senator for attorney general. The vote was delayed a week during last Tuesday's committee meeting when Senate Democrats asked for more time to consider the nomination, which is allowed by committee rules, CBS News' John Nolen reports.
Following a vote by the committee the nomination goes to the full Senate for consideration. Although Senate Democrats don't have the votes to block the nomination, they can use procedural maneuvers to draw the process out. The final vote by the full Senate on the Sessions nomination could come at the end of this week or the beginning of next week, depending on when Sen. Majority Leader Mitch McConnell schedules the vote and how long Democrats try to drag the process out.
The Yates decision came as Trump pressed into his second week in office defending his sweeping immigration ban. Protests persisted at major airports, and concern mounted from U.S. diplomats and members of his own party.
Trump denied that his order was to blame for weekend chaos at the nation's airports, instead pointing to computer glitches, demonstrations and even the "fake tears" of Senate Minority Leader Charles Schumer.
The president publicly shifted his focus, signing an executive action aimed at cutting regulations for small businesses and teasing his plans to unveil his Supreme Court pick Tuesday night. But the immigration ban remained at the forefront of his first fortnight in the White House -- and officials were pondering more actions moving forward.
According to a draft document obtained by The Associated Press, Trump is considering an executive order that would target some immigrants for deportation if they become dependent on government assistance.
The draft order calls for the identification and removal "as expeditiously as possible" of any foreigner who takes certain kinds of public welfare benefits. Such immigrants have been barred from the U.S. for the better part of a century and they can already be deported. The proposed order appears to signal a Trump administration effort to crack down on such welfare cases.
Another draft order under consideration would make changes to several of the government's foreign worker visa programs. The White House did not immediately respond to requests for comments on the draft orders.
Thanks for reading CBS NEWS.
Create your free account or log in
for more features.