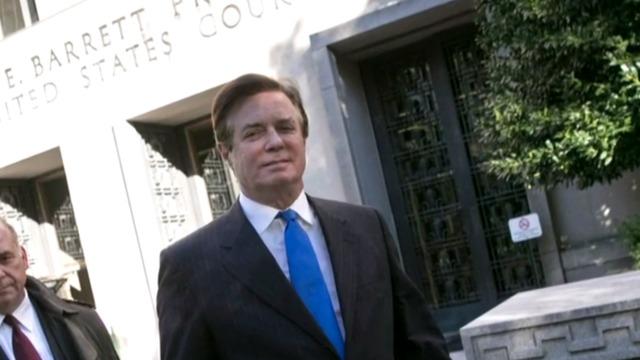 Paul Manafort's lawyer chastised by judge
Former Trump campaign manager Paul Manafort and his former business associate, Rick Gates made their first appearance in court before the judge who will oversee their case, Judge Amy Berman Jackson, at the U.S. District Court in Washington, D.C.
Jackson reprimanded Manafort's attorney as she reminded all lawyers to review statues on disclosing information about criminal cases. Singling out Kevin Downing for talking to the media after Manafort appeared in court for his indictment Monday, she warned, "This is a criminal trial, not a public relation a campaign."
Manafort's lawyers also want Judge Jackson to remove the GPS monitoring requirement, but she doesn't think that is going to happen. Jackson is more open to relaxing home confinement, though. She became frustrated with lawyers' ad-hoc requests and told them to file requests about bail conditions. Both men have been confined at home since they turned themselves into the FBI on Monday.
Manafort's wife, Kathleen Manafort, attended the hearing and shook her head when the judge decided not to relax or change the confinement conditions.
Gates now has an attorney, Shan Wu, of Wu, Grohovsky & Whipple. Gates was trying to obtain permission to attend his child's sporting event this weekend.
The 12-count indictment against Manafort and Gates includes conspiracy to launder money, conspiracy against the U.S., unregistered agent of a foreign principal, false and misleading statements surrounding the Foreign Agents Registration Act (FARA), false statements and seven counts of failure to file reports of foreign bank and financial accounts.
Manafort and Gates had pleaded not guilty in federal court on Monday afternoon. If convicted, the two face maximum jail time of over a decade each. Manafort could be sentenced to 12 1/2 to 15 1/2 years in prison. And Gates faces a sentencing range of 10 to 12 1/2 years. If they strike a deal with prosecutors, though, they would likely serve less time.
The two defendants will return to court Monday morning.
Reporting by Paula Reid. Rebecca Kaplan contributed to this report.
Thanks for reading CBS NEWS.
Create your free account or log in
for more features.