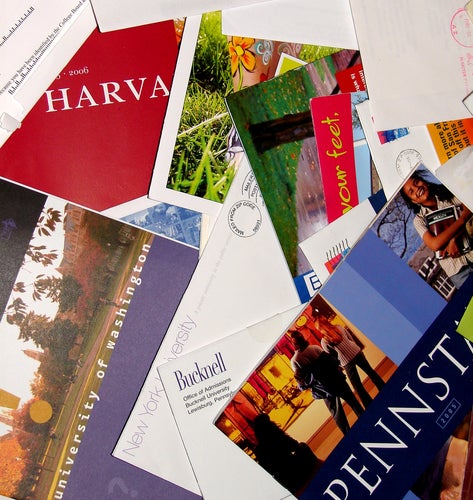 What factors count most for getting into college?
(MoneyWatch) What are college admission officers looking for as they pour through the latest crop of student applications?
College gatekeepers say that the applicants whom they value most have taken college-prep classes in high school and have performed well in these courses. The latest annual admission survey from the National Association of College Admission Counselors indicates that 84 percent of admission directors at state and private schools say grades in college-prep classes are of "considerable importance."

This admission factor has dominated the association's annual list for two decades. Coming in second in importance, according to the survey, was the strength of a teenager's curriculum (68 percent).

The admission factor that has fallen dramatically in the polls over the years is class rank. Back in 1993, for instance, 42 percent of institutions said class rank was of "considerable importance," but today that number has shrunk to 19 percent. A prime reason for the drop is because many high schools have stopped ranking their students.
College admission factors

Here is a rundown of the other admission factors listed in the survey, ranked by the percentage of admission administrators who say they are of "considerable importance:"

- Admission test scores (ACT, SAT), 59 percent- Essay or writing sample, 25 percent
- Counselor recommendation, 19 percent
- Class rank, 19 percent
- Teacher recommendation, 16.5 percent
- Subject test scores (AP, IB), 7 percent
- Portfolio, 6 percent- Interview, 6 percent
- SAT II scores, 5 percent
- Extracurricular activities, 5 percent
- State grad exam scores, 4 percent
- Work, 2 percent

The key takeaway: The best thing a teenager can do to lower the cost of college for themselves is to strive to be the best student possible.

Colleges possess finite amounts of money to distribute for financial aid and merit scholarships. The students who have assembled superior academic profiles are in a much greater position to capture the best awards.
Thanks for reading CBS NEWS.
Create your free account or log in
for more features.