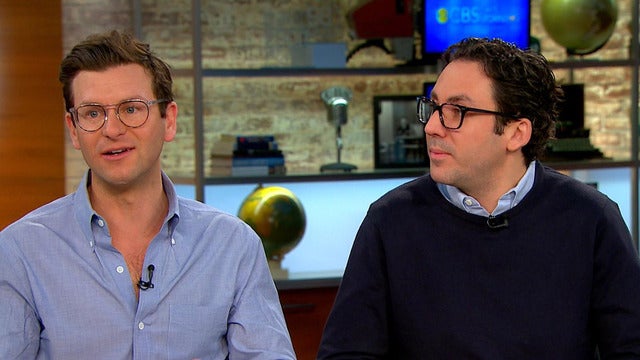 Groundbreaking eyewear brand tops Fast Company list
First there was the one-for-one strategy of TOMS, then the at-your-fingers ready Uber. Now there's a brand with such strong sights set on the future, Fast Company named it number one on its 2015 Most Innovative Companies list. Warby Parker combines classic design with a groundbreaking pricing model, something the glasses world hasn't seen in decades.
"We saw an industry that really hadn't innovated either on the product side or the distribution side," co-CEO David Gilboa said.
He said most glasses in the U.S. are marked up 10 to 20 times what they cost to manufacture.
"There are a couple massive companies that are highly profitable and really don't have much incentive to innovate and that gave us an opportunity to come in and do something different," Gilboa said.
Something different meant selling $500 glasses for $95, frames co-CEO Neil Blumenthal calls "classic in design with a little bit of a contemporary twist." He also said they don't design anything he would be embarrassed to wear in 20 years.
Made famous for their at-home try-on program, the company allows customers to choose up to five pairs to test for five days. Glasses that fit the bill stay, and the others are shipped back.
When Warby Parker launched in 2010, their goal was to be one of the most impactful brands in the world in 100 years. It's a plan that's working. Last year, Warby Parker sold their one millionth pair of glasses.
"We recognize that to get there, we need to be really thoughtful and focused and take one step at a time," Gilboa said. "I think there have been a lot of companies that have gotten a little too ambitious too quickly, tried to expand internationally, tried to launch multiple product categories. We spend a lot of time talking about how strategy is more about what we say no to than what we say yes to."
But it didn't start as smooth sailing for the two co-CEOs. Within two days of launching their site, a rush of new customers led to a serious problem.
"We ran out of inventory and people were calling in saying, 'We want to try on your glasses but we can't do it on the website. Can we come to your office?'" Blumenthal said.
While it seemed their online-only, vertically-integrated strategy would sustain, the two founders saw the need for change.
"Our original business plan was 'Internet, Internet, Internet,'" Blumenthal said. "We were building this brand and to some extent, you have to be experience-focused and medium agnostic."
In order to quell the chaos, they acted fast, inviting customers into Blumenthal's apartment.
"Our first store was my dining room table and our first cash register was Dave's laptop and they would literally check out on our website and that gave us this idea maybe we should open up stores," Blumenthal said.
From there, the first brick-and-mortar Warby Parker store was born. After the launch of a few pop-ups in 2012, they launched a permanent location in New York in April 2013 and a second in Boston one month later. To date, there are 10 stores around the country.
In the future, Warby Parker could represent more than eyewear. Last year, they published their first book for the holiday season, "Good Luck Omens for the Modern Era." They also collaborated with Grammy-winning artist Beck on a glasses design called Carmichael and produced his album "Song Reader." Just as Amazon started with books, Gilboa and Blumenthal have their sights set on the future.
"Right now we're primarily focused on glasses but we are excited to expand into other categories," Gilboa said.
Until then, they're innovating with what they know best. This spring, they plan to bring clip-on sunglasses back into fashion. Down the road, they hope to integrate new and easier access to eye exams.
"More and more emerging technologies are going to enable people to do a refraction online and take an eye exam from your iPhone," Blumenthal said. "We think that's going to happen in the next couple of years."
Thanks for reading CBS NEWS.
Create your free account or log in
for more features.