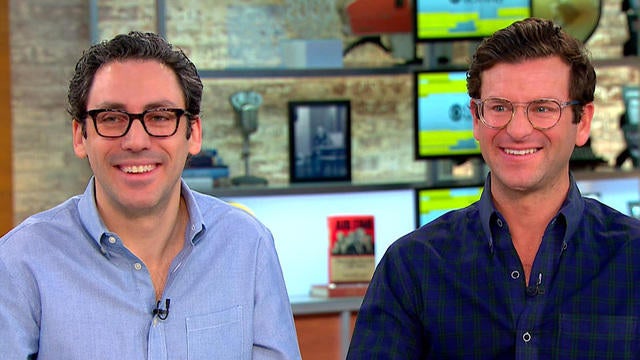 How Warby Parker successfully disrupted the eyewear monopoly
Eyewear retailer Warby Parker has grown exponentially since its founding in 2010. But when co-founders Neil Blumenthal and Dave Gilboa first launched their company out of their apartment in Philadelphia, their vision of the company's future wasn't so clear.
"We thought we had a good idea but we also had talked to a lot of entrepreneurs that said just because you think you have a good idea, just because you put up a website, doesn't mean anyone's going to come to it," Gilboa told "CBS This Morning" Wednesday, joined by his co-founder.
The company originated from Gilboa's own personal struggle, after he lost his $700 pair of glasses while backing in Southeast Asia before he started grad school at the University of Pennsylvania's Wharton School of Business. Replacing them would have been so expensive he ended up going through his entire first semester without them.
"It didn't make any sense. And so we realized we could cut out all the middlemen, all the unnecessary markups and... design the product that we would love and want to wear and sell them directly to consumers for $95," Gilboa explained.
Gilboa and Blumenthal wanted to offer an alternative to the monopoly of the eyewear industry. Last month, Italy's dominant optical firm Luxottica – which includes brands like RayBan and Oakley – and leading French lens maker, Essilor, agreed to a $49 billion merger deal, to create the global eyewear giant, EssilorLuxottica.
But for a modest price beginning at $95, Warby Parker allows customers to choose and try on their glasses from the comfort of their homes. It began as a "purely online" company, but Blumenthal said, they soon learned that "people wanted to touch the glasses in person."
"The company took off like a rocketship. We had wait lists of 20,000 people. People started calling up saying, 'Hey, can we come to your office to try on glasses?'" Blumenthal said.
They've proved the skeptics wrong, expanding beyond the online venture to open 47 locations in 22 states. And they've come full circle, opening their latest store in Philadelphia, just blocks from where they launched the company in 2010.
Gilboa said the company has aimed to make the eyewear shopping experience "as convenient and fun as possible," with great customer service, an in-store optometrist, easy purchase process using iPads, and open display of frames.
Warby Parker also has its eyes on philanthropy – it's donated more than two million pairs of glasses to people in need. As the company states on its website: "Almost one billion people worldwide lack access to glasses, which means that 15 percent of the world's population cannot effectively learn or work."
Through its "Buy a Pair, Give a Pair" program, the company donates a portion of its sales to nonprofit groups that train people in developing countries to give basic eye exams and sell affordable glasses to their communities.
"It's crazy, and if you think about what that means to somebody's earning potential or ability to provide for their family... it immediately sets people back. We're finding that even in America, we have students getting misdiagnosed as special needs when they just need a pair of glasses," Blumenthal said.
To tackle that issue closer to home, Warby Parker has launched a program to provide eye exams and glasses in schools in New York City and Baltimore. And they're making sure they're doing it in style, giving students different designs to choose from.
"Because we know if the glasses aren't cool, they're not going to wear them," Blumenthal said.
Thanks for reading CBS NEWS.
Create your free account or log in
for more features.