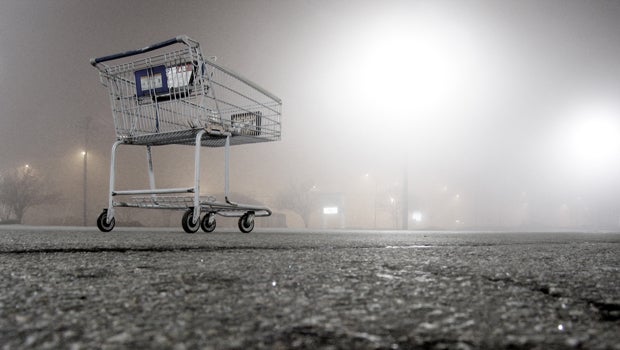 Walmart and Target: A tale of two discount chains
NEW YORK This holiday season, the biggest discount chains in the U.S. will tell the tale of two very different shoppers: Those that have and those that have not.
Walmart (WMT), the world's largest retailer, on Thursday acknowledged that its low-income shoppers continue to struggle in the economy and issued an outlook for the fourth quarter -- which encompasses the holiday shopping period -- that falls below Wall Street estimates. On the same day, its smaller rival Target (TGT), which caters to more affluent shoppers, said it expects results during the quarter to exceed the Street's projections.
The two discounters offer valuable insight into how Americans will spend in November and December, a period that's traditionally the busiest shopping period of the year. Some merchants depend on the holiday shopping season for up to 40 percent of their annual sales, but economists watch the period closely to get a temperature reading on the overall mood of American consumers.
The forecasts seem to confirm a trend that has taken shape during the economic downturn. Well-heeled shoppers spend more freely as the economy begins to show new signs of life, while consumers in the lower-income brackets continue to hold tight to their purse strings even as the housing and stock markets rebound.
Walmart and Target both are discounters, but they cater to different customers. Walmart, which says its customers' average household income ranges from $30,000 to $60,000, hammers its low-price message and focuses on stocking basics like tee shirts and underwear along with household goods. But Target, whose customers have a median household income of $64,000 a year, is known for carrying discounted designer clothes and home decor under the same roof as detergent and dishwashing liquid.
Even the tone that the retailers struck on Thursday was different.
Charles Holley, Walmart's chief financial officer, told reporters during a call that the retailer's customers still are worried about high unemployment and higher basic costs for things like gas. He said he also worries that they also will have some anxiety over big tax increases and spending cuts - known as the "fiscal cliff" - that will take effect in January unless Congress and the White House reach a budget deal by then.
"Macroeconomic conditions continue to pressure our customers," Holley said.
Meanwhile, Gregg Steinhafel, Target's chairman and president, told investors: "We feel good about our ability to deliver inspiring merchandise, most-wanted gifts, and unbeatable value, while also generating expected profitability."
The fortunes of the two retailers have changed during the economic downturn.
Walmart at first fared well during the slowdown as affluent shoppers traded down to its stores. But the company eventually began to lose some of its core low-income shoppers in the process.
The company, based in Bentonville, Ark., posted nine consecutive quarters of revenue declines in its U.S. namesake business as it moved away from its lowest prices strategy and got rid of thousands of basic items its core customers covet in an effort to de-clutter the stores.
Walmart's namesake U.S. business, which began re-emphasizing low prices and restocked shelves in 2010, reversed the decline last year. The business has recorded five consecutive quarters of gains in revenue at stores open at least a year, an indicator of a retailer's health.
But its momentum has slowed. Walmart said Thursday that its namesake U.S. business had a 1.5 percent increase in revenue at stores open at least a year. But the gain is short of the 1.8 percent increase Wall Street expected. It's also a slowdown in growth from the 2.2 percent gain the business posted in the second quarter and the 2.6 percent increase it had in the first quarter.
Walmart issued a fourth-quarter profit outlook that's below analysts' forecasts. For the quarter, it expects earnings per share to be between $1.53 and $1.58, below the $1.59 analysts expected.
"It shows that its consumer is still struggling," said Ken Perkins, president of Retail Metrics, a research company.
Target, based in Minneapolis, initially struggled during the economic slowdown. Its fashion-forward image hurt it during the downturn: People didn't perceive Target as having the best prices.
To combat that, the retailer expanded its food offerings and began to emphasize low prices in its advertising - two things that put it in direct competition with Walmart. It also started a 5 percent discount program for customers who use its branded credit or debit cards.
But its focus on prices and groceries cost it some cachet, and its performance has been choppy. The latest results show that Target has found a balance between fashion and price. Target said Thursday that revenue at stores open at least a year rose 2.9 percent in the third quarter, roughly in line with Wall Street estimates.
For the fourth quarter, which ends in January, Target said that it anticipates adjusted earnings of $1.64 to $1.74 per share. That beast the $1.51 per share analysts expected.
"Looking ahead, we are confident in our holiday merchandising and marketing plans," Kathee Tesija, Target's executive vice president of merchandising, told investors on Thursday.
The difference between the two discounters is becoming more apparent during the holiday shopping season, as both discounters attempt to cater to lure different shoppers into stores.
Walmart last week said it will offer deeper discounts and a broader assortment of merchandise. The company also started its holiday layaway program a month earlier than a year ago and lowered its fees for the program from $15 to $5.
The move seems to working. It has booked an additional $300 million in layaway business compared with a year ago. The company will record sales for layaway during the fourth quarter.
Target, on the other hand, is trying to appeal to higher-end shoppers.
The retailer is teaming up with luxury merchant Neiman Marcus to offer a limited collection spanning from fashion to sporting goods. More than 50 products from 24 designers, including Oscar de la Renta and Diane von Furstenberg will be available at both stores and on their websites starting Dec. 1 until they are sold out. Target is also bolstering its home area with names like Nate Berkus, which launched late last month.
Target told investors Thursday that it hasn't offered layaway like Walmart because its customers haven't asked for it. Still, the retailer is playing up value.
Target for the first time is matching prices that customers find on identical products at some online competitors this holiday season, including Walmart.com and Amazon.com (AMZN). The price match program, which covers the period from Nov. 1 through Dec. 16, is an attempt to combat the "showrooming" trend in which shoppers use their smartphones while they're in stores to browse for products at cheaper prices.
Target's customers may be a little more resilient than Walmart's to the economy's woes, but Target officials said that the retailer expects shoppers to remain cautious.
"Our research with (customers) indicates they are continuing to shop with discipline, focusing on lists and budgets and occasionally splurging on more discretionary items," said Target's Tesija.
AP retail writer Anne D'Innocenzio contributed to this report.
Thanks for reading CBS NEWS.
Create your free account or log in
for more features.