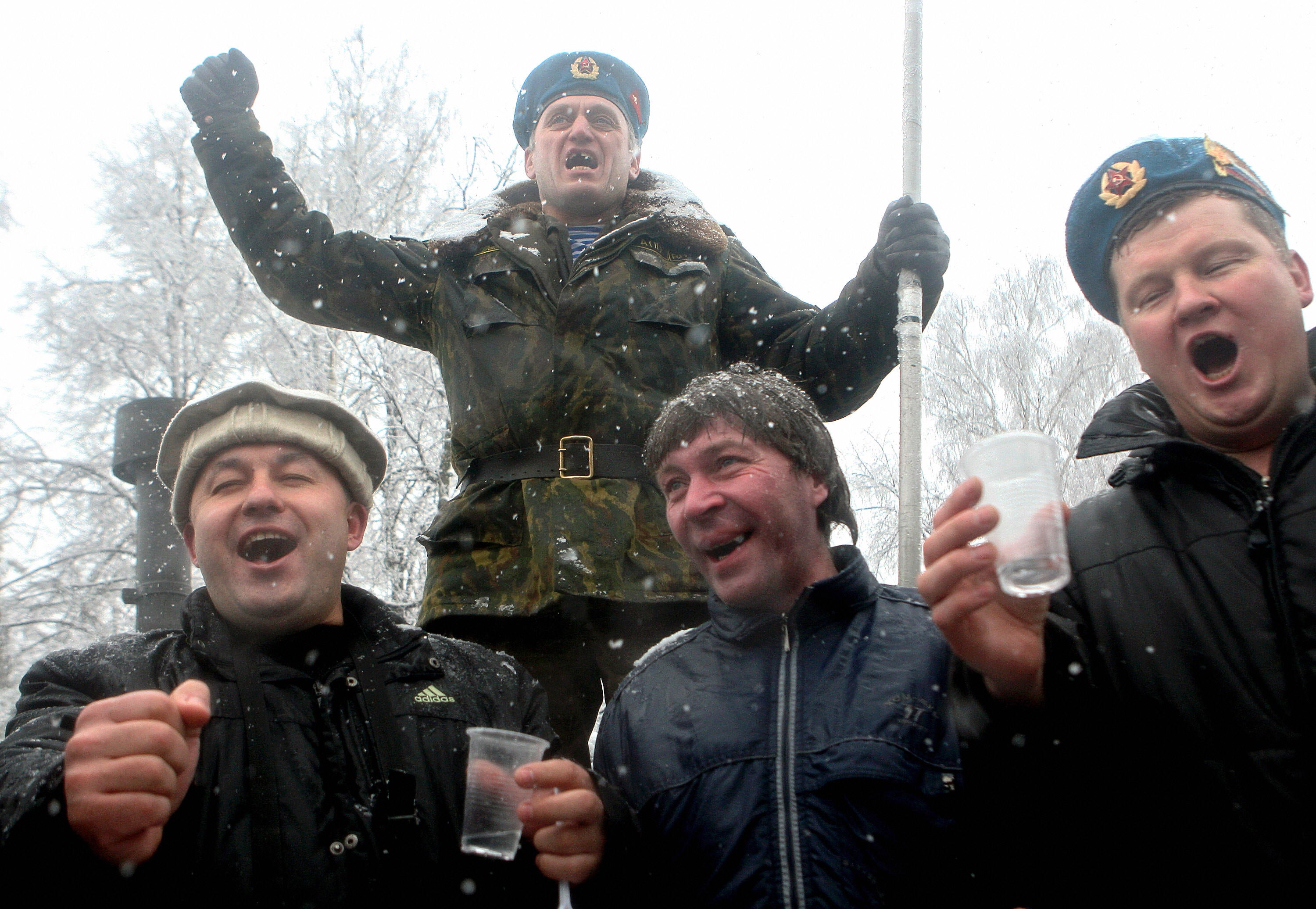 Vodka to blame for Russia's "extraordinarily high" early death risk, study finds
Vodka is the alcoholic drink of choice for many Russians, and new research suggests the drink might be leading them into an early grave.
A study of more than 150,000 Russians found men who drank three or more bottles of vodka per week were about twice as likely to die prematurely than men who drank less than a bottle per week.
That might explain why 25 percent of Russian men die before the age of 55, compared to about 7 percent of men in the U.K., according to the British researchers behind the study.

"Since the average life expectancy from birth for men in Russia is still only 64 years, ranking among the lowest 50 countries in the world, more effective alcohol and tobacco policy measures are urgently needed," Dr Jürgen Rehm, director of social and epidemiological research at the Centre for Addition and Mental Health in Toronto, said in a statement.

Rehm wrote a commentary to accompany the new study, both published Jan. 31 in The Lancet.

Vodka is a distilled beverage made from fermented potatoes, grains or fruits. Typically the drink's alcohol content is 40 percent.

For the study, researchers asked 151,000 Russian citizens how much vodka they drank. They were tracked for up to 10 years, during which 8,000 died.

Since almost all heavy drinkers that were studied were male smokers, researchers sought to calculate the 20-year death risk for this high-risk group. They found male smokers who drank three or more half liter vodka bottles each week faced a 35 percent risk for premature death within two decades, compared to 16 percent for men who consumed half a liter or less.

The researchers warned the rates could be even higher.

"Because some who said they were light drinkers later became heavy drinkers, and vice-versa, the differences in mortality that we observed must substantially under-estimate the real hazards of persistent heavy drinking," said study author Dr. Paul Brennan, section head of genetics at the World Health Organization's International Agency for Research on Cancer in Lyon, France.

Heavy drinkers were more likely to die from alcohol poisoning, car accidents, violence, suicide, and drinking-related medical conditions including throat cancer, liver cancer, tuberculosis, pneumonia, pancreatitis, liver disease and coronary artery disease.

Heavy drinking was uncommon among women and non-smokers, but researchers noticed a similar pattern of risks in the study.

"If you're drinking vodka, you get a lot more ethanol in that than if you were drinking something like lager," David Leon, a professor of epidemiology at the London School of Hygiene and Tropical Medicine, who was not involved in the study, told The Telegraph. He added, "it's not considered out-of-order to drink until you can't function in Russia."
Rehm agreed, saying the high alcohol volume alone can't explain the high death rates, but this "specific pattern of episodic" binges was likely to blame.

About 38 million Americans drink excessively, the Centers for Disease Control and Prevention warned in January.

Most are considered binge drinkers, meaning they consume five or more alcoholic beverages in a two to three hour sitting for men, or four drinks for women.

However, the Associated Press reports about 1 percent of U.S. men die before 55 years of age.

Christopher Allen, a senior cardiac nurse for the British Heart Foundation -- which funded the study -- said the upcoming Olympic Games in Sochi, Russia, should serve as a reminder of the toll heavy drinking takes.

"With the Winter Olympics fast approaching, it's a timely reminder of what we already know about drinking too much alcohol -- it not only raises your risk of heart and circulatory disease, but also your risk of liver disease and some cancers," he said,
Thanks for reading CBS NEWS.
Create your free account or log in
for more features.