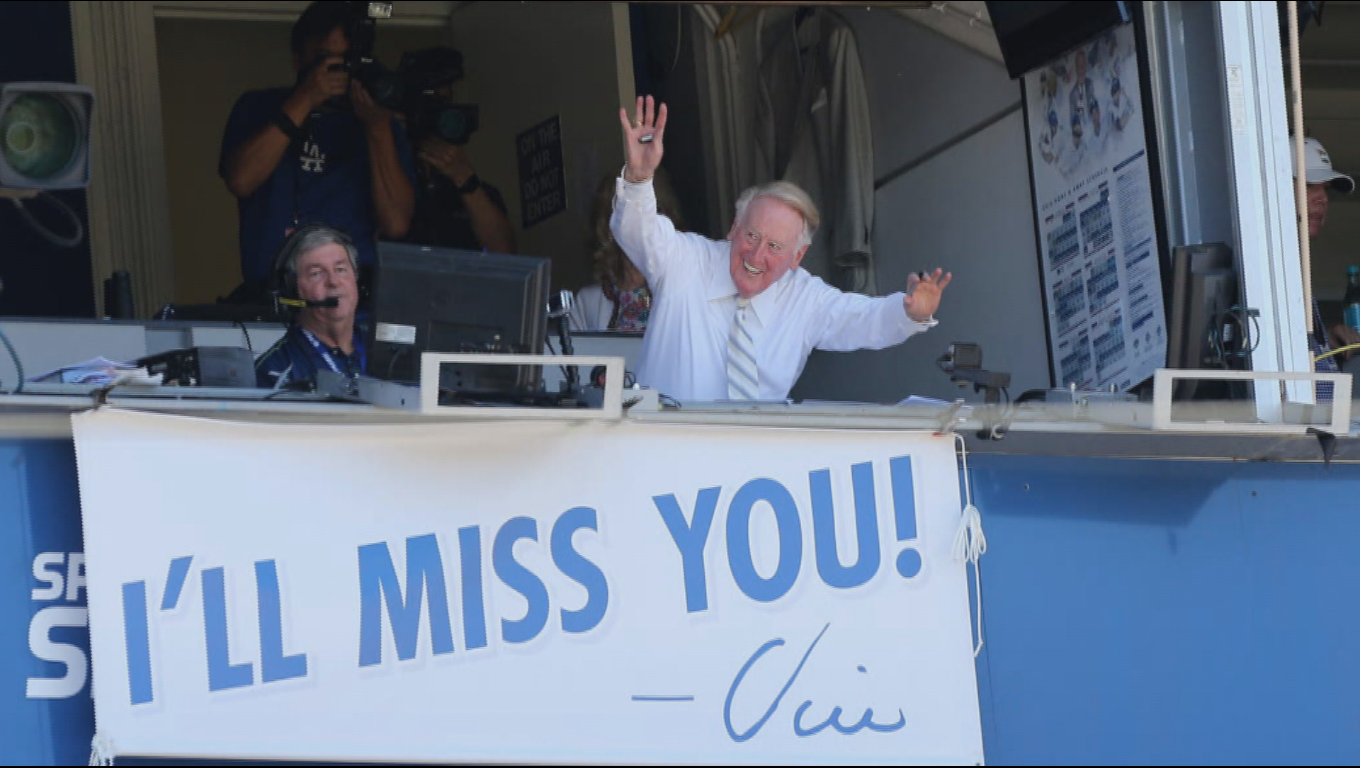 Saying farewell to legendary Dodgers broadcaster Vin Scully
For decades, Vin Scully has described the action during Los Angeles Dodgers games. But Sunday will mark the end of an era in baseball, when the 88-year-old retires at the top of his game.
In his final game behind a microphone in Los Angeles last Sunday, Scully showed yet again his flair for the dramatic.
"High dive into deep right field. Seager has done it again!" Scully said in his booming voice.
Scully has called Dodger baseball games since 1950, always with the right words at the right time – like Hank Aaron's historic home run that broke Babe Ruth's record.
"A black man is getting a standing ovation in the Deep South!" Scully called the historic moment.
There was also the memorable call of Kirk Gibson winning Game One of the 1988 World Series, when Scully said, "In a year that has been so improbable… the impossible has happened."
Surveys have been done on the greatest Dodgers ever. Vin Scully consistently ranks at or near the top.

So this season, the street leading into Dodger Stadium was renamed Vin Scully Avenue. Legends of the game, like Sandy Koufax, have paid tribute.
"Will I miss the games? Well, yeah, but I can turn on the radio or the TV, I can catch the games. The people, that's what I'll miss," Scully said during a press conference.
Fans like Angel Rodriguez said they'll miss him.
"I mean, he's like family. There is nobody here that has not listened to Vin," Rodriguez said.

San Francisco Giants broadcaster Jon Miller said Scully is the incarnation of the fictional Roy Hobbs of "The Natural."

"In real life, Vin Scully walks down the street, and the father says to his kids, 'Kids, there goes Vin Scully -- the best there ever was to broadcast this game,'" Miller said.
Scully is now ending his 67th final season behind the microphone but said the most touching tribute came when this year's team honored him and Sandra Scully, his wife of 43 years.
"One of the greatest moments in our -- and I mean my wife and myself -- in our lifetimes," Scully said. "And as we walked down, I turned to my wife and I said, 'It feels like we're getting married again.'"
When Sunday dawns, there will be one last game to call.
"Maybe on the final day of my final broadcast, I'll somehow come up with the magic words that you deserve. As for now I only have only two magic words: 'Thank you,'" Scully said.
"No," say Scully's multitude of fans. "Thank you."
Thanks for reading CBS NEWS.
Create your free account or log in
for more features.