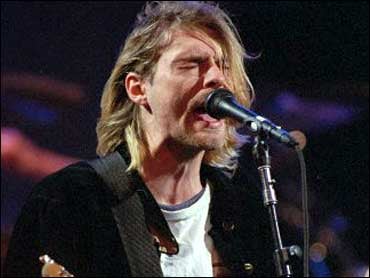 Here they are now, entertaining us - or at least entertaining VH1, which named Nirvana's "Smells Like Teen Spirit" the greatest song of the past quarter-century.
The Seattle band's groundbreaking grunge anthem is No. 1 on VH1's list of the "100 Greatest Songs of the Past 25 Years."
The whole countdown will air over five nights, starting at 10 p.m. EDT Monday on the video music channel. The series will feature clips of videos and performances by the artists along with interviews from musicians and celebrities discussing why the songs matter.
Of "Smells Like Teen Spirit," Guns N' Roses bassist Duff McKagan said: "That was really a breakthrough for a great scene that had been going on for a long time up in Seattle. And it was kind of another victory, I think, for a misunderstood music, you know. The dam broke when 'Teen Spirit' came out."
While no one performer or group dominated the countdown, which was chosen by a panel of VH1 executives, several had two songs featured.
Michael Jackson had the second-highest song, "Billie Jean," and was at No. 40 with "Beat It." Eminem reached No. 4 with "Lose Yourself," while his "My Name Is" was No. 85. Madonna's "Like a Virgin" was No. 10 and her "Ray of Light" was No. 100.
Rounding out the top 10 were "Sweet Child O' Mine" by Guns N' Roses, "One" by U2, "Walk This Way" by Run-D.M.C., "When Doves Cry" by Prince, "I Will Always Love You" by Whitney Houston and "Every Breath You Take" by The Police.
In May 2001, VH1 picked the 100 greatest videos of all time; Jackson's "Thriller," a 17-minute mini-movie, was No. 1, but it didn't even make the list this time.
VH1 and CBSNews.com are both owned by Viacom.
---
The ``100 Greatest Songs of the Past 25 Years,'' as chosen by VH1.
1. Nirvana, ``Smells Like Teen Spirit''
2. Michael Jackson, ``Billie Jean''
3. Guns N' Roses, ``Sweet Child O' Mine''
4. Eminem, ``Lose Yourself''
5. U2, ``One''
6. Run-D.M.C., ``Walk This Way''
7. Prince, ``When Doves Cry''
8. Whitney Houston, ``I Will Always Love You''
9. The Police, ``Every Breath You Take''
10. Madonna, ``Like a Virgin''
11. Van Halen, ``Jump''
12. Alanis Morissette, ``You Oughta Know''
13. TLC, ``Waterfalls''
14. Sinead O'Connor, ``Nothing Compares 2 U''
15. Pink Floyd, ``Another Brick in the Wall (Part 2)''
16. No Doubt, ``Don't Speak''
17. Def Leppard, ``Photograph''
18. R.E.M., ``Losing My Religion''
19. Public Enemy, ``Fight the Power''
20. AC/DC, ``You Shook Me All Night Long''
21. U2, ``With or Without You''
22. Cyndi Lauper, ``Time After Time''
23. Prince, ``Little Red Corvette''
24. Celine Dion, ``My Heart Will Go On''
25. Rick James, ``Super Freak''
26. Bon Jovi, ``Livin' on a Prayer''
27. Grandmaster Flash, ``The Message''
28. Britney Spears, ``... Baby One More Time''
29. Bruce Springsteen, ``Born in the U.S.A.''
30. Janet Jackson, ``Nasty''
31. Dr. Dre feat. Snoop Doggy Dogg, ``Nuthin' but a `G' Thang''
32. Pearl Jam, ``Jeremy''
33. Tina Turner, ``What's Love Got to do With It''
34. Peter Gabriel, ``In Your Eyes''
35. The Sugarhill Gang, ``Rapper's Delight''
36. Joan Jett, ``I Love Rock 'n Roll''
37. Alicia Keys, ``Fallin'''
38. The Clash, ``London Calling''
39. Tom Petty, ``Free Fallin'''
40. Michael Jackson, ``Beat It''
41. Red Hot Chili Peppers, ``Under the Bridge''
42. Blondie, ``Heart of Glass''
43. The Go-Go's, ``Our Lips Are Sealed''
44. Gloria Gaynor, ``I Will Survive''
45. Aerosmith, ``I Don't Want to Miss a Thing''
46. Queen and David Bowie, ``Under Pressure''
47. Shania Twain, ``You're Still the One''
48. Naughty By Nature, ``O.P.P.''
49. Journey, ``Don't Stop Believin'''
50. Lenny Kravitz, ``Are You Gonna Go My Way?''
51. George Michael, ``Faith''
52. The Rolling Stones, ``Start Me Up''
53. Marvin Gaye, ``Sexual Healing''
54. Goo Goo Dolls, ``Iris''
55. Talking Heads, ``Once in a Lifetime''
56. Sheryl Crow, ``All I Wanna Do''
57. Eric Clapton, ``Tears in Heaven''
58. The Notorious B.I.G. feat. Puff Daddy & Mase, ``Mo Money Mo Problems''
59. Meat Loaf ``Paradise By the Dashboard Light''
60. Santana feat. Rob Thomas, ``Smooth''
61. Backstreet Boys, ``I Want It That Way''
62. Pretenders, ``Brass in Pocket''
63. Beck, ``Loser''
64. The Knack, ``My Sharona''
65. Nelly, ``Hot in Herre''
66. Squeeze, ``Tempted''
67. John Cougar Mellencamp, ``Jack and Diane''
68. Chic, ``Good Times''
69. Mary J. Blige, ``Real Love''
70. Culture Club, ``Do You Really Want to Hurt Me''
71. Dave Matthews Band, ``Crash Into Me''
72. John Lennon, ``(Just Like) Starting Over''
73. LL Cool J, ``Mama Said Knock You Out''
74. Hall & Oates, ``I Can't Go for That (No Can Do)''
75. The Ramones, ``I Wanna Be Sedated''
76. Eurythmics, ``Sweet Dreams (Are Made of This)''
77. Missy Elliott, ``Work It''
78. Green Day, ``Good Riddance (Time of Your Life)''
79. Destiny's Child, ``Say My Name''
80. Duran Duran, ``Hungry Like the Wolf''
81. OutKast, ``Ms. Jackson''
82. Soft Cell, ``Tainted Love''
83. Band Aid, ``Do They Know It's Christmas''
84. Radiohead, ``Creep''
85. Eminem, ``My Name Is''
86. Tracy Chapman, ``Fast Car''
87. The Who, ``Who Are You''
88. Metallica, ``Enter Sandman''
89. Pat Benatar, ``Hit Me With Your Best Shot''
90. The Police, ``Roxanne''
91. Melissa Etheridge, ``Come to My Window''
92. Salt-N-Pepa, ``Push It''
93. Nine Inch Nails, ``Closer''
94. Cheap Trick, ``Surrender''
95. Oasis, ``Wonderwall''
96. Beastie Boys, ``(You Gotta) Fight for Your Right (to Party!)''
97. Devo, ``Whip It''
98. Hanson, ``MMMBop''
99. Norah Jones, ``Don't Know Why''
100. Madonna, ``Ray of Light''
By Christy Lemire
Thanks for reading CBS NEWS.
Create your free account or log in
for more features.