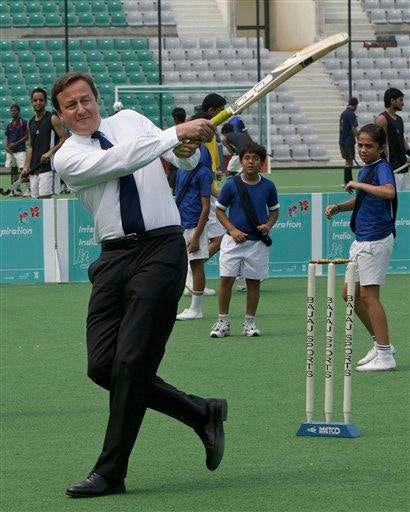 Veteran Newsman George Herman Dies
George Herman, a longtime political reporter for CBS News and the longest serving moderator of the network's Sunday talk show, "Face the Nation," died Tuesday. He was 85.
The cause of his death at The George Washington University Hospital was heart failure after a long illness, the network said.
CBS News president Andrew Heyward said he and many at CBS News were saddened by the news. He praised Herman's "extraordinary contributions to CBS News over more than four decades."
Herman began his career in political reporting from Washington as CBS' White House correspondent during President Eisenhower's first term. He held that post during President Kennedy's administration as well.
He was host of the network's Sunday morning public affairs show on television and radio for nearly 15 years, 1969-1983, the longest tenure in the 50-year history of "Face the Nation."
Herman joined CBS as a radio news writer in 1944 and was affiliated with the network for 43 years. He was quick to embrace television and made his first appearance analyzing caucus declarations at the 1948 Democratic Convention in Philadelphia, the first to be televised.
In 1949, he traveled to Asia as a stringer with a 16mm camera and audio recorder and provided CBS News with its first sound and film reports from abroad. Later, CBS sent him as a correspondent to cover the Korean War, during which he landed with U.N. troops at Inchon.
In this country, he covered political conventions, traveled with presidential candidates Adlai Stevenson in 1956 and Lyndon Johnson in 1964 and delivered the first broadcast report of a break-in at Democratic party headquarters in the Watergate office building in 1972.
"George Herman was a terrific reporter and an even better person," said
Bob Schieffer, who sits in Herman's old moderator chair on "Face The Nation" every Sunday morning.
"He was the epitome of what a CBS News correspondent should be - smart, thoughtful, fair and courageous. He made his mark as a combat correspondent in Korea. He was based in Washington when I came to CBS News in 1969, and I soon learned that he was the office encyclopedia, he knew something about everything. He served as moderator of 'Face The Nation' longer than anyone, and the standards he set made 'Face The Nation' one of the most respected broadcasts in television."
"George Herman was a giant,'' said Lesley Stahl, another former moderator of "Face The Nation."
"As 'Face The Nation' moderator he was always fair, coming up
with the salient question after the rest of the panelists like me probed
around the edges. He was someone I looked up to and loved because he
was witty, gentlemanly and so smart."
Longtime CBS colleague Kevin Tedesco notes that Herman was known around Washington for his parties and sharp wit. He once delivered a radio commentary in 1974 based on a word he found in a government report that he couldn't find in the dictionary. The word was "disinformation," and George cleverly wrote about it using words with the prefix "mis" changed to "dis," such as "distake" and "disanthrope." Some newspapers re-printed it in its entirety.
A few years before, Herman and his wife Patty had their house painted a patchwork of colors that suggested the sportswear of the Italian designer Emilio Pucci. The house was pictured in Washington Post and New York Times stories. The local Fine Arts Commission was mortified.
Born Jan. 14, 1920, in New York, Herman was graduated from Dartmouth College and received a master's degree in journalism from Columbia University.
He is survived by his wife of 50 years, Patty, three sons, Charles of Glenview, Ill., Scott of Bethesda, Md., and Douglas of Baltimore, and six grandchildren.
In lieu of flowers, a donation in George Herman's name can be made to
the Dartmouth College Class of 1941 Scholarship Fund, Dartmouth College,
Hanover, NH 03755.
Eric Engberg, a colleague of Mr. Herman's for many years in Washington, added this rememberance:
I did not know until I read the newspaper obit that George Herman had landed at Inchon with U.S. forces to cover one of the key battles of the Korean war. He never mentioned it, even though he knew I was something of a student of that conflict. How typical of George. Most network correspondents, myself certainly included, would have spent the next 50 years working that little biographical fact into any conversation that came within a thousand miles of Korea. "Well, when I landed at Inchon with MacArthur's men…." Would be an impressive prelude to almost any point you wanted to make to a colleague or a source. But he never talked about it.
He was kind and generous with his insights to me and every other young correspondent newly assigned to Washington. Covering the first Reagan inauguration outside the White House, I had to feed my radio spot from the same desk where George was anchoring live coverage. It was a little unsettling to read a spot with the veteran George Herman standing next to you. As my words tumbled into the mike, he shook his head in silent agreement to what I was reporting. It was the highest praise a young correspondent could get.
And he had perfect pitch on the absurdities of those two whacky professions, politics and journalism. Once I was reading "Witness to War," the somewhat slavish biography of the famous New York Herald Tribune war correspondent Marguerite Higgins, known to use her feminine charm to gain favors from military commanders. I mentioned the book to George, and he said, "Yeah, I knew Maggie Higgins (long puff on his pipe). She stole a notebook from me once."
This morning, after hearing the news of George's death, I pulled out the Higgins book again. Turning the pages looking for any mention of George I discovered that Higgins had covered the Inchon invasion, too, embarking from a transport ship that carried Marines to their landing craft. I smiled to myself as I remembered my conversation with George about the book so long ago. I had certainly given him a perfect opening to talk about being an eyewitness to one of America's greatest military victories ("Yea, Higgins and I were at Inchon, dodging bullets together" is how I would have handled it were our roles reversed.) But he never mentioned it, preferring to remember the little treacheries and silly scheming that wind their way behind the scenes through the coverage of great events. He wasn't just modest. He was a real reporter.
Thanks for reading CBS NEWS.
Create your free account or log in
for more features.