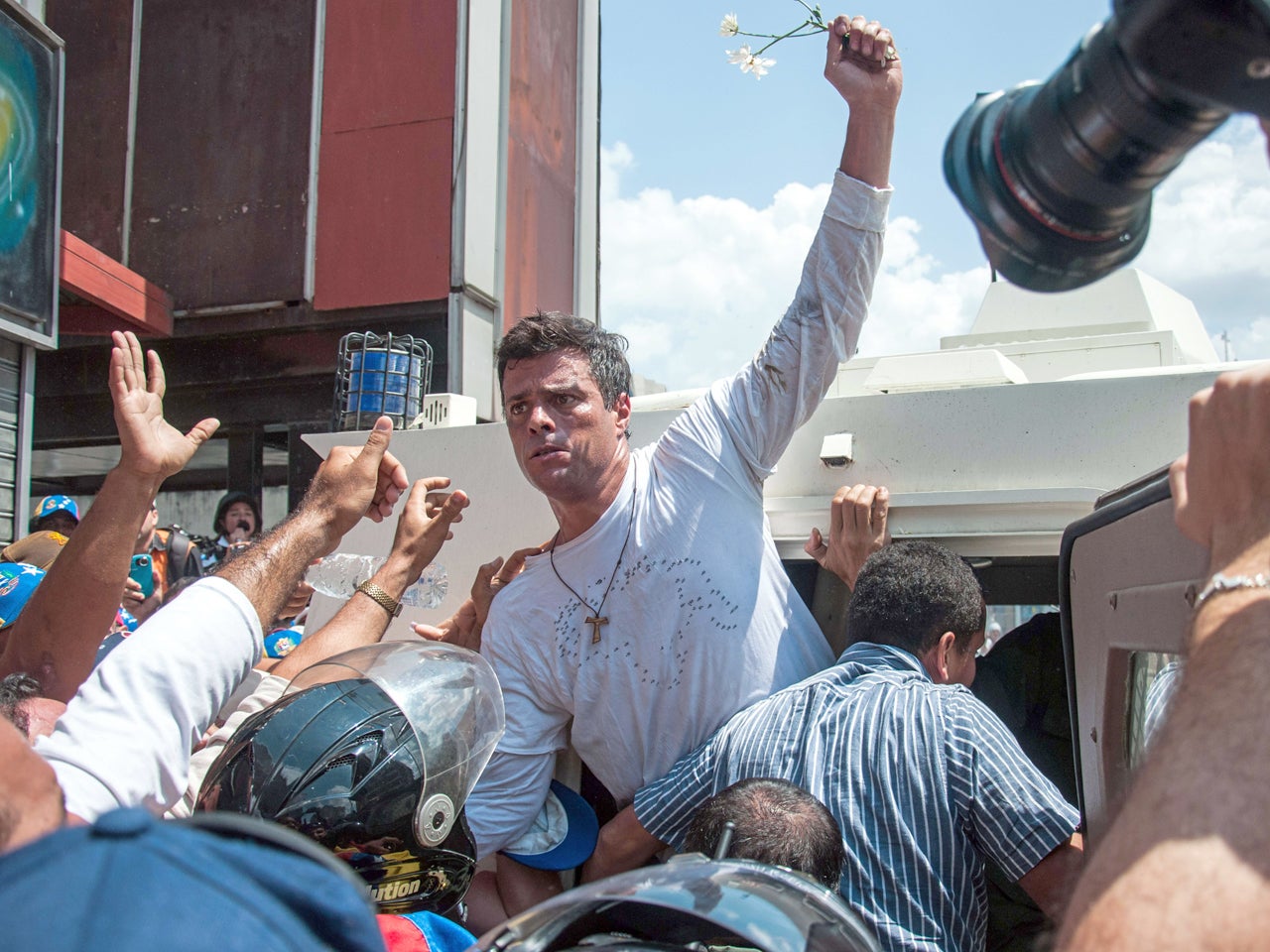 Venezuela opposition leader Leopoldo Lopez arrested after deadly protests
CARACAS, Venezuela - Following a dramatic surrender and a night in jail, Venezuelan opposition leader Leopoldo Lopez was due in court Wednesday to learn what charges he may face for allegedly provoking violence during protests against the socialist government in the divided nation.
Authorities have accused Lopez of inciting clashes that have led to the deaths of at least five people over the past week - most recently a female university student who was a former beauty queen - and of attempting to destabilize President Nicolas Maduro's government. The specific charges will be disclosed at a closed court hearing before a judge in downtown Caracas.
Lopez, who has emerged in recent months as a new, more aggressive face of Venezuela's opposition, told thousands of cheering supporters who watched his surrender on Tuesday that he does not fear imprisonment if it will help undo what he considers the damage done by 15 years of socialist rule launched by the late Hugo Chavez.
"If my jailing serves to awaken a people, serves to awaken Venezuela ... then it will be well worth the infamous imprisonment imposed upon me directly, with cowardice," he shouted through a megaphone from atop a statue of 19th century Cuban independence hero Jose Marti in a Caracas plaza.
Waving a flower over his head, Lopez then pushed his way through the crowd to a police line and was whisked away in an armored vehicle to spend the night in a military prison outside the capital.
Friends and allies say the steely resolve exhibited by the 42-year-old Lopez is typical of the man who competes in triathlons, practices extreme sports and once escaped from gun-firing bandits while stumping for votes in a pro-government slum. That resolve has been evident in recent months as he emerged as head of an increasingly powerful opposition faction that is pushing for a stronger, but nonviolent confrontation with the government.
There was no major protest violence in the capital following Lopez's surrender, but at least 11 people were injured in Valencia, the country's third largest city.
Enzo Scrano, mayor of a Valencia district and an opposition member, said at least three people were shot by unknown gunmen on motorcycles and several others had wounds from rubber bullets.
One of those shot was a 22-year-old university student, and former Miss Tourism for the northern state of Carabobo, who died from her wounds on Wednesday, Scrano said.
While opposition leaders have complained for years about a government crackdown on dissent, foreign governments have shown scant interest in pressing Maduro since he was elected 10 months ago to succeed Chavez. But Lopez's arrest could bring international pressure comparable to the rebuke Russian President Vladimir Putin that suffered after jailing activist punk rockers Pussy Riot, said Michael Shifter, president of the Inter-American Dialogue.
Human rights groups have condemned the charges against Lopez as being based on conspiracy theories rather than criminal evidence. Secretary of State John Kerry earlier warned that arresting him would have a "chilling effect" on freedom of expression.
The protests have come amid increasing hardships that the opposition blames on the government, including rampant violent crime, 56 percent inflation, frequent failures of the electric grid and shortages of many basic goods.
Some Venezuelans say becoming a cause celebre was Lopez's plan all along, with the charismatic, Harvard-educated leader seeking to catapult past the opposition's two-time losing presidential candidate, Henrique Capriles, and lead the charge against the government.
Lopez draws inspiration from what he says is a family history of dissent. He says he's a distant relative of independence hero Simon Bolivar, whose reputation as a renegade earned him as much mistrust as acclaim in his day but was an idol of Chavez, Maduro's mentor. Lopez's great-grandfather was jailed for 14 years for opposing Juan Vicente Gomez's dictatorship, and other relatives were forced into exile.
"I come from a family in which persecution in one form or another has been part of our history," he told The Associated Press in an interview last March. "I'm ready to let history say that I stayed loyal to that conviction of fighting for the Venezuela that I believe in."
But critics say he's putting personal ambitions and other people's lives ahead of opposition unity after years of hard-fought electoral gains.
His fiery rhetoric and elite background - he studied economics in the U.S. on a swimming scholarship and speaks fluent English - make him an improbable figure to build bridges with the poor Venezuelans who elected Maduro and who, while increasingly dissatisfied with his handling of the economy, jealously guard their social gains under Chavez.
"The middle-class (protesters) on the street don't represent the masses," said Carlos Romero, a political scientist at Central University of Venezuela.
Lopez debuted in politics at age 29, when he was elected mayor of Caracas' Chacao district, a wealthy opposition stronghold that's the epicenter of the past week's violent clashes between students and police.
When he left office in 2008 with sky-high popularity ratings, he set his sight on higher office, but the government banned him from running on what he says were trumped up influence peddling charges. He won a challenge before the Inter-American Court of Human Rights, but Venezuela's government has not reinstated his political rights.
Lopez backed Capriles' first presidential run in 2012 and again in the snap election last year to pick Chavez's successor.
But after opposition candidates fared worse than expected in December's mayoral elections, Lopez and his Popular Will party have taken the lead of a splinter faction that accuses Capriles of meek leadership. Its slogan: "The Exit," for the Twitter hashtag that's mobilized tens of thousands of protesters nationwide.
After shaking Maduro's government like never before, Lopez now faces his biggest test. If convicted, he could face years in jail.
He said he's willing to pay the price so his two young children will grow up in a more democratic Venezuela.
"In the innocent eyes of my children, who still don't know what really is happening in this country, I've found the strength I need to fight for a Venezuela that will be much better for them and for all the children," Lopez said in a video recorded on the eve of his arrest and posted online Tuesday night.
Thanks for reading CBS NEWS.
Create your free account or log in
for more features.