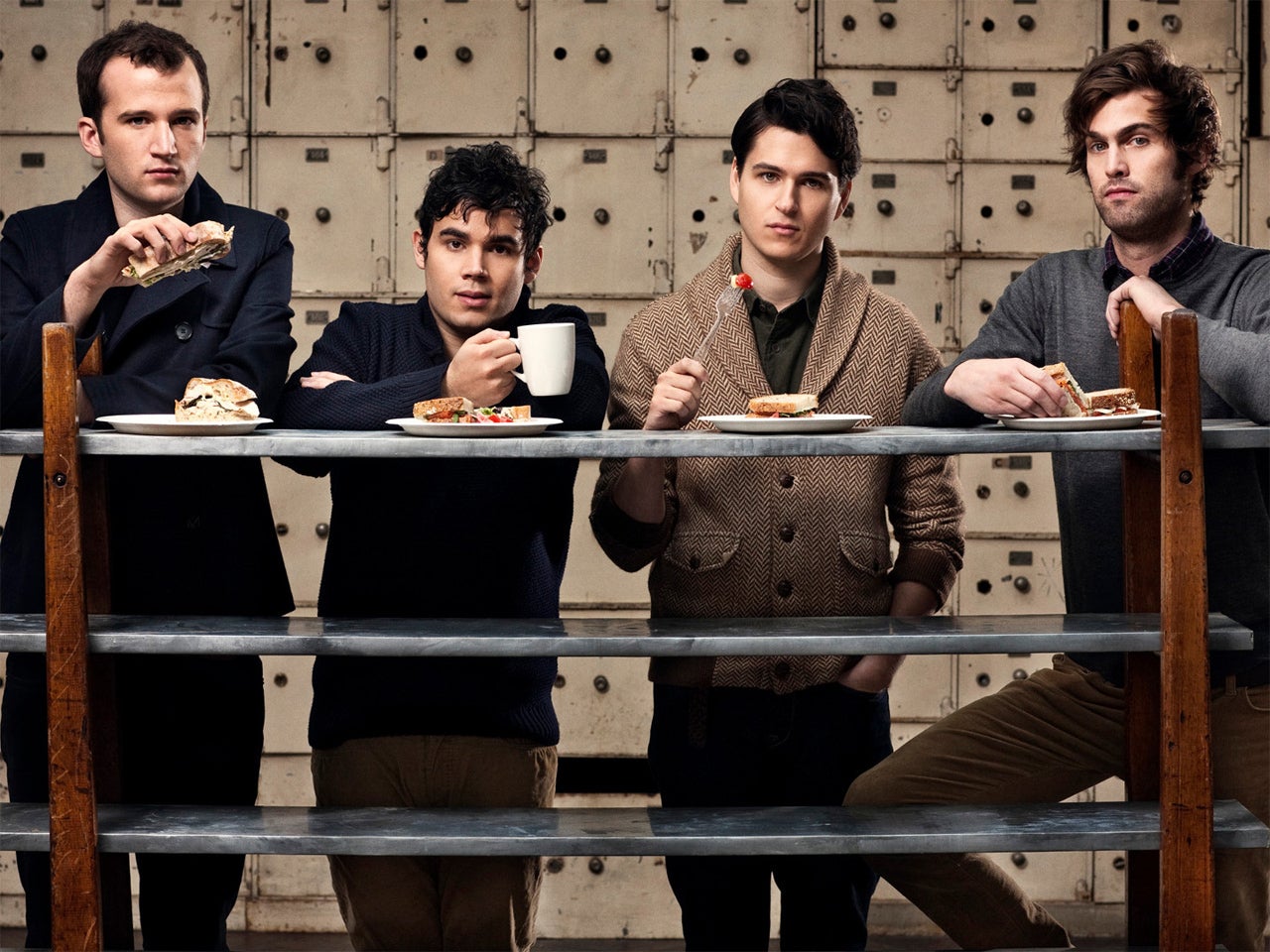 Vampire Weekend: Now at center stage
(CBS News) Vampire Weekend is the indie band with a catchy name that's on top of the charts. Anthony Mason takes note:

Their name sounds like a Goth band, but Vampire Weekend has a history of not being what they seem -- four Ivy League-educated musicians who write brainy songs that are also infectious.
This week they have the number one album in the country.
They met a decade ago as undergraduates at Columbia University. Ezra Koenig, guitarist Rostam Batmanglij, bass player Chris Baio and drummer Chris Thomson played their first show at Lerner Hall in 2006 in a "battle of the bands."
Four groups entered; Vampire Weekend finished third.
"So how would you judge your performance that night?" Mason asked.
"We were not bad," said Koenig.
Complete CBSNews.com coverage: Music
So they started playing regular gigs on campus - like at the Alpha Delta Phi fraternity.
"It was fun to play these shows where there was really no stage," said Batmanglij. "So it's just like, people and the band."
The band took its name from a high school film Koenig had made.
"When did you decide that the name would stick?" Mason asked.
"We're still talking about it," Koenig laughed.
WEB VIDEO: To watch the music video of the Vampire Weekend song "Diane Young," from their new album, "Modern Vampires of the City," click on the player below.
But Vampire Weekend proved a useful name in Google searches, when not much else pops up: "It was only people who had as their favorite movies back-to-back 'Interview With a Vampire' and 'Weekend at Bernie's,'" said Baio.
Their sound developed early: a cross-cultural mosaic of rock, African guitar pop and classical music with a provocative preppy veneer.
The band quickly generated buzz on Internet blogs. In 2008, Spin Magazine picked them for its cover even before Vampire Weekend's first album was out. By the end of the year that debut record had sold nearly half a million copies.
"We were beneficiaries -- and partially the victims -- of the kind of explosion of Internet music culture," said Koenig.
Victims, because some critics didn't get the "preppy" joke. One accused the band of having the "putresecent stench of old money."
"When you got a bit of a backlash, did that bother you at all?" Mason asked.
"I think in the beginning when you're not used to being written about, you can take it to heart," said Tomson.
"It's a little bit unnerving to have somebody call you total trash or garbage," Koenig laughed. "But then truly, this happens to all bands."
"You almost made preppiness radical," said Mason.
"Well, there always seemed to be something worth exploring about preppiness," replied Koenig. "And the fact that some people reacted so strongly to it, I think, proves that there's something inherently interesting about it."
WEB EXCLUSIVE VIDEO: Rostam Batmanglij on his process for writing music, and why it's a "good thing" his songs aren't played on pop radio.
WEB EXCLUSIVES: Delve more deeply into Vampire Weekend by reading extended interviews by Anthony Mason of Rostam Batmanglij and Ezra Koenig!
Koenig and Batmanglij are the band's songwriters, often working in Batmanglij's Brooklyn apartment. He's the musical architect and producer; Koenig, the lyricist who can weave startling rhymes like this one in the song "Step":
Wisdom's a gift,
but you'd trade it for youth.
Age is an honor,
but it's still not the truth.
When asked why the two were such a good fit, Batmanglij replied, "Ezra was one of the only Jews in his town. And I was one of the only Iranians in Georgetown where I grew up. We passed, in a kind of way. But at the same time I feel like we do have a little bit of a fire that you get, I think, from being an outsider.
"I do think that does play into Vampire Weekend, and that does kind of inspire us."
"Do you think that's why so many people seem to sort of misunderstand the whole preppy aspect of the thing in the beginning?" Mason asked.
"Oh certainly," said Batmanglij. "You know, people would call us WASPS, which is really interesting!"
Growing up in New Jersey, Koenig -- the son of a psychotherapist and a movie set dresser -- was always into music. "All throughout high school, my best friend, Wes (who's now in a band called Ra Ra Riot), we'd always hang out and we'd always have bands," he said.
Batmanglij was raised in Washington, D.C., where his parents moved after fleeing the Islamic Revolution in Iran. "I thought about being like a contemporary classical composer; that was something I really seriously thought about," he said.
Batmanglij's father, Mohammed, is a book publisher; his mother, Najmieh, the author of Persian cookbooks.
Rostam started playing the flute when he was 7. Then added the guitar, drums and keyboards, and began to mix the sounds in his room.
Was his mother concerned about noise?
"You know, I really enjoyed the idea he's upstairs actually playing music," replied Najmieh. "It made me feel good that he's doing something wonderful. When he was quiet, I was concerned."
"Do you think of yourselves as rock stars at this point?" Mason asked.
Koenig replied, "Well, you've got to remember that the kind of era [when] we started, the mid-2000s, was also kind of the time when the word 'rock star' had been incredibly debased. That was around the time Rock Star Energy Drink came out. People started wearing bedazzled shirts that said stuff like, 'I'm a rock star.' "
"That would be a 'No,' then?" Mason asked.
"Yes, the answer is no," Koenig replied.
But Rolling Stone gave their new album, "Modern Vampires of the City," 4 1/2 out of 5 stars, and called the band one of the 25 reasons to be excited about rock 'n' roll.
"What part of this do you get the biggest kick out of?" Mason asked.
"I get a chill when I feel something, it just feels right," said Batmanglij. "Like I feel there's another layer of emotion you get when the song hits a nerve right away. It's always what I'm chasing when we're working on a song."
WEB EXCLUSIVE VIDEO: Ezra Koenig on calling music work.
WEB EXCLUSIVES: Delve more deeply into Vampire Weekend by reading extended interviews by Anthony Mason of Rostam Batmanglij and Ezra Koenig!
For more info:
Thanks for reading CBS NEWS.
Create your free account or log in
for more features.