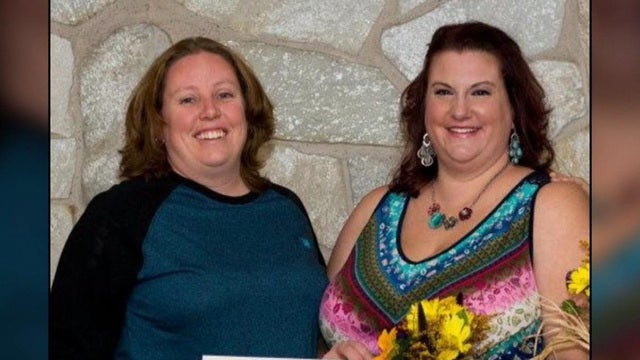 Judge amends order to take baby from lesbian couple
SALT LAKE CITY -- A Utah judge has amended his decision to take a baby away from her lesbian foster parents and place her with a heterosexual couple after the ruling led to widespread backlash.
Ashley Sumner, spokeswoman for the Utah Division of Child and Family Services, said a revised order by Judge Scott Johansen means the agency won't have to pull the 9-month-old baby from April Hoagland and Beckie Peirce's home next week, as originally ordered.
Sumner said Johansen's decision, which was released Friday, doesn't rule out the possibility that he could order the child removed from the home after a custody hearing scheduled for Dec. 4.
She said child welfare officials are working to keep the family together and hope that the public outcry surrounding the case sends a strong message to the judge.
Friday's development comes after Johansen said in court Tuesday that the baby would be removed from the couple's home. Utah officials and the couple filed court challenges demanding the judge rescind the order.
In his first decision, Johansen cited research that shows children do better when raised by heterosexual families. However, the American Psychological Association has said there's no scientific basis that gay couples are unfit parents based on sexual orientation.
On Thursday, Hoagland and Peirce told CBS News correspondent Carter Evans the judge on Tuesday ignored pleas from the baby's biological mother to grant them custody. They believe the judge, a bishop in the Mormon church, imposed his religious beliefs over the law.
"This is all about sexual orientation, not what is best for the child," Peirce said.
"He has no other grounds but that," Hoagland added.
Messages left with Jim Hunnicutt, a lawyer for the couple, seeking comments on the judge's revised order were not immediately returned Friday.
Hoagland and Peirce are among a group of same-sex married couples who were allowed to become foster parents in Utah after last summer's U.S. Supreme Court ruling that made same-sex marriage legal across the country. State officials don't keep an exact count but estimate there are a dozen or more foster parents who are married same-sex couples.
A full transcript of Johansen's initial ruling has not been made public and may not be because court records of cases involving foster children are kept private to protect the kids. Johansen is precluded by judicial rules from discussing pending cases, Utah courts spokeswoman Nancy Volmer has said.
The move to take the baby away generated widespread criticism, including from national gay rights groups and Utah Gov. Gary Herbert.
Herbert said Thursday that Johansen should follow the law and not inject his personal beliefs into the decision. Groups including the Anti-Defamation League, Human Rights Campaign and the American Civil Liberties Union called the order shocking, outrageous and unjust.
Thanks for reading CBS NEWS.
Create your free account or log in
for more features.