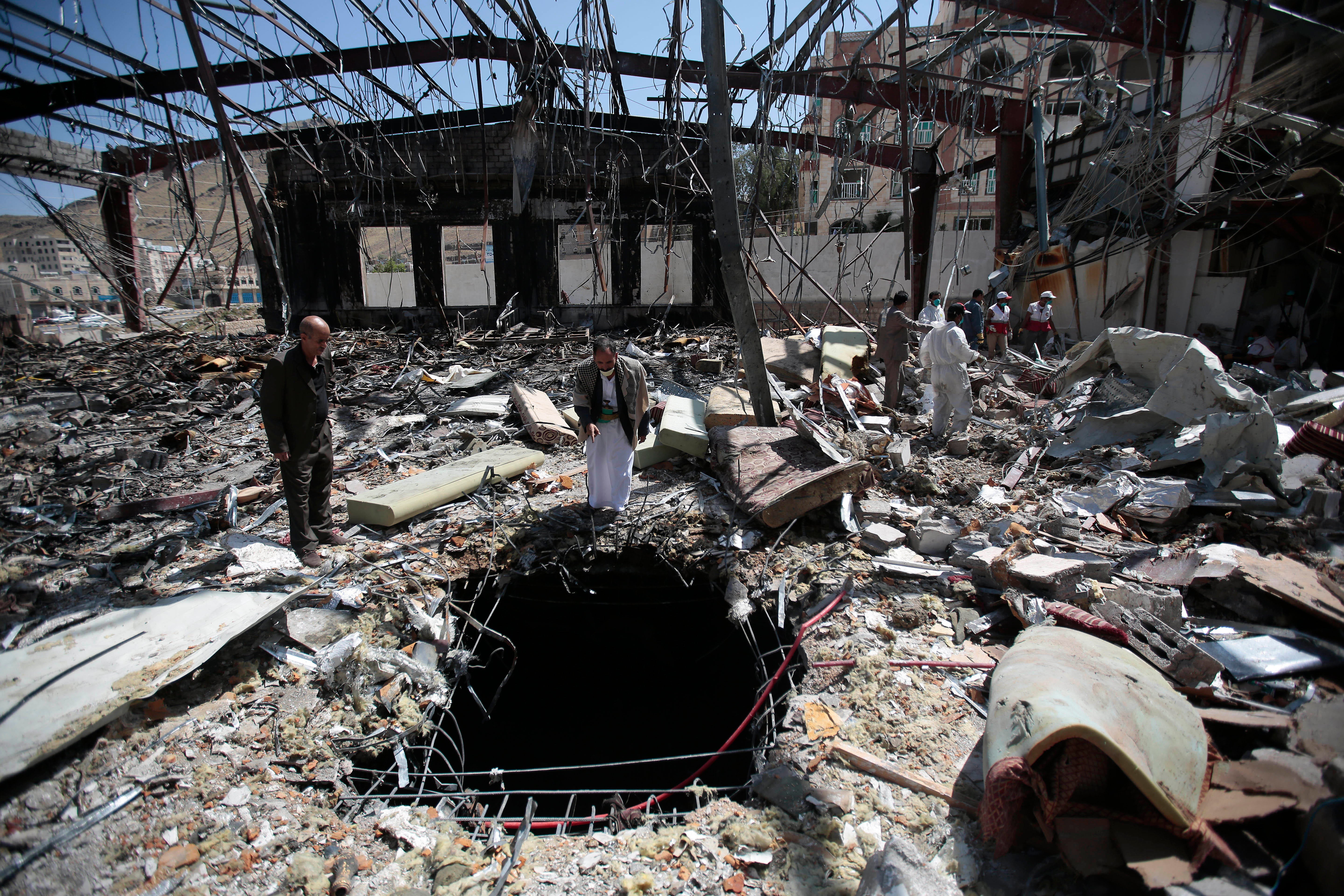 U.S. may be "guilty of war crimes" in Yemen, expert warns
ABS, Yemen -- The taxi driver happened by just after a volley of airstrikes hit a highway in western Yemen. The driver, Mohammed al-Khal, stopped, took a wounded ice cream vendor into his car and rushed him to the nearest hospital.
But the warplanes were still hunting. Moments after al-Khal pulled up at the hospital in the town of Abs, hell was unleashed.
A missile struck just outside the hospital entrance, "like a ball of fire," one witness said. Al-Khal, a father of eight, was incinerated in his car. The blast ripped through patients and family waiting in an outdoor reception area. Nineteen people were killed, along with two civilians killed on the highway.
The attack in August typified what has been a pattern in the nearly 2-year-old air campaign by Saudi Arabia and its allies against Yemen's Shiite rebels, known as Houthis. Rights groups and U.N. officials say the U.S.-backed coalition has often either deliberately or recklessly depended on faulty intelligence, failed to distinguish between civilian and military targets and disregarded the likelihood of civilian casualties.
Experts say some of the strikes amount to war crimes.
"The Saudis have been committing war crimes in Yemen," said Gabor Rona, a professor teaching the laws of war at Columbia University. He pointed to "indiscriminate targeting, that is, attacks in which the attacker makes no effort to distinguish between combatants and civilians." And he warned that American personnel helping the coalition "may also be guilty of war crimes."
Nearly 4,000 civilians have been killed since early 2015 and an estimated 60 percent of them died in airstrikes by the Saudi-led coalition, the U.N. says. Around one in three strikes hit civilian targets, according to the Yemen Data Project, an independent group of researchers that has put together a database of more than 8,000 strikes.
The strikes in Abs were notable: The original target was a small checkpoint manned by two rebel fighters on a highway far from any frontline. Three missiles were fired on the highway and one at the hospital. Of 21 people killed, none was a combatant. Moreover, the hospital itself was on the coalition's own computerized list of sites that should not be targeted.
Each strike that day was carried out with a Paveway guided missile system, built by an American company and sold to Saudi Arabia - a sign of how the United States has become mired in Yemen's war. Washington and its allies have sold billions of dollars in weapons to Saudi Arabia for the campaign, and the U.S. military has been providing it with intelligence, satellite imagery and logistical help.
Washington underlines that it does not make decisions on strikes, and it calls on the coalition to investigate any claims of violations. "U.S. security cooperation with Saudi Arabia is not a blank check," National Security Council spokesman Ned Price said in October.
The coalition denies neglect, saying it does its utmost to avoid civilian casualties and noting the rebels often operate among civilians.
"This is the fog of war," the coalition's spokesman, Saudi Gen. Ahmed al-Asiri, told The Associated Press when asked if there is a pattern of civilian deaths.
"In war, one plus one doesn't equal two. In war, there are many changes taking place around the clock. In war, there are decisions that should be taken fast," he said from the Saudi capital, Riyadh.
But critics say the American and international backing and lack of independent investigation have given Saudi Arabia and its allies a free rein.
"We believe that the coalition understood that ... it has a green light to commit more massacres in Yemen," said Abdel-Rashed al-Faqeh, the head of Muwatana, one of Yemen's most prominent rights groups.
Saudi Arabia launched the coalition campaign in a bid to restore the internationally recognized government of President Abed Rabbo Mansour Hadi, after the Houthis overran the capital Sanaa and the north of the country. The Houthis are allied with troops loyal to Hadi's predecessor Ali Abdullah Saleh, who was ousted after a 2011 pro-democracy uprising.
Saudi Arabia, which calls the rebels a proxy of its regional rival, Iran, has backed an array of military units and fighters against the Houthis.
The war has been devastating for the country of 24 million. Around 3 million have been driven from their homes, fleeing to other parts of Yemen. The bombardment, fighting and a coalition blockade have fueled widespread hunger.
Human Rights Watch, Amnesty International and the U.N. human rights office have also reported possible war crimes by the Houthi rebels, citing their shelling of civilian areas and basing their fighters in schools and other civilian locations.
But the scope of the air campaign has brought widespread destruction. Warplanes have hit medical centers, hospitals, schools, factories, infrastructure and roads, as well as markets, weddings and residential compounds. The Yemen Data Project, for example, documented nearly 60 strikes on medical facilities, most of them in the Houthi heartland in the north, though it says it does not track casualty figures because of how difficult it is to verify events on the ground.
The coalition, which says it investigates claims of civilian casualties, has made nine investigations public. In most cases it said the strikes were against a justified military target.
If any attack typified the rush to hit without regard for civilian casualties, it was the Oct. 8 attack on a funeral in Sanaa.
Working on a tip that top Houthi leadership - and perhaps Saleh himself - would be present, warplanes fired two missiles at the funeral hall. More than 140 people were killed, more than 600 wounded, in one of the deadliest strikes of the campaign.
The funeral, which was for the father of a Houthi government minister was announced on social media beforehand, gathering numerous prominent figures from the rebel movement and Saleh's circles. Several top military and security figures were killed, but the majority of dead were civilians.
After an international outcry, the coalition held an investigation and admitted a mistake, one of only two times it has done so.
But the coalition blamed its Yemeni allies, saying an air operation center in Yemen received information that the hall was filled with Houthi leaders and was a legitimate military target. The center ordered the strike without the coalition headquarters' knowledge, the spokesman of the coalition's investigation team, Mansour al-Mansour, told the AP.
But several Yemeni political and military officials told the AP that the centers do not have the power to order coalition warplanes to strike.
"This is very tempting for a country like Saudi Arabia as they really want to break the resistance," said Michael Knights, a Boston-based Yemen analyst with the Washington Institute. "If they had the chance to do it with one bomb, I am sure they would do it."
But the strike raised multiple concerns in terms of its legality, experts said.
"If you have to kill 140 to get one militiaman, then that is pretty clearly disproportionate and that would be a war crime," said Rona, who has worked as a legal expert with the international Red Cross and Human Rights First.
The U.N. Panel of Experts, tasked with reporting on the Yemen conflict, denounced the use of a "double-tap" attack against the funeral, with a second strike timed moments after the first.
The second missile "almost certainly resulted in more casualties to the already wounded and the first responders," it said, a practice prohibited under international humanitarian law.
As the campaign began in early 2015, the coalition focused on Houthi military targets largely based on information from Hadi's government.
But as time went on, targeting relied more on tips coming from hundreds of agents and informants paid by the coalition.
A senior Yemeni army official close to Hadi's Riyadh-based government said the informants often provide inaccurate information, rely on rumors or call in strikes to get revenge on personal enemies.
He and another top official said decisions on strikes are taken hastily without enough verification or assessment of likely civilian casualties.
Both officials spoke on condition of anonymity to discuss the workings of the coalition.
In one instance, a bus carrying men, women and children was struck north of the city of Aden on June 6, 2015, killing 15 people, after a tip that it was carrying Houthi fighters.
A similar incident came 11 days later, again from a tip, that a bus was carrying Houthis. Strikes killed all 16 passengers on a bus in an area called Tor al-Baha northwest of Aden. It turned out the passengers were families heading out for the Muslim Eid holiday.
In both cases, the official said the Yemenis informed the coalition that the dead were all civilians. "They said we will look into it. But of course nothing happened."
Since the air campaign began, the U.S. has authorized some $7.8 billion in military sales to Saudi Arabia. In 2015 alone, Saudi Arabia purchased $25 billion in arms from the U.S., Britain, France and other countries, according to Control Arms, a New York-based group that tracks the arms trade.
The U.S. also been providing intelligence on targets through American military advisers posted at the Joint Combined Planning Cell, or JCPS, in Riyadh.
But the U.S. military never provided "direct or implicit approval of target selection or prosecution," Central Command said in a statement.
U.S. officials say the JCPS sought to limit civilian casualties. It provided coordinates for some 2,300 sites on a "no-target" list, including hospitals, schools and mosques, according to a U.N. official. Such sites would appear on the coalition's computer screens as red marks.
It also advised the coalition to comply with the Law of Armed Conflict and use "precise application of weapons" to avoid civilians, said Lt. Ian M. McConnaughey, U.S. Navy spokesman in Bahrain.
After strikes with reported heavy civilian casualties, Washington has called for the coalition to investigate and repeated its stance that a political solution to Yemen's war must be found.
But the U.S. and its allies have also protected Saudi Arabia from criticism.
In September, a number of EU countries tried to pass a resolution for the U.N. Human Rights Commission to order an international probe into civilian deaths, but the provision failed to get U.S., British and French support.
In June, the U.N. blacklisted the coalition because of child deaths in Yemen, but that move was revoked after Saudi Arabia's allies threatened to cut funding for U.N. programs.
It was only that Washington appeared to try to distance itself.
The U.S. pulled out dozens of personnel from the joint planning cell in June. Pentagon spokesman Christopher Sherwood said fewer than five personnel were needed. After the funeral strike, the U.S. said it would review its assistance further.
Nabeel Khoury, a former U.S. diplomat in Yemen and now a senior fellow at the Atlantic Council, attributed the reduction to the criticism over civilian deaths.
"Yes, the official line was we are providing intelligence, but this is targeting. The only intelligence Saudis want is for targeting," he told the AP. "In the end, the decision to fire is Saudi, but because of the American support to this war, it is hard to deny U.S. responsibility."
Thanks for reading CBS NEWS.
Create your free account or log in
for more features.