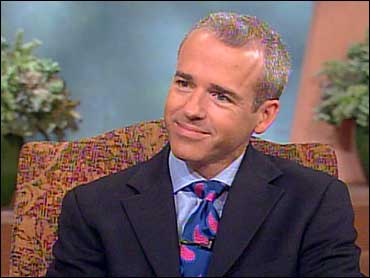 'United 93' DVD Provides More Insight
"United 93" was the first major motion picture about the 9/11 attacks and it is now available on DVD. This time, writer and director Paul Greengrass offers an even more vivid portrait of the passengers by introducing some family members.
The first major 9/11 movie, "United 93" got a lot of attention and inspired some controversy when it debuted at the Tribecca film festival in April. But, ultimately, it enjoyed box office success.
"I'm not sure that … if it was not my job to see this movie I would of gone," said The Early Show's movie contributor and People magazine editor at large, Jess Cagle. "I'm so glad I did, though, because it's really poetic and really well done. Unlike 'World Trade Center,' which just came out, this is a really unconventional Hollywood movie."
Among its atypical qualities are the unnamed characters and the reliance on improvised dialog.
Cagle said the DVD contains some important bonus features which shed more light on the heroic passengers who brought down United flight 93 rather than allow terrorists to crash into the nation's capitol. The film also shows how aviation officials dealt with the events of that terrible day.
Greengrass wanted to make sure he got the story right. He had people such as the Federal Aviation Administration national operations manager, Ben Sliney, to portray themselves in the film, but cooperation from families whose loved ones died on flight proved to be most crucial. Greengrass contacted each family individually, including Lori Guadagno who lost her brother, Richard.
"The initial reaction was to be protective," Guadagno said. Greengrass was "protective of our interests. He handled it with such honesty and dignity and integrity, and I could not think of anyone else I could have done — have done this picture."
One of the DVD's bonus features is footage from the first time actor Daniel Sauli met Richard Guadagno's family.
"It was an emotional thing. When I saw her parents walk in," Sauli said. "The way he looked at me, it all kind of crystallized that they had lost a son."
For people who lost loved ones in such a public way, it's the film's message that families want to share with the world.
"I think it's a real metaphorical story of how average people are put into circumstances so beyond their control, something so crazy and, yet, they are able to rise above that and the human spirit triumphs prevails," Lori Guadagno said.
Cagle said that a few more movies about 9/11 are set to come out. ABC is airing a series about the run up to 9/11 on Sunday, but no other major studio movies have been announced.
Thanks for reading CBS NEWS.
Create your free account or log in
for more features.