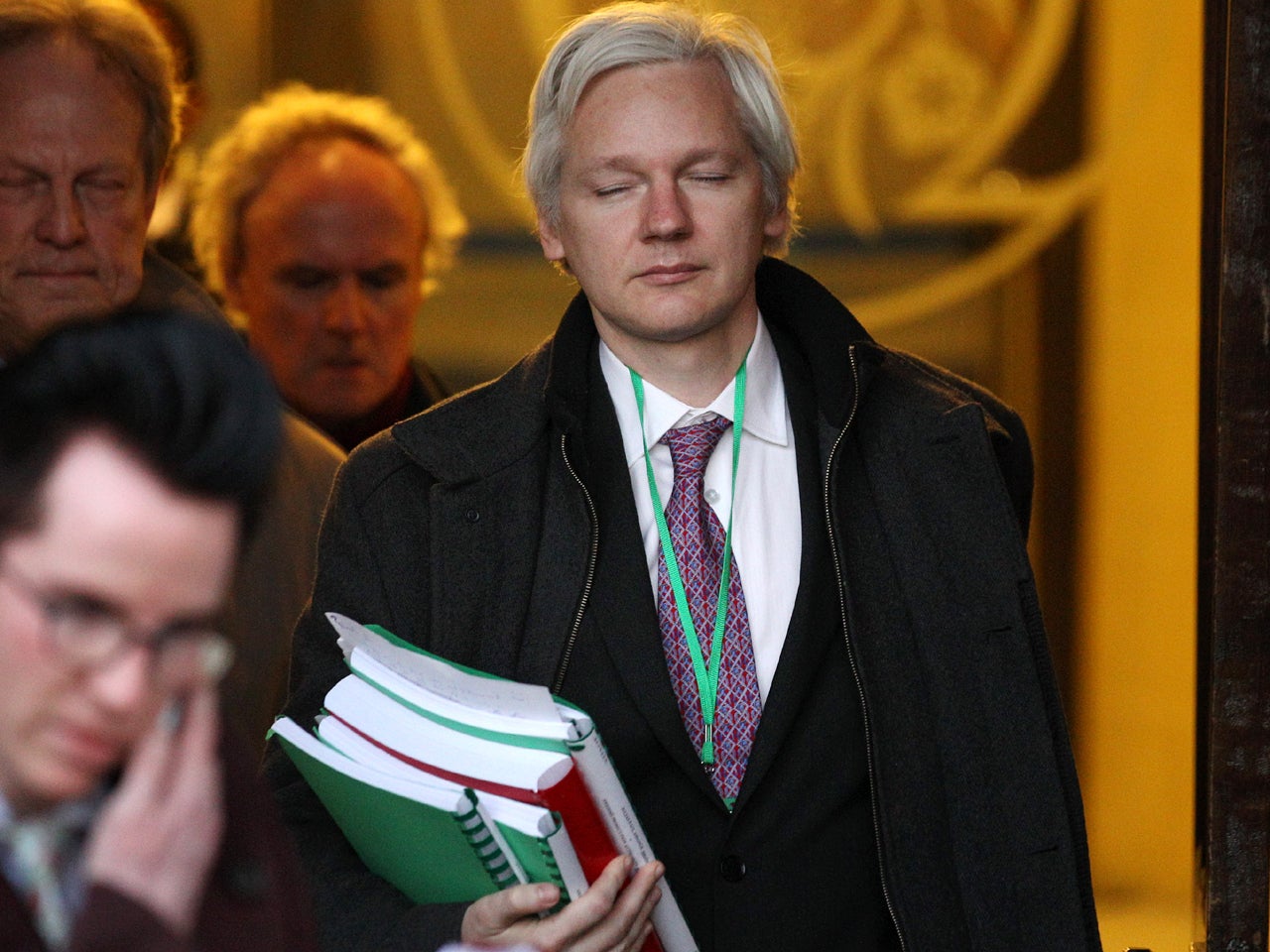 U.K.: WikiLeaks' Assange won't be allowed to leave
Updated at 1:58 p.m. ET

(CBS/AP) LONDON - British Foreign Secretary William Hague said Thursday that the U.K. will not allow WikiLeaks founder Julian Assange safe passage out of the country.

The announcement came hours after Ecuador granted Assange political asylum, a decision that thrilled supporters but did not defuse the standoff at the Latin American nation's London embassy, where he has been holed up for almost two months.

Now the standoff between the two nations centers on an inviolable diplomatic principle: British law and the British police cannot reach inside the embassy of a foreign country.

Ecuador said British officials have threatened to march in and grab Assange from its London embassy, where he has been holed up in a bid to escape extradition to Sweden over sex crimes allegations.

WikiLeaks announced through its Twitter account that Assange would make a statement in front of the embassy Sunday at 2 p.m. (9 a.m. ET). Earlier, Assange in a statement praised Ecuador's "courage."

Hague said Thursday that Britain would not grant Assange safe passage because "there is no legal basis for us to do so."

He said Assange was wanted in Sweden to answer allegations of "serious sexual offenses." He said the extradition had nothing to do with the work of WikiLeaks or with a desire by U.S. authorities to try him for publishing diplomatic secrets.

Special Section: WikiLeaks
Julian Assange granted political asylum in Ecuador
Ecuador official: U.K. made threat over Assange

How Assange could get to Ecuador was anyone's guess. Legal experts debated whether Assange could get safe passage in a diplomatic car, escape in an oversized diplomatic bag, or slip out when police relaxed their guard.

Under the 1961 Vienna Convention on Consular Relations, diplomatic posts are treated as the territory of the foreign nation.

However, in a letter to Ecuadorean officials, Britain cited a little-known law, the Diplomatic and Consular Premises Act of 1987, which it said would allow the arrest Assange within the embassy premises.

The law gives Britain the power to revoke the status of a diplomatic mission if the state in question "ceases to use land for the purposes of its mission or exclusively for the purposes of a consular post" — but only if such a move is "permissible under international law."

In its letter, Britain adds, "We very much hope not to get this point."

The law was passed after the 1984 siege of the Libyan embassy in London, which was sparked when someone inside the building fatally shot a British police officer, Yvonne Fletcher. An 11-day standoff ended with Britain severing diplomatic relations with Libya and expelling all its diplomats.

The Associated Press could find no record of the law ever being used to justify forcible entry into an embassy.

Many legal experts are skeptical British police can remove Assange from the embassy. The diplomatic fallout would be immense, leaving British missions around the world vulnerable to reprisals.

And lawyers say a British court would likely be unwilling to sanction a raid on the embassy.

The law was intended for situations in which a diplomatic mission was being used for serious wrongdoing such as terrorism. Sheltering Assange hardly compares.

Former government lawyer Carl Gardner said a court would likely rule that using the law against Assange would be inconsistent with the intent of the law.

"I don't see it as a realistic prospect that the government would do a dash for the airport with him," he said.

Some supporters want Assange to be granted Ecuadorean citizenship and made a member of the embassy staff, so that he would be protected by diplomatic immunity. But diplomatic status must be recognized by the host government, something the British government is exceedingly unlikely to do.

Gardner raised another long-shot possibility — Ecuador could name Assange its representative to the United Nations. That would make him immune from arrest while traveling to U.N. meetings around the world. Assange could be stripped of his role as representative by the U.N. General Assembly, but in the meantime would be protected.

London police have been stationed outside the embassy building since Assange holed up there in June. He could try to sneak past them in disguise, perhaps trying to lose pursuers in the aisles of the nearby Harrods department store. But he would be liable to arrest if identified.

Spiriting him to a private airfield or secluded port seems like an option, but legal experts say police will be vigilant for escape attempts.

"As soon as he steps off the premises, even if he goes through an embassy car, he can still be arrested — and will be," extradition lawyer Julian Knowles said.

What about smuggling Assange out of the embassy in a diplomatic pouch? As far-fetched as it sounds, it is not without precedent.

In 1984, Britain refused to extradite Umaru Dikko, a former Nigerian government minister accused of corruption in his homeland. He was subsequently kidnapped outside his London home, drugged and stuffed in a shipping crate destined for Lagos as diplomatic luggage.

But the kidnappers made a crucial error: They didn't label the box a diplomatic bag. British Customs officials opened the crate at Stansted Airport and found Dikko, who was uninjured. Three Israelis and a Nigerian were convicted over the incident, which soured U.K.-Nigerian diplomatic relations for several years.

In 1964, a man named Joseph Dahan — who turned out to be Mordechai Louk, a Moroccan-born Israeli spying for Egypt — was abducted from a Rome cafe, drugged and placed in a trunk marked "diplomatic mail" addressed to the Egyptian foreign ministry. Italian authorities discovered the plot when an airport guard heard moaning coming from inside the trunk. The Times newspaper reported that Roman police said the specially adapted trunk was well worn and appeared to have been used for similar missions before.

Lawyer Alex Carlile said a diplomatic bag would have to go through a British airport or seaport, and if customs officials suspected it did not contain "legitimate diplomatic material," they would be within their rights to open it.
Thanks for reading CBS NEWS.
Create your free account or log in
for more features.