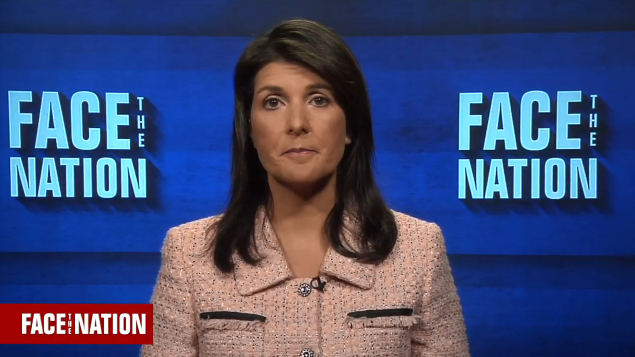 Haley says U.S. preparing new sanctions against Russia, rules out talks with Assad
U.S. Ambassador to the United Nations Nikki Haley says that the U.S. coalition's goal in responding to Syria's suspected chemical attack in the city of Douma was "not to start a war" and "not to kill people." She also said the U.S. would "never" agree to direct talks with the Syrian regime, saying the government of President Bashar Assad is "not worthy" of one-on-one engagement.
"We were not looking for war. That's the last thing the president wanted, was war. We were not looking to kill people. That was not something that in our American values we would want to do," Haley told CBS News' "Face the Nation" on Sunday.
Haley said the U.S response, carried out in conjunction with British and French forces early Saturday morning, went directly after Syria's chemical weapons infrastructure, setting the program back "years." The Pentagon said a total of 105 weapons were launched in the operation, targeting three sites.
"We went after their storage facilities where they kept components. We went after their massive research facility which was the heart of their chemical weapons program and we went after their production facility. So this was very strong attack on the chemical weapons program," she said.
Asked about potential consequences that countries like Iran and Russia face for backing Assad, Haley said that further sanctions against the Russian government are in the works.
"You will see that Russian sanctions will be coming down. Secretary Mnuchin will be announcing those on Monday if he hasn't already and they will go directly to any sort of companies that were dealing with equipment related to Assad and chemical weapons use. And so I think everyone is going to feel it at this point," said Haley. "We wanted their friends Iran and Russia to know that we meant business and that they were going to be feeling the pain from this as well."
Regarding the diplomatic follow-up in the wake of the strike, Haley said that Assad is "not worthy" of direct talks with the U.S. Haley said the U.S. had previously gone through "every diplomatic measure of talking that we could and it was time for action."
"We would never want to have direct talks with Syria at this point. They are not worthy of talks with the United States. They have done nothing but brutalize their people and destroy their land. All in the name of power. And so our goal is that yes, we will be at the talks as we have been related to the Geneva process. The United States is always there and will continue to be there," she said. "But no, we are not going to have any one-on-one talks with Assad."
Haley, however said the U.N. will continue to "stay involved diplomatically" and "will see that through in terms of the political solution."
She added, "What has happened up until now is Syria has refused to come to the table to negotiate. But Russia and all of the other actors involved are coming to the table, and now it's Russia's turn to deliver Syria to the table for that political process. So it's moving. It's not moving near as fast as any of us want it to move. But this is a political process that needs to happen."
Thanks for reading CBS NEWS.
Create your free account or log in
for more features.