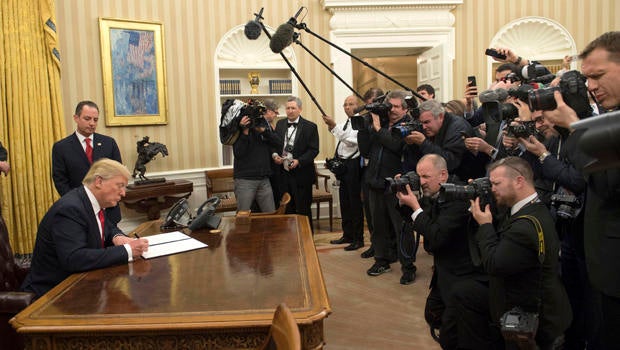 Turning the page: Donald Trump's first day in office
THE NEXT CHAPTER in American history is playing out before our eyes. It began Friday on the Capitol steps with the inauguration of President Trump, and it continued yesterday on the streets of Washington and other cities around the country and the world. Chip Reid reports on one part of our Cover Story:
"I do solemnly swear that I will faithfully execute the office of President of the United States, and will to the best of my ability, preserve, protect and defend the Constitution of the United States. So help me God."
On Friday, January 20th at noon, Donald John Trump took the oath of office to become the 45th President of the United States.
After a sometimes brutal campaign and a bumpy transition, there was a sense of unity as four out of five former presidents joined the new president to complete the peaceful transition of power.
But in his inaugural address, President Trump took a surprisingly defiant tone, even castigating some of those sitting directly behind him.
"For too long, a small group in our nation's capital has reaped the rewards of government while the people have borne the cost. Washington flourished, but the people did not share in its wealth. ... This moment is your moment, it belongs to you. January 20th, 2017 will be remembered as the day the people became the rulers of this nation again."
It was a populist call to arms that, at times, painted a dark picture of today's America.
"The forgotten men and women of our country will be forgotten no longer. ... mothers and children trapped in poverty in our inner cities; rusted out factories scattered like tombstones across the landscape of our nation; an education system flush with cash, but which leaves our young and beautiful students deprived of all knowledge; and the crime and the gangs and the drugs that have stolen too many lives and robbed our country of so much unrealized potential. This American carnage stops right here and stops right now."
When asked about Mr. Trump's speech, Leo Ribuffo, a professor of American history at George Washington University, said, "My immediate reaction was, that's Trump -- a calmer Trump, a complete sentences Trump, but that's Trump.
"Since Thomas Jefferson, off and on, there has been an emphasis on conciliation, national unity. There was much less of that than usual [in Trump's speech]. He's speaking to his men and women, to his base mostly."
After the ceremony, President Trump and new first lady Melania Trump escorted former President Obama and his wife, Michelle, to a waiting helicopter, where the Obamas said goodbye, before heading off for a vacation and a new life outside of the spotlight.
In his first order of business as president, Mr. Trump signed a few executive orders in the ornate President's Room in the Capitol.
And in his first act as commander-in-chief, the president reviewed the troops from the Capitol steps.
As tradition dictates, the president, vice president and their families then proceeded down Pennsylvania Avenue for the inaugural parade -- and along with the cheers, there were boos.
Just blocks away, large crowds of protesters loudly voiced their displeasure. Some smashed storefront windows, set fires, and even fought with police.
Add to that yesterday's Womens March on Washington.
Reid asked, "Is there anything like these protests in the history of inaugurations?"
"There have been no protests on this scale in the history of presidential inaugurations," Ribuffo replied. "None on this scale. On the other hand, nobody threw bottles or rocks at the presidential limo as they did with Nixon. But in terms of scale, this is absolutely unprecedented."
On a positive note, the predicted rain never showed up, and as darkness fell Friday, the first family watched as thousands paraded by, from every corner of the nation.
Friday evening, the president and first lady celebrated at three inaugural balls, dancing to "My Way" -- a fitting song for a man who from the start has promised to do everything his way.

For more info:
Thanks for reading CBS NEWS.
Create your free account or log in
for more features.