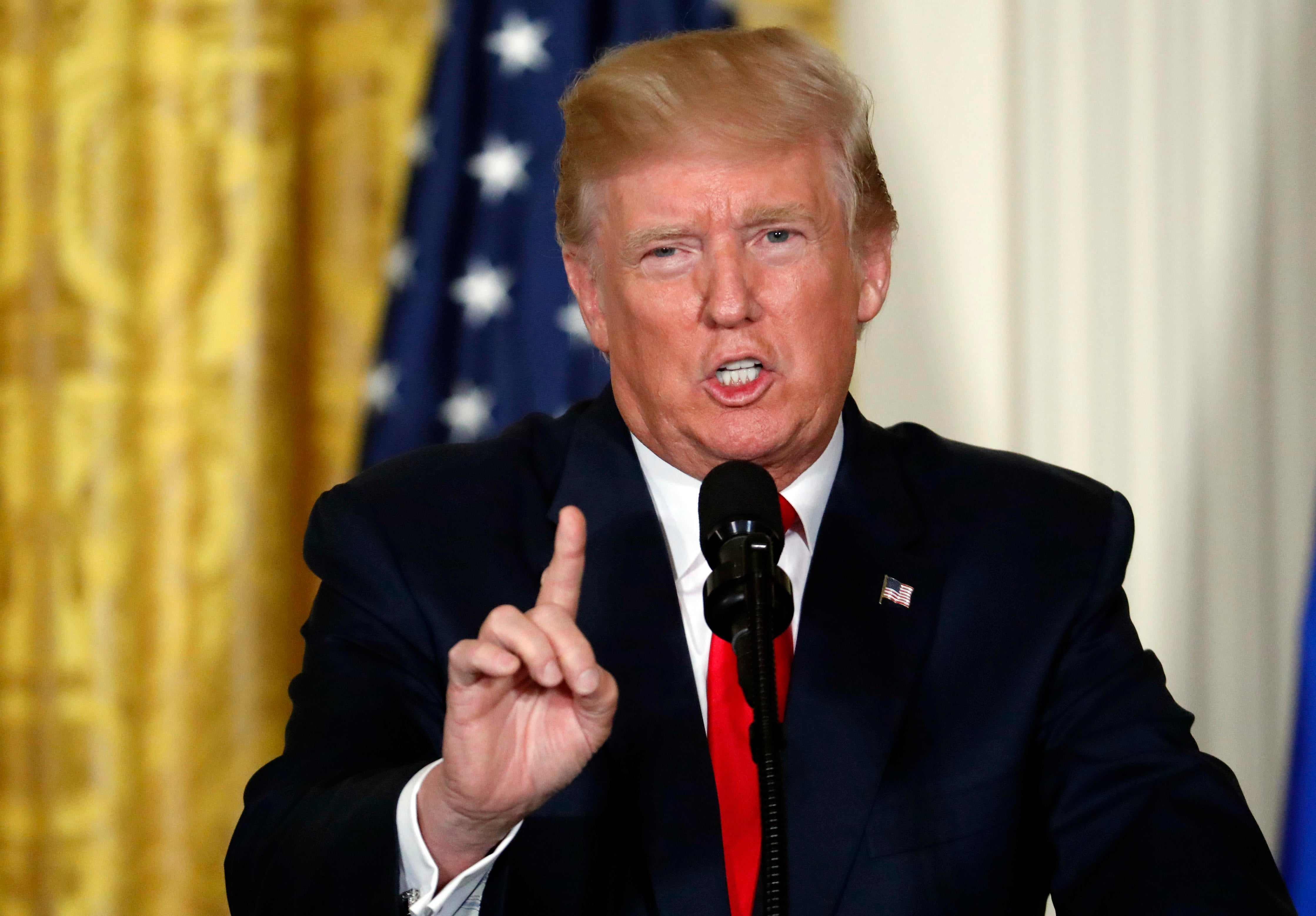 Trump demands ESPN apologize for anchor Jemele Hill's racism comments
President Trump wants an apology from ESPN.
He tweeted Friday morning that the sports network is "paying a really big price for its politics" and he demanded, "Apologize for untruth!"
Though he didn't explain why he was attacking ESPN, he's likely referring to the network's anchor Jemele Hill, who, on Monday night, in a series of exchanges with other Twitter users, said, "Donald Trump is a white supremacist who has largely surrounded himself w/ other white supremacists."
Hill, who is black, also tweeted, "Trump is the most ignorant, offensive president of my lifetime. His rise is a direct result of white supremacy. Period."
In another tweet, she wrote, "Donald Trump is a bigot," and went on to criticize his supporters, adding, "The height of white privilege is being able to ignore his white supremacy, because it's of no threat to you. Well, it's a threat to me."
ESPN distanced itself from her Tweets and said that they "do not represent the position of ESPN" and that the network had addressed this with her and accepted her apology.
On Wednesday, Hill tweeted that she regretted that her comments had cast ESPN in "an unfair light," but she stood by her sentiment.
"My comments on Twitter expressed my personal beliefs," she said.
The president's Tweet wasn't the first White House comment on the matter. Press Secretary Sarah Huckabee Sanders on Wednesday said Hill had made "one of the more outrageous comments that anyone could make, and certainly something that I think is a fireable offense by ESPN."
It's an opinion she continues to hold, she said on Friday.
"I think the point is that ESPN has been hypocritical. They should hold anchors to a fair and consistent question," Sanders told reporters at the White House briefing. "ESPN suspended longtime anchor Linda Cohn for expressing a political viewpoint. The network's public editor has said that there's a perception that ESPN has become political and that has harmed the network. This is clearly a political statement. They should be consistent in whatever guidelines that they have set themselves on that front."
But it's not entirely clear that Cohn was, in fact, suspended for her comments in April on WABC's "The Bernie and Sid Show" (and, her comments did not express a partisan political viewpoint). She had been talking about whether politics had infected ESPN's sports coverage, and she told WABC that some of the network's viewership had been marginalized by the change in tone.
"I felt that the old school viewers were put in a corner and not appreciated with all these other changes," Cohn said. "And they forgot their core. You can never forget your core and be grateful for your core group."
Cohn, asked whether viewers were finding changes in programming distasteful, said there was "definitely" a percentage of viewers who did.
"I don't know how big a percentage," she said, "but if anyone wants to ignore that fact, then they're blind. And that's what I meant about the core group of what made ESPN so successful."
Business Insider reported that Cohn was merely told to "take a day off," and it was not an official suspension.
CBS News' Arden Farhi contributed to this report.
Thanks for reading CBS NEWS.
Create your free account or log in
for more features.