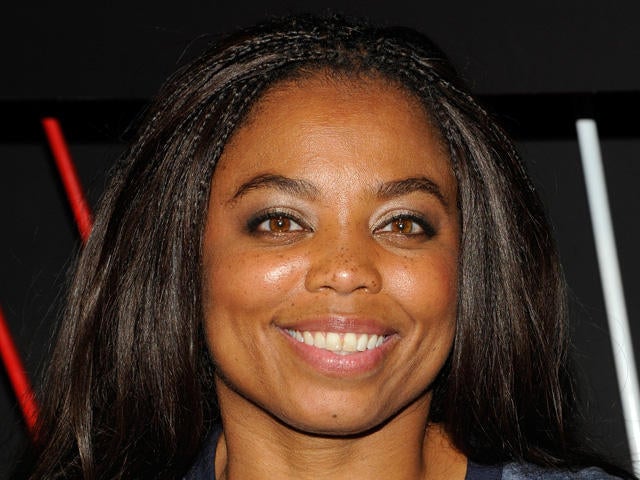 ESPN's Jemele Hill tweets after W.H. says she could be fired for anti-Trump remarks
BRISTOL, Conn. -- ESPN says it has accepted the apology of its "SportsCenter" host Jemele Hill for tweeting earlier this week that President Trump was a "white supremacist" and "bigot."
White House press secretary Sarah Huckabee Sanders said Wednesday that Hill could justifiably be fired from ESPN for the tweets.
"I think that's one of the more outrageous comments that anyone could make, and certainly something that I think is a fire-able offense by ESPN," Sanders said. She said she wasn't sure whether the president was aware of Hill's comments.
The network said in a statement issued shortly before midnight that Hill has a right to her personal beliefs, but not to share them on a public platform that implies she is speaking for the network. ESPN said she's acknowledged that her tweets crossed the line.
In a tweet Wednesday night, Hill said, "My comments on Twitter expressed my personal beliefs. My regret is that my comments and the public way I made them painted ESPN in an unfair light. My respect for the company and my colleagues remains unconditional."
The National Association of Black Journalists said in a statement that it "supports Hill's First Amendment rights on all matters of discussion, within and outside the world of sports, as they do not impinge on her duties as a host and commentator."
On Monday night, in a series of exchanges with other Twitter users, Hill said, "Donald Trump is a white supremacist who has largely surrounded himself w/ other white supremacists."
Hill, an African-American co-host of the 6 p.m. broadcast of "SportsCenter," added that, "Trump is the most ignorant, offensive president of my lifetime. His rise is a direct result of white supremacy. Period."
In another tweet, she said, "Donald Trump is a bigot," and went on to criticize his supporters, adding, "The height of white privilege is being able to ignore his white supremacy, because it's of no threat to you. Well, it's a threat to me."
ESPN distanced itself from Hill's tweets Tuesday.
"The comments on Twitter from Jemele Hill regarding the president do not represent the position of ESPN," the network tweeted from its public relations department's account. "We have addressed this with Jemele and she recognizes her actions were inappropriate."
Disney-owned ESPN didn't elaborate on any possible punishment for Hill, and she was on "SportsCenter" as usual Tuesday and Wednesday.
While many Twitter users called for Hill to be fired, unemployed NFL quarterback Colin Kaepernick expressed his support, tweeting "We are with you jemelehill."
Kaepernick, who remains unsigned after opting out of his contract with the San Francisco 49ers, received plenty of criticism -- and support -- after kneeling during the national anthem before games last season to protest police brutality.
When asked why prominent African-Americans were criticizing Trump, Sanders said she couldn't speak for Hill and said the president has met with respected African-American leaders like U.S. Sen. Tim Scott of South Carolina, the only black Republican in the Senate.
"He's committed to working with them to bring the country together," Sanders said. "I think that's where we need to be focused - not on outrageous statements like that one."
Three weeks ago, ESPN said it pulled broadcaster Robert Lee, who is Asian-American, from the Virginia football season opener because of violence in Charlottesville, Virginia. The violence erupted at a rally to protest the decision to remove a statue of Confederate Gen. Robert E. Lee.
Thanks for reading CBS NEWS.
Create your free account or log in
for more features.