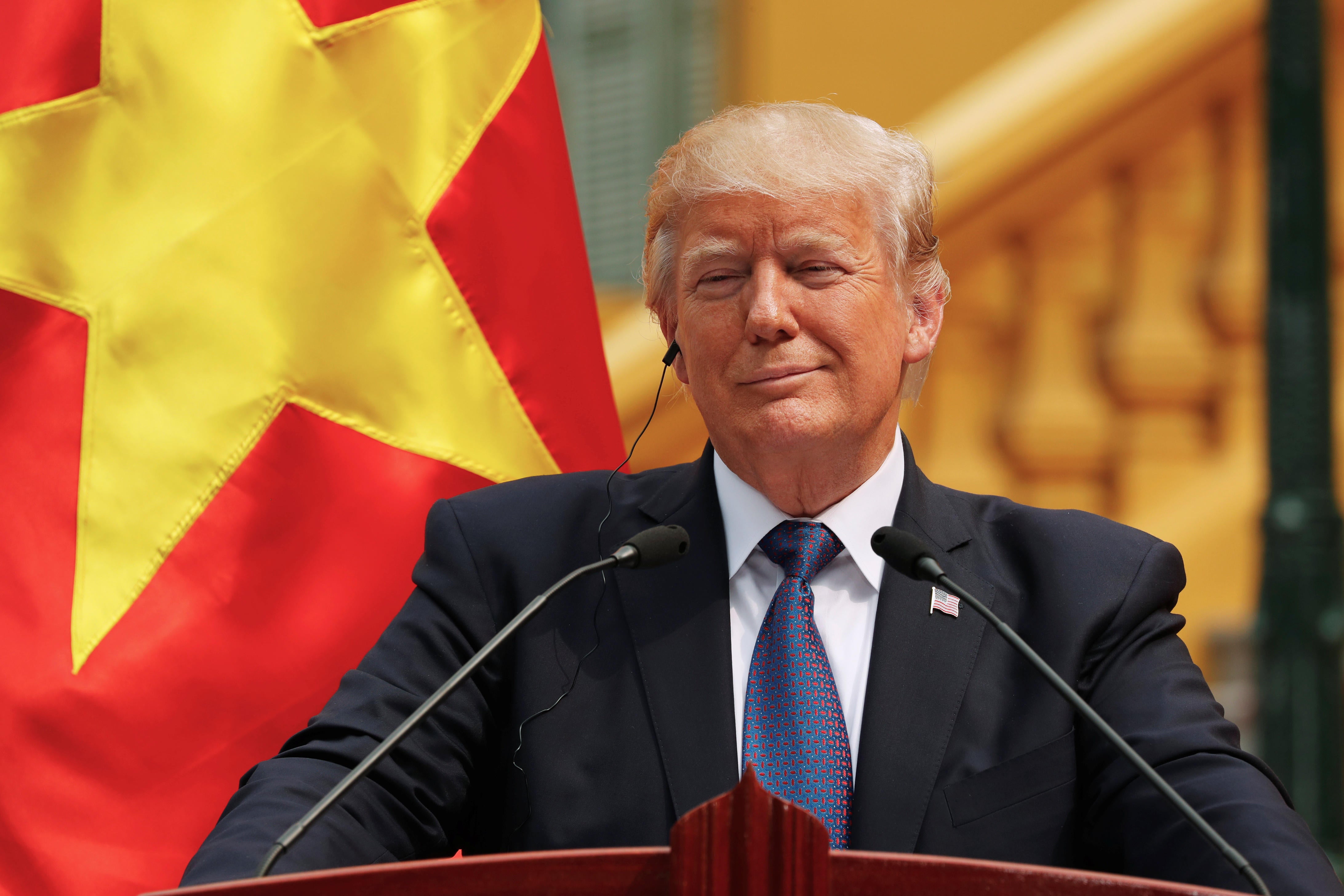 Trump talks possible friendship with Kim Jong Un during Vietnam trip
HANOI, Vietnam -- President Trump said during a press briefing Sunday that it would be a "good thing" and "very, very nice" for North Korea and the world if he and Kim Jong Un become friends. Mr. Trump also called on nations to help stop North Korea's nuclear threat.
But he immediately cast doubt on whether that could happen. Mr. Trump has spoken forcefully against North Korea while traveling in Asia.
Mr. Trump tweeted about the North Korean leader Saturday, saying he had tried "so hard" to be Kim's friend and that "maybe someday that will happen!"
Asked at a news conference in Hanoi about the tweet, Mr. Trump said a friendship with Kim "might be a strange thing to happen but it's certainly a possibility."
Mr. Trump said he doesn't know that friendship will develop, but says it would be "very, very nice if it did."
At the Sunday press briefing, Mr. Trump reiterated that "all responsible nations" must act to help stop North Korea's missile threats saying "we want progress, not provocation." He went on to say: "we want stability, not chaos" and urged peace and not war.
Mr. Trump has been working to rally global pressure against North Korea's nuclear weapons program on a trip to Asia. That includes a stern speech delivered in South Korea's National Assembly on Tuesday, in which he said: "Do not underestimate us. And do not try us. ... The weapons you're acquiring are not making you safer, they are putting your regime in grave danger. Every step you take down this dark path increases the peril you face."
On Saturday, Kim's government responded by accusing Mr. Trump of trying to demonize North Korea, keep it apart from the international community and undermine its government.
"Reckless remarks by an old lunatic like Trump will never scare us or stop our advance," the North's Foreign Ministry said in a statement. "On the contrary, all this makes us more sure that our choice to promote economic construction at the same time as building up our nuclear force is all the more righteous, and it pushes us to speed up the effort to complete our nuclear force."
North Korea is not known to have tested any of its missiles or nuclear devices since Sept. 15, a relative lull after a brisk series of tests earlier this year.
In October, South Korea said it detected an earthquake near North Korea's main nuclear test site, the fourth since the country's sixth and most powerful nuclear test explosion in September. Some experts suggested the area is now too unstable to conduct more bomb tests.
The officials, who requested anonymity citing department rules, said they believe the four quakes probably happened because the underground nuclear test on Sept. 3 weakened or affected the tectonic plate structures in the area. The region isn't one where earthquakes naturally occur and no quakes were detected after the five smaller nuclear tests North Korea has conducted since 2006.
As CBS News' David Martin reported, the nuclear test produced an explosion almost 10 times larger than the blast from the bomb dropped over Hiroshima in 1945. The initial U.S. intelligence assessment of the test indicated the underground explosion measured 140 kilotons. The Hiroshima explosion yielded a blast of 15 kilotons.
The officials declined to say how the recent quakes might have affected the area and the test site, where all of North Korea's nuclear bomb tests have taken place. But some civilian experts said North Korea may stop using the site.
Thanks for reading CBS NEWS.
Create your free account or log in
for more features.