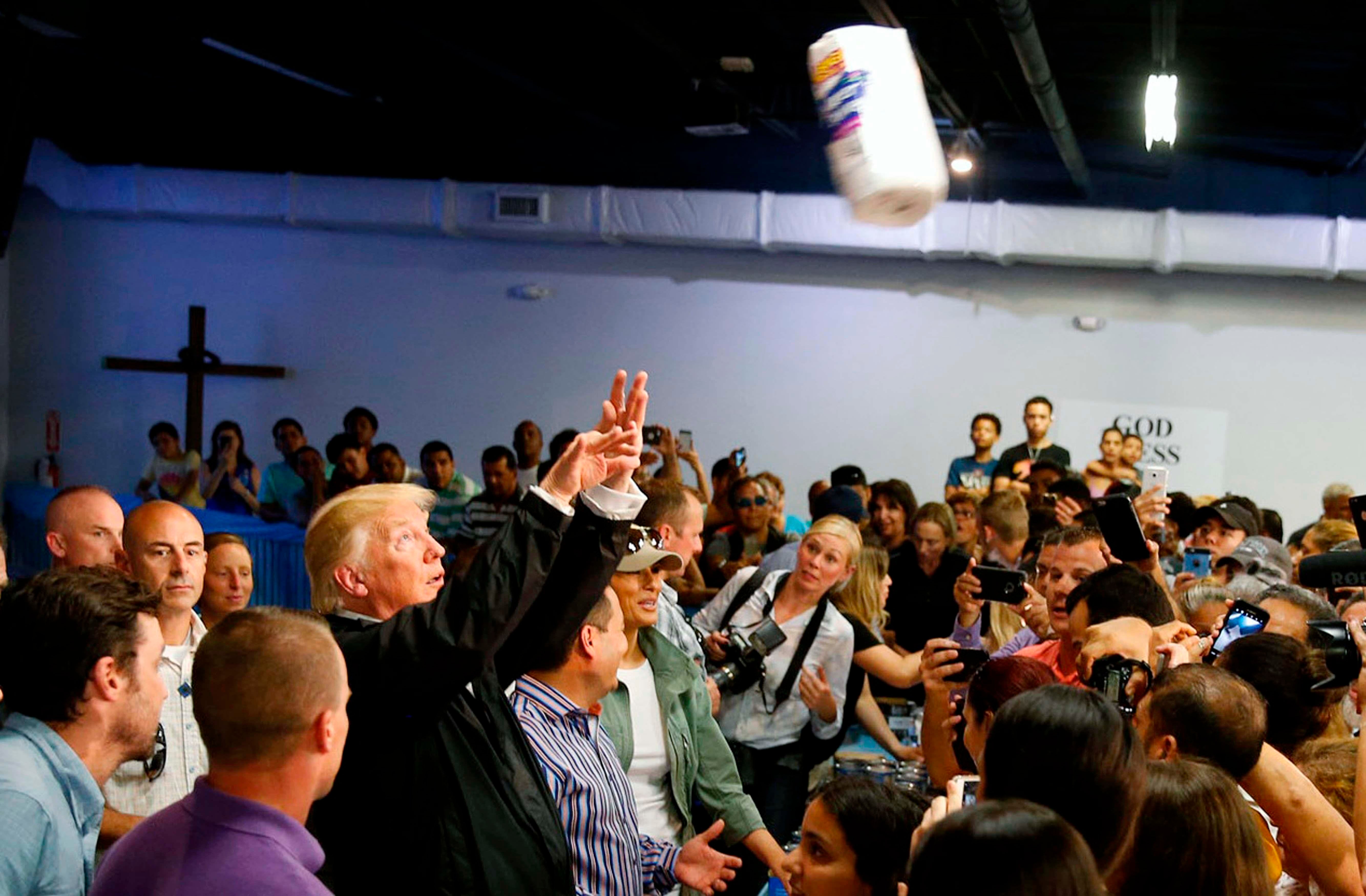 Trump says he was "having fun" in Puerto Rico
As the island nation of Puerto Rico continues to grapple with the devastation left by Hurricane Maria, President Trump said he was "having fun" during his day-long visit to survey damage and meet with local officials on the ground.
In a wide-ranging interview with Mike Huckabee that aired Saturday on the Trinity Broadcasting Network, Mr. Trump recalled throwing paper towels and other goods into a crowd of citizens in need of supplies.
"I mean, one example, they had these beautiful soft towels, very good towels, and I came in and there was a crowd of a lot of people and they were screaming and they were loving everything."
He added, "I was having fun, they were having fun, they said 'throw them to me, throw them to me, Mr. President,' and so I'm doing some of them, so the next day they said, 'oh it was so disrespectful to the people.' It was just a made-up thing and also when they had, when I walked in the cheering was incredible."
Mr. Trump said the cheering from the crowd was "deafening" but called negative reports of his trip "horrible unfair publicity", even taking credit with coining the term "fake news."
"I don't mind look if it's fair, if I do something wrong, treat me badly but when we're doing good, it should be fair. The media is really, the word I think, one of the greatest of all terms I've come up with is fake."
He added, "I guess other people have used it perhaps over the years but I've never noticed it and it's a shame and they really hurt the country," saying that negative news reports "take away the sprit" of the country.
While the president said he was "very disappointed with what happened" in regards to less-than-glowing reports of his trip to Puerto Rico, he added, "the people of Puerto Rico, they got it and they really, I mean you saw the love, there was love in Puerto Rico for the fact that I went there."
The president also touched on his frequent adversary as of late, Mayor of San Juan Carmen Yulín Cruz.
"We have a mayor of San Juan, Puerto Rico who didn't attend meetings, who didn't work with FEMA who really did not do a very good job -- in fact did a very poor job -- and she was the lone voice that we saw," said Mr. Trump.
Cruz did attend a hurricane briefing with FEMA officials during Mr. Trump's visit. She has since further criticized the federal response to the crisis, tweeting to CBS News' David Begnaud, "Power collapses in San Juan hospital with 4 patients now being transferred out. Have requested support from FEMA. NOTHING!"
She added,"The Hospital had requested support from FEMA and no response. Oh sorry they are collecting data..."
Mr. Trump went on to claim that Cruz would be running for governor, but saying she was "not a capable person."
Cruz, while highly regarded as a possible contender for the race, has not yet announced her intentions to run for the seat.
Thanks for reading CBS NEWS.
Create your free account or log in
for more features.