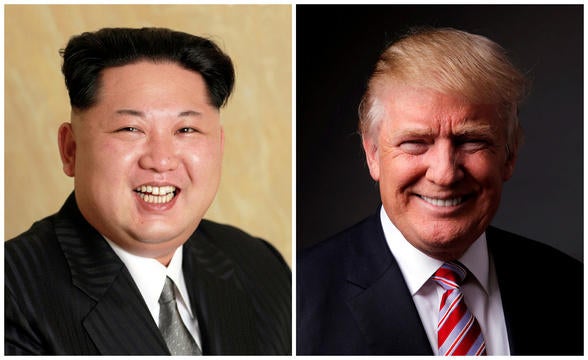 Trump is open to talks with North Korea
President Trump says he is willing to consider diplomatic talks with North Korea, despite previously saying that they would be a waste of time, according to a summary of his latest call with South Korean President Moon Jae-In.
The call came after delegations from both the North and South held talks in the region on Tuesday in advance of the upcoming Pyeongchang Winter Olympics.
According to a readout of the call, "President Trump expressed his openness to holding talks between the United States and North Korea at the appropriate time, under the right circumstances."
Moon also "thanked President Trump for his influential leadership in making the talks possible."
The president discussed that call during Wednesday's Cabinet meeting.
"Hopefully," Mr. Trump said, "it will lead to success for the world -- not just for our country, but for the world. And we'll be seeing over the next number of weeks and months what happens."
The president has gone back and forth on whether talks would be productive. In October, Mr. Trump said in a tweet that he told Secretary of State Rex Tillerson was "wasting his time trying to negotiate with Little Rocket Man" -- a reference to North Korea's leader.
Some two months later, Tillerson indicated that the U.S. was ready to speak with North Korea at any time and without preconditions.
"When do the talks begin? We have said, from the diplomatic side, we are ready to talk any time North Korea would like to talk. And we are ready to have the first meeting without preconditions. Let's just meet," Tillerson said at at the Atlantic Council in Washington, D.C in December.
The prospect of negotiations also comes as the White House announced that Vice President Mike Pence and his wife, Karen Pence, are to lead a U.S. delegation to the Winter Games.
A White House official says the visit is meant to "reinforce the strong U.S. presence on the Korean Peninsula and send a clear signal to the North Korean regime," which will also be sending a delegation.
The Koreas' first talks in two years were arranged after Kim Jong Un recently made an abrupt push for improved ties with South Korea after a year of elevated tensions with the outside world over his expanding nuclear and missile programs. Critics say Kim may be trying to divide Seoul and Washington in a bid to weaken international pressure and sanctions on the North.
The U.S. and South Korea have since agreed to halt their joint military exercises that were to take place during the Winter Olympics.
Thanks for reading CBS NEWS.
Create your free account or log in
for more features.