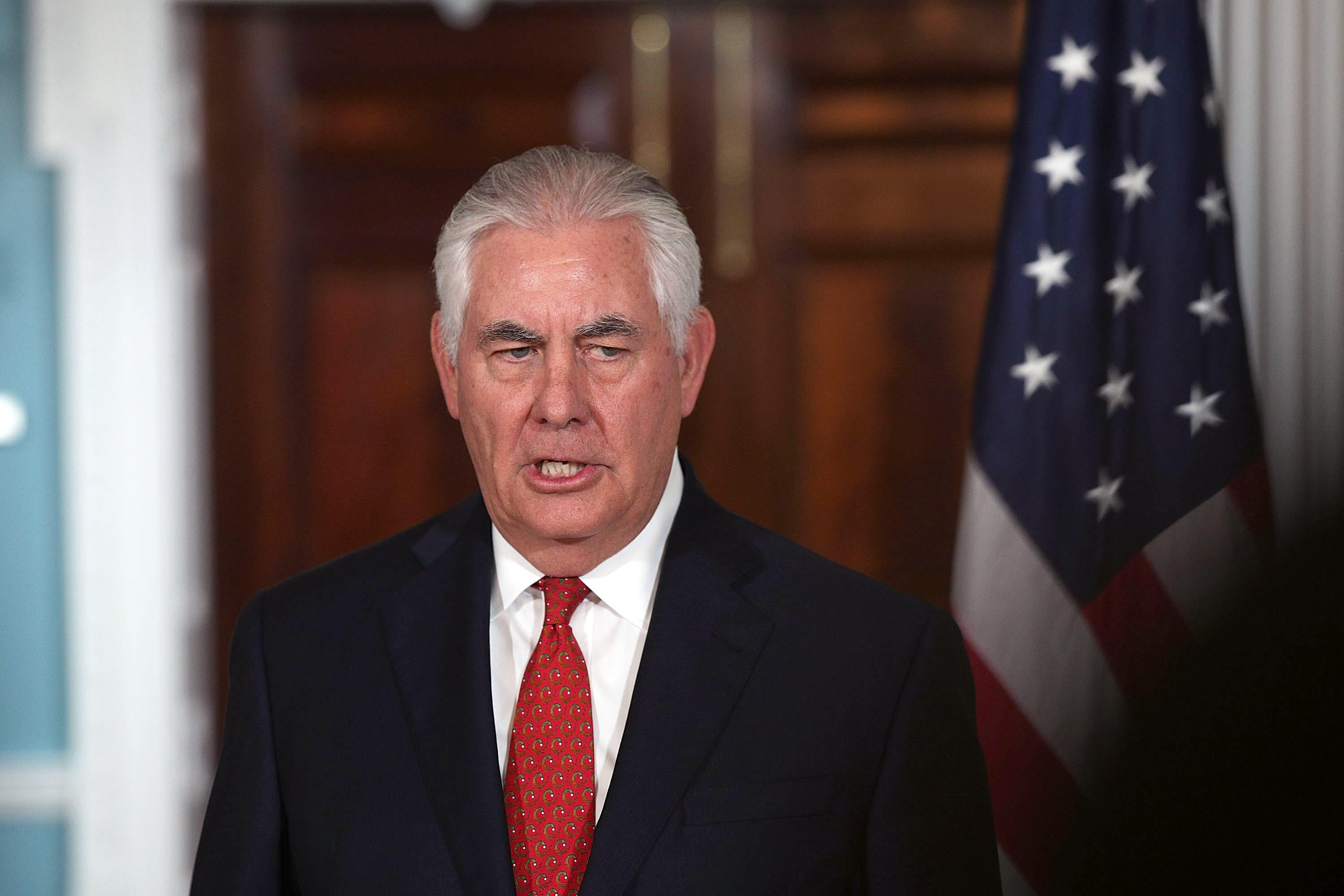 Rex Tillerson says U.S. ready to speak with North Korea without preconditions
Secretary of State Rex Tillerson said Tuesday that the U.S. is ready to speak with North Korea at any time and without preconditions.
"When do the talks begin? We have said, from the diplomatic side, we are ready to talk any time North Korea would like to talk. And we are ready to have the first meeting without preconditions. Let's just meet," Tillerson said at at the Atlantic Council in Washington, D.C.
Tillerson added, "We can talk about the weather if you want. We can talk whether it is going to be a square table or a round table if that is what you are excited about."
"But can we at least sit down and see each other face to face," he said. "And then we can begin to lay out a map, a road map of what we might be willing to work towards. I don't think, it's not realistic to say we are only going to talk if you come to the table ready to give up your program. They have too much invested in it. And the president is very realistic about that as well. So it is really about how do you begin the process of engagement."
Earlier this year at the United Nations, Tillerson indicated that North Korea must take steps to reduce the threat of its nuclear weapons before considering talks.
"North Korea must understand that respect will never follow recklessness. North Korea must take concrete steps to reduce the threat that its illegal weapons programs pose to the United States and our allies before we can even consider talks," he said.
Tillerson said in the Fall that the US would consider direct talks with North Korea. But just a day later President Trump tweeted that Tillerson was "wasting his time trying to negotiate with Little Rocket Man," a term Mr. Trump sometimes uses to refer to North Korean dictator Kim Jong-Un.
On Tuesday, Tillerson indicated that he and Mr. Trump are on the same page, and that Mr. Trump "encouraged our diplomatic efforts." The White House later clarified that Mr. Trump has not changed his position on North Korea, but they did not oppose Tillerson's efforts to initiate US-North Korea talks.
"North Korea is acting in an unsafe way not only toward Japan, China, and South Korea, but the entire world. North Korea's actions are not good for anyone and certainly not good for North Korea," said White House Press Secretary Sarah Sanders.
National Security Advisor MR McMastser insisted on Wednesday that the US is not going to bend to North Korean demands.
"There would be no preconditions to those," McMaster said of US-North Korea talks. "What that means is, we're not going to alleviate, we're not going to relieve any pressure on North Korea or give in to any demands they might make for payoffs. Because you know, this is, this is a regime that uses extortion on a routine basis as part of their policy."
Tillerson said that diplomacy, which is now underway with the US pressure campaign seeking to diplomatically and economically isolate the regime, will continue. Yet the administration is ready to use the military option if that is needed.
"There multiple military options being developed to deal with a failure on my part," Tillerson said. He added that the threat of a military option had to be credible.
One fear that Tillerson laid out is the fact that North Korea could start selling their nuclear weapons to rogue actors, and that some of the regime's nuclear materials have already appeared in the international marketplace.
Tillerson said the administration still maintains that it does not seek to overthrow Kim Jong-Un.
"We do not seek regime change, we do not seek regime collapse, we do not seek an accelerated unification of the Korean peninsula. We do not seek a reason to send our own military forces north of the demilitarized zone," Tillerson said. If the US, for whatever reason, had to cross the 38th parallel, which separates the two Koreas, they would then "retreat back to the south."
Tillerson also said he wanted a better understanding of Kim Jong-Un, who remains something of a mystery to American diplomats.
"I have to know who my counterpart is. I have to know something about him. I have to understand, how do they process, how do they think," Tillerson said.
Asked by CBS News about Tillerson's comments on communicating with North Korea, U.N. Undersecretary-General for Political Affairs Jeffrey Feltman told reporters that "time will tell," but that the North Koreans agree it is important to avoid war.
Feltman traveled to North Korea from Dec. 5-8 for talks with representatives of Kim Jong Un, as threats of escalation rise in the Korean Peninsula. A former President George W. Bush appointee, Feltman represents the U.N., not the U.S., in diplomatic overtures.
"I think we have left the door ajar and I fervently hope that the door to a negotiated solution will now be opened wide," Feltman said.
Hours after the Tillerson comments Press Secretary Sarah Sanders said: "The President's views on North Korea have not changed."
CBS News' Margaret Brennan, Kylie Atwood and Pam Falk contributed to this report.
Thanks for reading CBS NEWS.
Create your free account or log in
for more features.