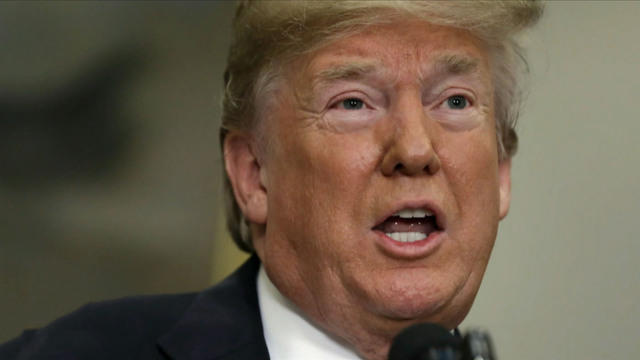 Trump: "If I ever got impeached, I think the market would crash"
President Trump says that he if he ever got impeached, he thinks the stock market would crash and "everybody would be very poor." In an interview with Fox and Friends' Ainsley Earhardt that aired on Thursday, Mr. Trump was asked if he thought Democrats would move to file articles of impeachment should they take over control of the House and Senate come November.
"I don't know how you can impeach somebody who's done a great job," Mr. Trump said. "If I ever got impeached, I think the market would crash, I think everybody would be very poor. Because without this thinking [points to head] you would see, you would see numbers that you wouldn't believe in reverse."
The president cited record unemployment numbers, saying if his 2016 opponent Hillary Clinton were elected instead, the country would not be in the position it is in today. Mr. Trump has long-touted his administration's ability to deliver on "amazing" economic growth figures, this time crediting much of the country's success to the GOP tax cut plan, "fairer" trade deals and cutting government regulation.
Questions surrounding impeachment, however, have once again been raised on Capitol Hill in light of guilty verdicts leveled against two former Trump associates -- former Trump campaign chairman Paul Manafort and former Trump attorney Michael Cohen.
Top Democrats including House Minority Leader Nancy Pelosi and Sen. Dick Durbin, D-Illinois, say that the discussions of impeachment are "premature" and "not a priority" for the caucus. But a top GOP aide told CBS News' Nancy Cordes that "this is the most uncomfortable Republicans have been" about the president's actions.
Thanks for reading CBS NEWS.
Create your free account or log in
for more features.