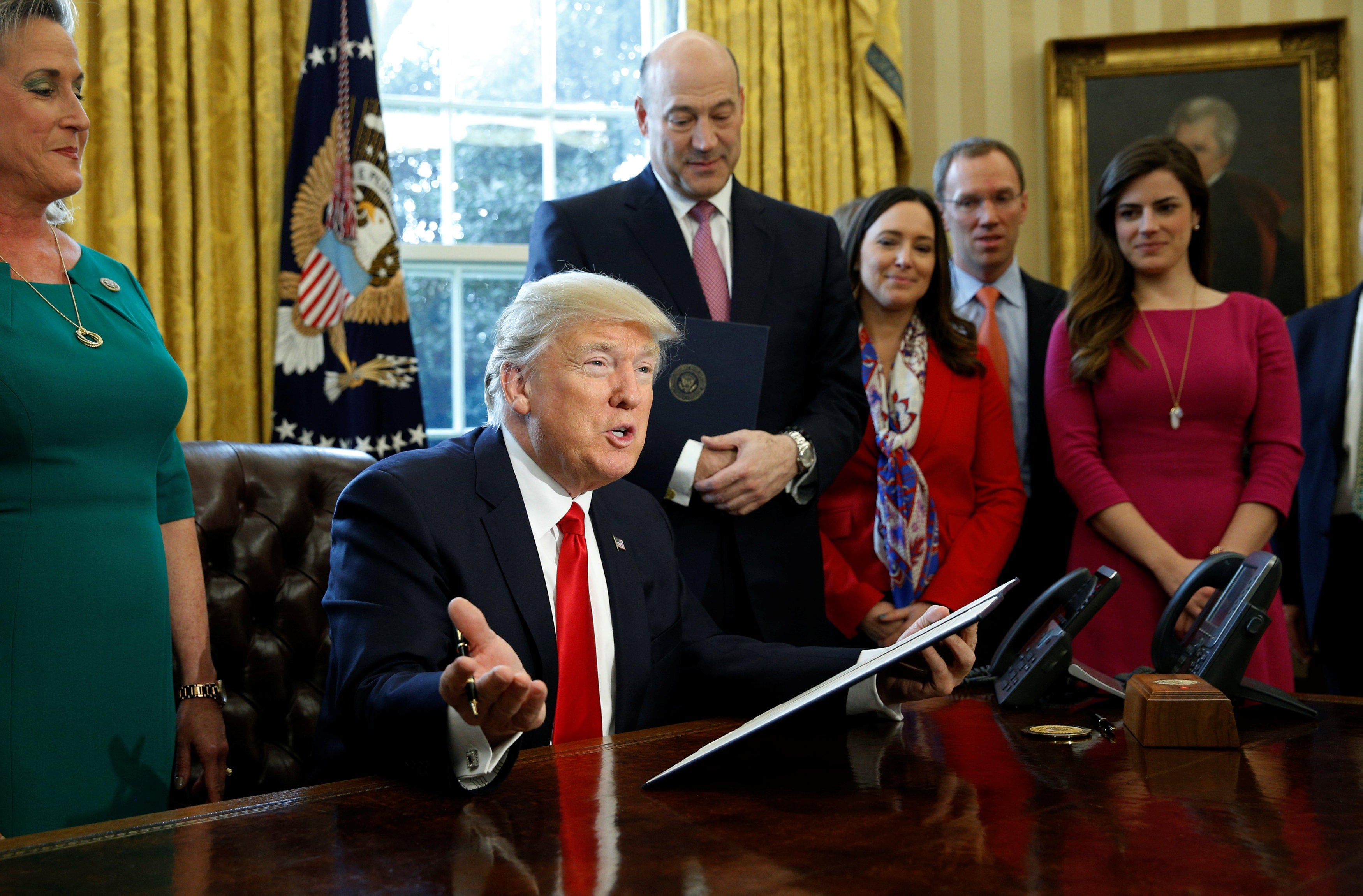 Trump signs executive order to review Dodd-Frank Act
President Trump is taking his first steps aimed at scaling back financial services regulations.
The president signed an executive order Friday that will direct the Treasury secretary to review the 2010 Dodd-Frank financial oversight law, which reshaped financial regulation after the 2008-09 financial crisis.
"Today we're signing core principles for regulating the United States financial system," Mr. Trump said at the signing ceremony surrounded by his top aides. "Doesn't get much bigger than that, right?"
A senior White House official outlined the measures in a background briefing with reporters Thursday.
Trump pledged during the campaign to repeal and replace the law, which also created the Consumer Financial Protection Bureau.
"Dodd-Frank is a disaster," Trump said earlier this week during a meeting with small business owners. "We're going to be doing a big number on Dodd-Frank."
At the signing ceremony, Mr. Trump also gave a brief response to a reporter's question about the fresh round of sanctions on Iran imposed Friday.
"They're not behaving," he said of Iran.
While Mr. Trump's signed order won't have any immediate impact, it directs the Treasury secretary to consult with members of different regulatory agencies and the Financial Stability Oversight Council and report back on potential changes.
That likely includes a review of the Consumer Financial Protection Bureau (CFPB), which vastly expanded regulators' ability to police consumer products - from mortgages to credit cards to student loans.
The Trump administration believes that as written, Dodd-Frank, which was intended to avert another financial crisis, is another example of government overreach. Officials argue that it will not succeed in protecting Americans from more taxpayer-funded bailouts, a senior administration official said. The belief held by the White House is that the law just created more additional work and hundreds of new regulations that are stifling financial institutions.
Trump also signed a presidential memorandum Friday that instructs the Labor Department to delay implementing an Obama-era rule that requires financial professionals who charge commissions to put their clients' best interests first when giving advice on retirement investments.
The rule, which was set to take effect in April, will be delayed for 90 days while it's reviewed.
The so-called "fiduciary rule" was aimed at blocking financial advisers from steering clients toward investments with higher commissions and fees that can eat away at retirement savings.
Critics argue the rule limits retirees' investment choices by forcing asset managers to steer them to the lowest-risk options.
Thanks for reading CBS NEWS.
Create your free account or log in
for more features.