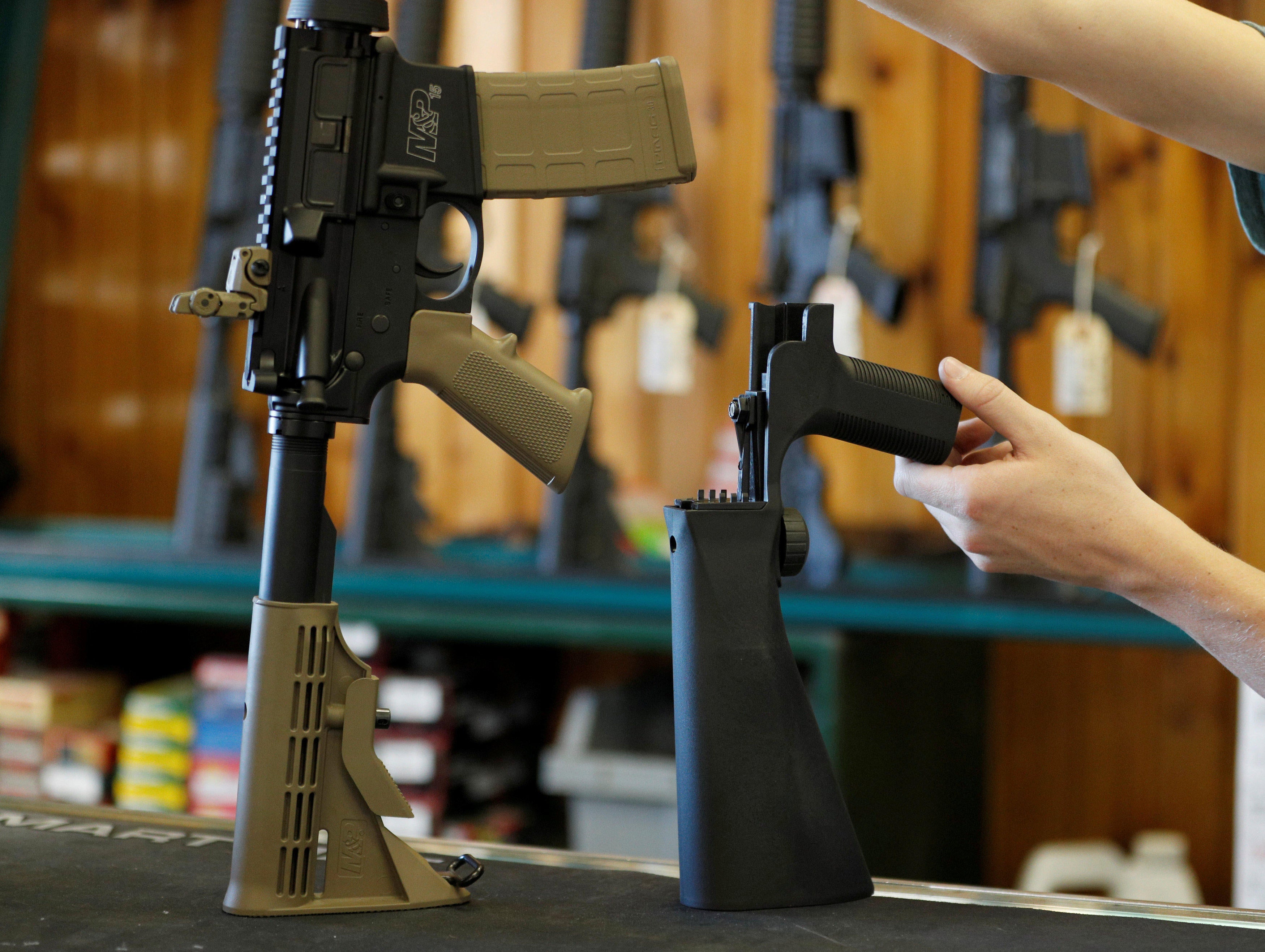 Trump administration to review whether bump stocks should be banned
Two months after a gunman used bump stocks to shoot hundreds of people in Las Vegas, the Trump administration announced Tuesday that it's reviewing whether the federal government should ban the device.
In a joint statement from the Department of Justice and Bureau of Alcohol, Tobacco, Firearms and Explosives (ATF), Attorney General Jeff Sessions said that possessing firearm parts that are used to convert a weapon into a machine gun is illegal, except for "limited circumstances."
"Today we begin the process of determining whether or not bump stocks are covered by this prohibition," Sessions said. "We will go through the regulatory process that is required by law and we will be attentive to input from the public. This Department is serious about firearms offenses, as shown by the dramatic increase in firearms prosecutions this year."
The administration said that the ATF has already begun the process to consult the public and the industry and to allow them to weigh in on the final decision.
After the Las Vegas shooting in early October at a country music festival, there was momentum in Congress to ban bump stocks, but it has since died down.
GOP leaders have suggested that the Obama administration is to blame for allowing the sale of device and that the executive branch should simply reverse the policy. Without legislation, however, it seems unlikely that the Trump administration could do that unilaterally, given its previous assessments of the device.
The ATF is the federal agency that reviewed the bump stock device manufactured by the company Slide Fire and determined in 2010 that the accessory complied with the law. Machines guns have been outlawed since 1986. ATF officials determined in their evaluation of the product that it could not be regulated by the agency.
"The stock has no automatically functioning mechanical parts or springs and performs no automatic mechanical function when installed," John Spencer, the chief of the ATF's Firearms Technology Branch, wrote to Slide Fire in a 2010 letter. "We find that the "bump-stock" is a firearm part and is not regulated as a firearm under Gun Control Act [GCA] or the National Firearms Act [NFA]."
It went on to say that in using the device, the "shooter must apply constant forward pressure with the non-shooting hand and constant rearward pressure with the shooting hand."
Thanks for reading CBS NEWS.
Create your free account or log in
for more features.