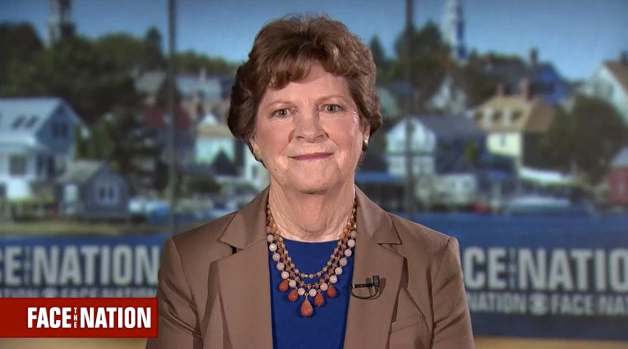 Transcript: Sen. Jeanne Shaheen on "Face the Nation," July 29, 2018
The following is a transcript of the interview with Sen. Jeanne Shaheen that aired Sunday, July 29, 2018, on "Face the Nation."
---
MARGARET BRENNAN: We're back with Democratic Senator Jeanne Shaheen. She sits on the Armed Services and Foreign Relations Committee. She's in Portsmouth, New Hampshire this morning. Senator, welcome to FACE THE NATION. You just heard the president's economic adviser--
SENATOR JEANNE SHAHEEN: Good morning.
MARGARET BRENNAN: --lay out a- a very rosy picture about the economy. These trade disputes, how are they affecting people in New Hampshire?
SEN. SHAHEEN: Well we have 140,000 jobs that are at risk if these tariffs continue. -It was very good economic news this week. But that's why it's so hard to understand why anyone thinks that the uncertainty around these tariffs and the potential trade war are going to be good for the economy. People here are very concerned about that uncertainty. Everybody from Little Bay Lobster Company—who's lost huge orders every week to China, and they're worried they're not going to get that market back, that they've gone to Canada—to manufacturing companies like Filtrine over in the western part of the state where they make water filtering systems. So this is affecting businesses, and one of the things I was very sorry to hear Ambassador Lighthizer say this week at- when he came before the Appropriations Subcommittee, was that while they're talking about a bailout for farmers, they're not talking about help for small businesses who are being hurt.
MARGARET BRENNAN: It's- it's a good point you raise there. And the administration says they won't consider that at this point. I do want to ask you though about a colleague--
SEN. SHAHEEN: Right.
MARGARET BRENNAN: --of yours in the Senate, Senator Claire McCaskill. She faces a toss up election out in Missouri and she confirmed personally this week that Russian hackers unsuccessfully tried to access her Senate computer system. Microsoft I guess was out there saying she is one of at least three individuals who- who were targeted.
Who else is on that list?
SEN. SHAHEEN: I don't know who else is on the list but I do know that we've had an experience in our office with people getting phishing emails with social media- accounts. There has been one situation that we have turned over to authorities to look into. And we're hearing that this is widespread at- with political parties across the country, as well as with members of the Senate. So this is a very big issue and it's something that we need to address in a bipartisan way. It affects both Republicans and Democrats. It's about the security of our political process and our government functions and we need to work together to address it.
MARGARET BRENNAN: I know you had some testy exchange just this week before the Senate Foreign Relations Committee with the Secretary of State Mike Pompeo, pressing him for more information on that conversation with Vladimir Putin. Were you satisfied with his answers?
SEN. SHAHEEN: Well I was disappointed that he refused to address directly any of the specific questions about what happened in Helsinki between President Trump and Vladimir Putin. He continuously referred to policy being the same. And I appreciate that it. It is important for us to continue those policies. But what we don't know is what might have been agreed to by the president. And all we've gotten, indirect information about what happened, has come from- the Russian authorities, from their defense ministry. And I'm particularly concerned about Syria, because that's one place where Secretary Pompei did equivocate, and where the president has gone back and forth on what we should be doing. I was there several weeks ago with Lindsey Graham and we were in northeast Syria where, thanks to our efforts and working with the Syrian Democratic Forces, who are mostly Kurds, we have seen the region stabilize. We need to make sure that continues. We need to find out why the White House is still holding onto the funding that we need for reconstruction efforts there, because the security is good, people are going back home. We went through the market in Manbij, which had been controlled by ISIS for several years. People were out. Kids were playing in the streets. Women were walking around. We need to make sure that that continues and not leave those Syrians to the Russians or to Assad.
MARGARET BRENNAN: Should the president go ahead with sanctions on Turkey, which he called for this week?
SEN. SHAHEEN: I think if- you know, Turkey is an important ally of the United States. They're an important NATO ally. But we've seen some behavior by Turkey that is not consistent with what we expect from our allies--
MARGARET BRENNAN: That sounds like a yes.
SEN. SHAHEEN: Again, on that trip to- Well, I think we need to see them release the Americans that they're holding on trumped-up charges. We had some positive news this week with Pastor Brunson going from prison to house arrest. But they're holding other Americans.
MARGARET BRENNAN: Yes.
SEN. SHAHEEN: And we need to send a consistent message. Again, on that trip to Syria. Senator Graham and I met with--
MARGARET BRENNAN: Senator--
SEN. SHAHEEN: --President Erdogan. He listened. But--
MARGARET BRENNAN: We do have to. We're running out of time here--
SEN. SHAHEEN: We need a message.
MARGARET BRENNAN: --I'm so sorry to cut you off, but we do have to leave it. Thank you for coming on the show.
SEN. SHAHEEN: Thank you.
MARGARET BRENNAN: And we will be back in just a moment.
Thanks for reading CBS NEWS.
Create your free account or log in
for more features.