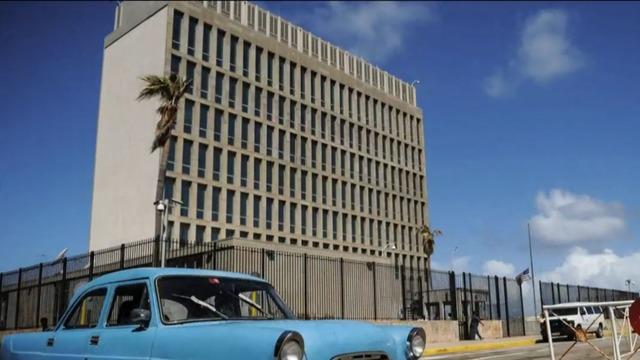 Top State officials visit Cuba, probe new health "attacks"
Three senior State Department officials made an unannounced trip to Havana, Cuba, amid new concerns "attacks" injuring 26 U.S. government personnel and their families may be continuing.
Acting Assistant Secretary of Western Hemisphere Affairs Francisco Palmieri, Acting Deputy Under Secretary for Management William Todd, and Assistant Secretary for Diplomatic Security Michael Evanoff traveled to Havana "to visit embassy personnel in light of new health attacks against U.S. diplomats at Embassy Havana," a State Department spokesperson told CBS News.
They left Cuba Tuesday afternoon.
"The trip is an opportunity for our senior officials to gain deeper insight into the unique challenges posed by these attacks and their impact on U.S. operations on the ground," the official said.
The State Department announced in June that two more U.S. diplomats had been injured at a diplomatic residence in Cuba in May.
"These are the first medically-confirmed cases in Havana since August 2017," State Department Spokesperson Heather Nauert said in a statement June 28.
But a source close to the U.S. government's investigation into the case told CBS News they weren't surprised by the new incidents. The U.S. has still not publicly blamed any group for the incidents, but still says it's holding Cuba responsible for the safety of its diplomats.
Victims continue to receive treatment at the University of Pennsylvania and elsewhere in the U.S.
The State Department says 19 private American citizens have reported similar symptoms following travel to Cuba.
At the same time, Congress is pressing U.S. government officials for answers in the investigation.
A spokesperson for chairman of the Senate Foreign Relations Committee, Sen. Bob Corker, R-Tennessee, says the State Department Accountability Review Board has "recently completed" a report on the case, as the committee awaits a briefing on it.
"There should be additional hearings in Congress about this," says Daniel Runde, senior vice president at the Washington-based Center for Strategic and International Studies.
Runde worries about more attacks on U.S. diplomats.
"This needs to stop. This is outrageous," Runde told CBS News. "I think it is a significant danger."
Cuba has denied any responsibility and has said the U.S. has manipulated the "alleged health incidents" for political purposes.
The Trump administration's decision to nearly shutter its embassy in Havana has nearly halted consular services on the island. The U.S. also expelled 15 Cuban embassy officials.
Meanwhile, the State Department is also probing another incident in China—where a U.S. government employee in Guangzhou "reported subtle and vague, but abnormal, sensations of sound and pressure." The person was later diagnosed with symptoms similar to Mild Traumatic Brain Injury.
Other U.S. diplomats and their family members have also been evacuated from China for medical evaluations in the U.S., including Guangzhou diplomatic security officer Mark Lenzi.
"Therapy is going slow, but doctors and I are seeing improvement," he told CBS News Monday.
While the case in China appears similar, the State Department has stopped short of saying it's connected to the incidents in Cuba.
It's been nearly a year since the State Department first publicly revealed American diplomats began experiencing 'a variety of physical symptoms' in Havana, Cuba, since late 2016. CBS News Radio broke the story August 9.
Some victims reported hearing strange sounds in their homes and hotel rooms—and were later diagnosed with signs of concussions, along with hearing loss and other symptoms.
A team of medical specialists from the University of Pennsylvania who studied the victims concluded their injuries "raise concern about a new mechanism for possible acquired brain injury from an exposure of unknown origin."
Some Canadian diplomats and their families also reported unusual symptoms in Havana. But the Canadian government has not called the incidents "attacks." However, Global Affairs Canada declared its mission to Cuba an "unaccompanied post," barring family members of diplomats from being stationed there.
An appeal by CBS News to the Canadian government to release public records about the incidents was unsuccessful.
Thanks for reading CBS NEWS.
Create your free account or log in
for more features.