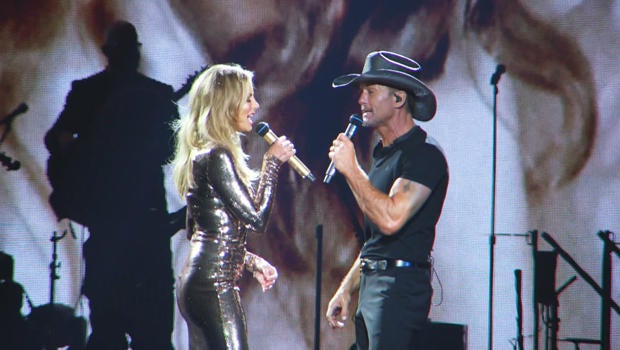 Tim McGraw & Faith Hill, in harmony
The song "Break First" is just one of the highlights from next Friday night's "Showtime" special with Tim McGraw and Faith Hill, a pair of country singers who've walked many A COUNTRY MILE together. This morning Tracy Smith tags along:
Faith Hill and Tim McGraw are both huge stars on their own, but when they get together -- as they did at L.A.'s Staples Center this past July -- they can bring the house down.
Nashville's power couple has already sold out something like 80 shows on their current tour alone, a glittering festival of flirtation and age-defying physical fitness. (Believe it or not, they both turned 50 this year.)
Smith met the McGraws at a place not even they see very often these days: their home in Nashville.
She asked, "When you guys look in the mirror, do you see 50?"
"Depends on what day it is! Some days I see 58, 60," McGraw laughed.
"I don't feel like I act 50," Hill said.
"You don't," he responded.
Fact is, they mostly act like a couple in love: Faith and Tim have obvious chemistry, most of the time.
"I work with my husband, but I wouldn't say that it's 24/7 marital bliss," Smith noted. So she asked, "There are fights?"
Yeah, they both agreed, though Tim added, "Usually it's her fighting with me; I don't fight with her!"
"Yeah, I like to fight," Faith said. "I like a good fight!"
"Well, we've had some good ones," McGraw replied. "I mean, we're passionate people!"
"What's the big, like, knockdown, drag-out fight that you've had, would you say? Not literally knockdown, drag out, but a good fight?"
"I think the last thing we got, I didn't load the dishwasher or something," McGraw said.
Hill interjected: "Oh, you cannot say that -- what? Oh, puh-lease! No, that's not true. I don't care about that stuff. It really wasn't that big of a deal. It was, for me, it's just funny. Because I get him riled up. I know how to press those buttons. And if I'm a little angry, I can press those buttons big time."
"And I can only dodge it for so long," he said.
"Yeah. He doesn't like those buttons being pressed. He likes a dial tone!"
To watch Tim McGraw and Faith Hill perform "The Rest of Our Life" click on the video player below.
Still, they do seem to get along: both are musically-talented Southerners who worked their way up from the bottom.
Born and raised in Mississippi, Faith Hill grew up singing for anyone who would listen, and was already a rising star when she went on tour -- and fell in love -- with Tim McGraw.
He was a Louisiana boy who grew up playing sports, and had more interest in joining a law firm than a band.
"Always wanted to be a lawyer," he said. "From the time I saw 'And Justice for All' with Al Pacino when I was a kid, I said, 'That's what I wanna do with my life.' So I thought that I was either going to be an athlete or a lawyer.
"And then I got into college and picked up a guitar, and both of those things went out the window."
That was it? "That was it. I was hooked. And first, because I realized that chicks like a guy with a guitar. That was probably the main reason that I kept playing."
"It's true," Hill said.
"Yeah. It worked out pretty good! I mean, here we sit, baby!"
They married in 1996, and have three daughters.
McGraw, who once struggled with alcohol, says his girls are a big reason he gave it up, as he told me in 2013: "Ultimately, I think I got to where I thought my girls were too old to see that, me drinking. It had become a crutch for me to get over some shyness and to get over some reservedness. It's still a tough thing to do to go out there, but I think I've gotten better because of it."
Shyness has also been an issue for Hill, who's had to battle severe stage fright.
Smith asked, "Do the butterflies still get you?"
"They do, sometimes, yeah. I do get 'em every night. But they're not as paralyzing as they have been in the past."
To watch Tim McGraw and Faith Hill perform "Let's Make Love" click on the video player below.
None of this seems to have held them back.
Faith Hill and Tim McGraw have 37 Grammy nominations between them: McGraw has three wins; Hill has five. But they never bragged about being Grammy-winners in front of their kids. In fact, they never told them at all.
"We were watching the Grammys one night," Hill recalled. "And Gracie, our oldest, said, 'Mom, how come you've never won one of those awards?' And I'm -- what? 'Girl, I have. I've won a few. And your dad has won a few.'"
McGraw said, "There's no way that what we do is not going to infiltrate your life. But we've tried to keep it at the door as much as possible."
And there may be more Grammys to come: "Speak to a Girl," the first single from their new duets album, seems like an antidote for recent Hollywood headlines.
'Cause that's how you talk to a woman
That's how you speak to a girl
That's how you get with a lady

Who's worth more than anything in your whole world
You better respect your Mama
Respect the hell out of her
'Cause that's how you talk to a woman
And that's how you speak to a girl
To watch Tim McGraw & Faith Hill perform "Speak to a Girl," click on the video player below.
"The timing, it seems like, is just unbelievable for that song that talks about respecting women," said Smith.
"It was just a song that we fell in love with the message," said McGraw. "You know, having three daughters, it was something that really hit home for us. It's a good topic to discuss."
"I think we can never lose sight of just basic common decency, common sense, and just the truth," Hill added. "And I think it just hit at a time that we're starving for that."
The McGraws will be back on the road next spring, with at least 25 more tour dates on the books. But neither of them wants to do this forever.
"Do you guys talk about that -- Some day we're gonna go off and do something else?" Smith asked.
"Sure," McGraw replied. "There are nights when you walk off the stage and you think, 'I never wanna do that again.' There are those nights. It happens, where you lay down and you think, 'Why am I doin' this? Why am I continuin' to do this?'
"But look, it's been really good to me. Music has brought me everything good that's happened in my life," he said, tearing up.
"Awww. That's so sweet. Dad gum -- look at you, baby!" Hill said.
"I know. But it has. I mean, music has -- anything that's ever happened good in my life has come from music. So it's a treasure to me. Whether I want to do it continually, whether I want to stop doing it, any of those things, it's my savior in a lot of ways."
"You really think that?"
"Yeah. It brought me to a world that I would have never experienced."
And they've learned that music can be a lot like marriage. Not every night is heaven, but sometimes it can get pretty close.
"We have those moments of ecstasy when everything makes sense," McGraw said. "And you're killing it, and you're going to be killing it for the next 50 years. There are plenty of those nights. And those are the nights that keep you going. And those are the nights that you lay down at night and think, 'Thank God I'm doing this for a living. And thank you, God, for letting me do this for a living!'"

For more info:
Thanks for reading CBS NEWS.
Create your free account or log in
for more features.