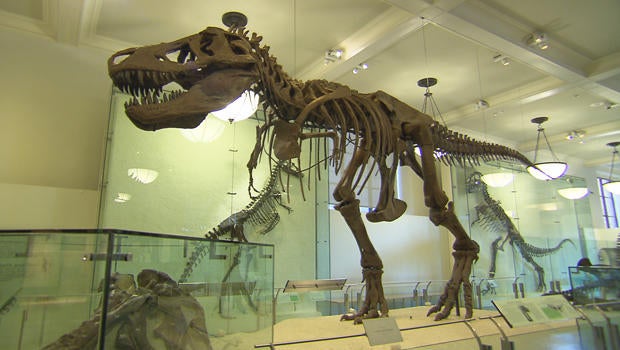 This week on "Sunday Morning" (October 27)
WATCH THE FULL OCTOBER 27 EPISODE!
COVER STORY: Our fascination with Tyrannosaurus Rex | Watch Video
Why are we captivated with a creature that hasn't existed on Earth for about 66 million years? Martha Teichner visits the American Museum of Natural History in New York's T. rex exhibit, and accompanies a University of Kansas paleontology team as they dig for Tyrannosaurus Rex bones in Jordan, Mont.
WEB EXTRA VIDEO: Meet a "Jurassic World Live" dinosaur
WEB EXTRA VIDEO: Hugh Murphy's humorous T-Rex
What if a Tyrannosaurus Rex could be brought to life today? Cartoonist Hugh Murphy (who is also a practicing dentist in Raleigh, N.C.) has published three books exploring how confounding life might be for a creature with such short arms. Martha Teichner reports.
GALLERY: Why it's tough to be a dinosaur
Cartoonist Hugh Murphy's series of books details the tribulations modern life poses for a Tyrannosaurus Rex with very short arms.
For more info:

ALMANAC: Captain Cook | Watch Video
On October 27, 1728, the British naval officer and explorer was born in northern England. Jane Pauley reports.

ART: Gargoyles and grotesques get their closeup | Watch Video
Grimacing, gaping, grinning, mischievous creatures perched close to Heaven, they invite us, dare us, to raise our gaze. Faith Salie gets an up-close look at the gargoyles and grotesques that decorate the upper reaches of the National Cathedral in Washington, D.C., from the menacing (Medusa, Darth Vader) to the cheeky (a crooked politician – perfect for the nation's capital!). Salie also talks with the Cathedral's head mason, Joe Alonso; with stone carver Walter S. Arnold and sculptor Jay Hall Carpenter; and with gargoyle expert Janetta Rebold Benton about the history of these church denizens.
See also:
For more info:
MUSIC: The life of Prince, revealed in "The Beautiful Ones" | Watch Video
Begun just months before his death, in 2016, a memoir by the legendary singer-songwriter Prince is now being published. Jamie Yuccas reports on how the manuscript by Prince Rogers Nelson came to light, and talks with editor Dan Piepenbring, who helped Prince tell his story, including how the people in Prince's life made him the artist he was. Yuccas also talks with representatives of Prince's estate about the vault of previously-unreleased music that is now being made public.
You can stream the Prince album "Originals" by clicking on the embed below (Free Spotify registration required to hear the tracks in full):
For more info:

POSTCARD FROM JAPAN: One shrinking Japanese town's plan: Give away houses for free | Watch Video
As the Japanese populace shrinks and ages, and young people leave the suburbs and rural areas for cities, more and more communities are becoming "ghost towns," with abandoned houses and declining populations. The municipality of Okutama, on the outskirts of Tokyo, has come up with a novel solution: Give away houses to young families for free. Ben Tracy talks with the man in charge of giving away homes, who isn't averse to playing Cupid to get people to move into his shrinking town.

HARTMAN: A friend in need (Video)
Life has its ups and downs, but rarely do you see a swing as dramatically as what 66-year-old Coy Fetherson just went through. Recently homeless in Austin Texas, a photo in a local newspaper alerted old friends he hadn't seen in years. Steve Hartman reports.
MUSIC: How scary music makes movies scarier | Watch Video
Why does certain music make scary movies even scarier? David Pogue talks with horror movie composers Michael Abels ("Get Out," "Us") and Michelle DiBucci ("Wendigo"), and with neuroscientist Anthony Lacagnina, who studies the effect of music on the brain, to find out how the scores of such classics as "Psycho" and "The Shining" work their magic.
For more info:

PASSAGE: Nikon Small World photo winners (VIDEO)
This week the winning pictures in the annual Nikon Small World photomicrography competition were announced.
HALLOWEEN: Taking the wraps off candy | Watch Video
For the past century, the Mars Wrigley company, one of the largest privately-held companies in the world, has been making candy treats that have filled kids' Halloween stashes. Luke Burbank visited the company's Oak Park, Ill., factory where millions of fun-sized candy bars are made each day.
For more info:
HISTORY: Time will tell: Historians on judging presidential leadership | Watch Video
Mo Rocca talks with historians Doris Kearns Goodwin and David McCullough, and with David Rubenstein, author of "The American Story: Conversations with Master Historians," about judgments made of presidents of the past (and the present).
WEB EXTRA VIDEO: Historian Doris Kearns Goodwin on "cutting the past some slack"
In this web exclusive Pulitzer Prize-winning historian Doris Kearns Goodwin, the author of several books on presidents (including Abraham Lincoln, Theodore Roosevelt, Franklin Delano Roosevelt and Lyndon Baines Johnson), talks with correspondent Mo Rocca about living with dead presidents, and how we should judge the leaders of the past by their imperfections as well as their accomplishments.
For more info:

NATURE: Spider webs (Extended Video)
For Halloween, "Sunday Morning" takes us to Big Cypress National Preserve in Florida, where spiders are weaving their webs. Videographer: Charles Schultz.
WEB EXCLUSIVES:

CALENDAR: Week of October 28 | Watch Video
"Sunday Morning" takes a look at some notable events of the week ahead. Jane Pauley reports.
TAKE FIVE: Arts & events around the U.S. (October 25)
Check out the "Sunday Morning" listings of arts openings and events this week.
GALLERY: 50 essential horror films for Halloween
Check our guide to the most unforgettable cinematic shockers.

---
The Emmy Award-winning "CBS Sunday Morning" is broadcast on CBS Sundays beginning at 9:00 a.m. ET. Executive producer is Rand Morrison.
DVR Alert! Find out when "Sunday Morning" airs in your city
"Sunday Morning" also streams on CBSN beginning at 9:30 a.m. ET and at 1 p.m. ET. You can also watch a rebroadcast of "Sunday Morning" on the cable channel Pop TV beginning at 12:30 p.m. ET./9:30 a.m. PT.
Full episodes of "Sunday Morning" are now available to watch on demand on CBSNews.com, CBS.com and CBS All Access, including via Apple TV, Android TV, Roku, Chromecast, Amazon FireTV/FireTV stick and Xbox.
Follow us on Twitter (@CBSSunday), Facebook, Instagram (#CBSSundayMorning) and at cbssundaymorning.com.

You can also download the free "Sunday Morning" audio podcast at iTunes and at Play.it. Now you'll never miss the trumpet!
---
Thanks for reading CBS NEWS.
Create your free account or log in
for more features.