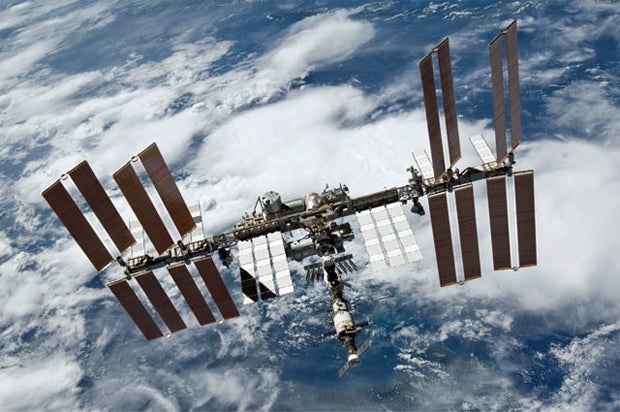 This Morning from CBS News, Jan. 14, 2015
Evacuation in space
The U.S. section of the International Space Station has been evacuated due to a leak of ammonia from the cooling system, NASA officials tell CBS News. The situation has been brought under control and all six crew members are safe in the Russian section of the orbiting station, the officials say. The crew consists of three Russians, two Americans and an Italian.
Sold out
Charlie Hebdo's defiant new issue sold out before dawn around Paris, and still people were lining up at kiosks in case of a spare copy of the paper fronting the Prophet Muhammad. The core of the irreverent newspaper's staff perished a week ago. Islamic extremists stormed its offices, killing 12. Those who survived put out the issue that appeared on newsstands early this morning, working out of borrowed offices, with a print run of 3 million -- more than 50 times the usual circulation.
Claiming responsibility
A Yemen-based branch of al Qaeda is claiming responsibility for the terror attack against the French satirical weekly, Charlie Hebdo, while supporters of ISIS are also trying to claim credit in what experts see as a competition for jihadi credibility. CBS News Correspondent Wyatt Andrews reports on how both ISIS and al Qaeda in the Arabian Peninsula (AQAP) are waging a social media war for hearts and minds.
Using children
While much of the world's attention has been focused on ISIS and al Qaeda, another Islamic militant group, Boko Haram, has been rampaging across northern Nigeria. Boko Haram kidnapped hundreds of school girls last year. Since then, it has massacred civilians across the country, including as many as 2,000 people in the town of Baga earlier this month. This past week, it is believed to have killed hundreds of people in suicide bombings. At least two of the attackers were children.
Battling extremism
In the wake of the recent attacks in Paris, Ottawa and Sydney, it's clear that the U.S. and its allies won't win the ongoing war on terror until it can stop groups like ISIS from recruiting individuals from around the globe or inspiring them to carry out attacks on their own. Next month, leaders from around the globe and around the nation will convene at the White House for the Summit on Countering Violent Extremism.
Muslim rights
Preventing the next terrorist attack is foremost on the minds of law enforcement. But, CBS News Correspondent Anna Werner reports, Muslim groups have long complained that a surveillance program by New York City police crossed the line. Yesterday, they pleaded their case before a federal appeals court.
Moving up
A CBS News poll shows that on the eve of the State of the Union address, President Obama's overall job approval rating has risen seven points since last October, although it still remains below 50 percent. Forty-six percent of Americans now approve of the job the president is doing, while just as many disapprove. His approval rating is now at the level it was a year ago. Here is what and who drove the increase.
Hitting the trail
While no one is officially a candidate yet, the Republican presidential race is springing to life. More than half a dozen big names are starting to get organized. After Jeb Bush started taking concrete steps toward a run, everyone else stepped on the gas. CBS News Correspondent Nancy Cordes reports one GOP consultant in Florida says, "We're never seen anything remotely like it."
Working mothers
The Supreme Court is reviewing a case that could effect millions of working women across the country. The justices will decide if federal anti-discrimination law offers enough protection during pregnancy. CBS News Correspondent Mark Strassmann speaks with Jamie Cole, a North Carolina mother of three, who claims her employer stopped giving her shifts when she was told by her doctor to stop lifting patients at the nursing home where she worked during her high-risk pregnancy.
Watering down
When Congress passed the Dodd-Frank Wall Street Reform and Consumer Protection Act in 2010, its intention was to create a raft of stronger financial regulations, all with the lofty aim of avoiding another painful financial crisis. But some of those reforms may soon be weakened, thanks to a Republican-backed bill in the House that would water down some Dodd-Frank provisions. The bill would revise the so-called Volcker rule, which prohibits banks from activities that were among those blamed for the financial collapse.
New focus
Beloved photographer Anne Geddes is known for her iconic, whimsical photos of chubby babies dressed up as flowers, animals, fairies and other creatures. But the Australian-born photographer recently turned her lens to a subject that's very unlike her typical work. "I've been a photographer for 30 years," Geddes told CBS News. "This is the most significant thing I've ever done."
Top News
World
AirAsia jet's fuselage shown in underwater video
Mother of American teen tells ISIS: "Leave our children alone"
Politics
Rand Paul hires campaign manager for 2016
Scandal-plagued Virginia politician re-elected while in jail
U.S.
Vietnam vet executed in Georgia
Flap over church's handling of lesbian's memorial video
Bartender indicted for threats against House Speaker
Boston Bomber seeks delay, lawyers citing French terror attacks
After arrest, Florida teen helps save officer's life
Albuquerque police in another shooting
Jackie O slammed New York's all-black look
MoneyWatch
What financial products generate the most retirement income?
Apple may have a post-holiday gift for investors
No port at a third of Chipotle restaurants
Health
Being an optimist may be good for your heart
Thanks for reading CBS NEWS.
Create your free account or log in
for more features.